What Andean farmers and Bay Area residents have in common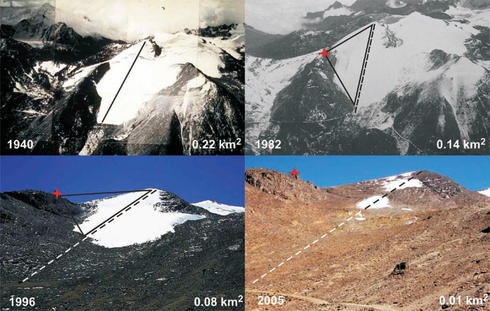 As climate change heats up, glaciers in the Western United States and in South America's Andes are rapidly retreating. As some of the first natural features to exhibit the effects of climate change, their retreat will not only affect hikers' views, but also the local ecosystem and even neighboring cities' water supplies.
The fastest glacial retreat is occurring in northern South America, in Peru, Bolivia, and Ecuador. This area is home to 99% of the world's tropical glaciers —glaciers located in high-altitude, equatorial regions. Tropical glaciers are highly sensitive to change, and are therefore considered to be early indicators of climate change. These glaciers have already retreated by 30 to 50 percent in the past 30 years and some are already disappearing: For example, the Chacaltaya tropical glacier in Bolivia, once the longest ski run in the world, completely disappeared in 2009.
Glacial melting is also filling nearby lakes, worrying nearby Andean communities of disastrous flash floods in the near term. However, once these glaciers have passed their peak melting point and mountain streams dry, communities that depend on this water for drinking, electricity, and agriculture will see shortages. Glacier water accounts for 15 to 30 percent of water consumed in La Paz, the capital of Bolivia, and for almost three-quarters of the electricity generation in Colombia, for example.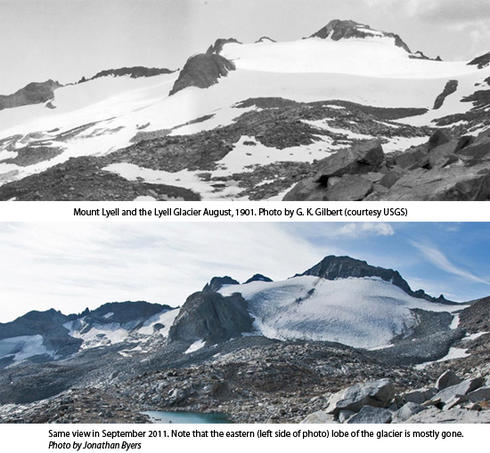 Though populations in the U.S. are not as vulnerable to such changes due to improved infrastructure, the changes in water supplies are impacting cities, the agriculture sector, and natural landscapes, to name a few.

In arid areas, such as California, the runoff that glaciers and snowmelt provide are crucial in dry, hot summer months when streams would otherwise dry up.

The melting of the Lyell and Maclure glaciers in Yosemite National Park is impacting residents of the Bay Area, as these glaciers and nearby permanent snowfields supply water to the area's Hetch Hetchy Reservoir. The water provided by glacial runoff, though minimal compared to other sources, is an essential buffer during hot and dry months. The issues affecting glaciers have also caused snowpack, which in normal years provides around 30 percent of California's freshwater needs in the spring and summer, to dwindle to record lows in recent years.

In April 2015, snowpack levels held just five percent of the water they normally hold due to the ongoing drought and high temperatures, further straining the state's water supplies. This winter, California has seen far higher levels of precipitation, as snowpack was measured at 115% of the historical average on January 26, 2016. It remains to be seen, however, whether this will have an impact on the drought come spring.

This melting of glaciers and snowpack is a Pan-American, as well as worldwide, phenomenon that illustrates how just a few degrees of warming on a global scale can greatly impact anyone from a Bay Area resident to an Andean farmer. To those who depend on these water resources, glacial retreat is more than just an aesthetic change and scientific proof for global warming: for those affected, glacial retreat threatens livelihoods and water security.