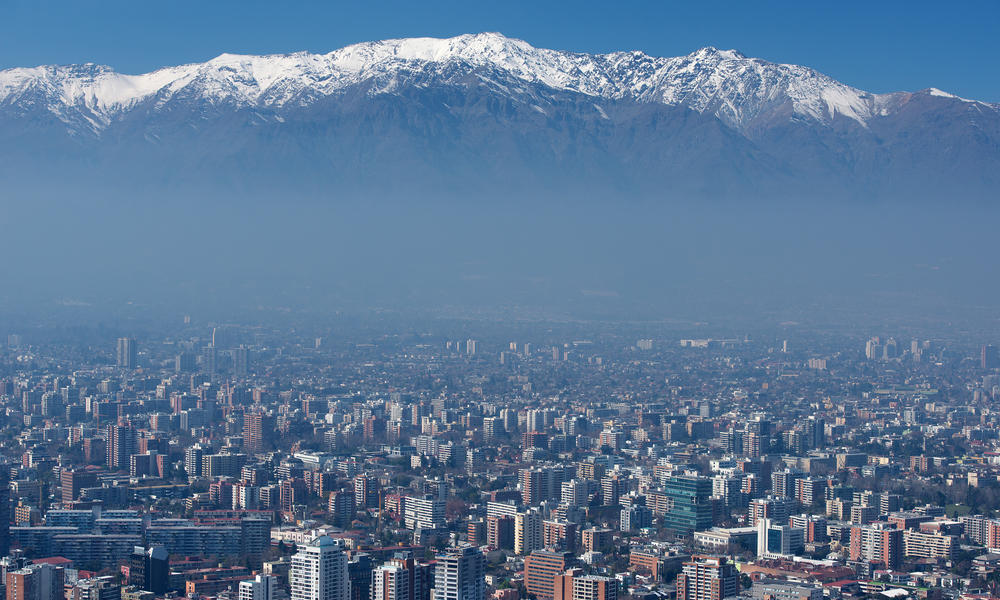 The Atacama Desert saw 7 years' worth of rain in just a few hours in March 2015.
The Santiago region is facing its eighth year of drought, the driest it has been in 47 years.
The worst smog in the city of Santiago in decades closed 1,300 business and kept residents home in June 2015.
Chile, a country that is almost as long as the distance from San Francisco to New York City, is home to many diverse regions, such as one of the driest deserts in the world, Andean glaciers, and sub polar forests in the Straits of Magellan. The country, which only produces 0.2% of the world's greenhouse gas emissions, is quite vulnerable to the impacts of climate change, especially when considering that the climate in this area is already quite variable due to the effects of El Niño.

Climate Change Impact
- One of the most threatening impacts to Chile is water scarcity, which could affect agricultural output that totals about US $8.2 billion in exports. Chile's copper industry, which produces a third of the world's copper, is suffering because of a lack of water needed for the production process.
- Some coastal areas are experiencing some cooling, which leads to frosts that could also put many crops at risk: in 2013, unusual frosts led to losses of up to US $60 million in just the wine industry.
- Changes in streamflow due to the retreat of glaciers in the Andes could lead to a drop in hydropower output and also increased water scarcity.
- A quarter of all species in Chile are endemic, with 65 percent of reptiles and 63 percent of amphibians being endemic. Eighty percent of vascular plants are endemic as well. Central Chile, considered a hotspot of biodiversity, could see many of these species go extinct.
- Climate change will also affect Chile's fisheries, as ocean acidification and changing temperatures affect the dispersion of nutrients and therefore the life cycles, health, and location of fish.
- The World Bank finds that climate change could reduce Chileans' incomes by 7 percent in the next 50 years.

Climate Action
- Most notably, Chile was the first South American country to enact a carbon tax. The tax is set at $5 per tonne of CO2 released, targeting energy companies beginning in 2018.
- Chile also hopes to reduce greenhouse gas emissions 20 percent by 2020 (compared with 2007 levels) in addition to producing 20 percent of its electricity from renewable sources by 2025, a goal that excludes controversial hydropower projects.
- In June 2015, the country also invested $250 million to plant 100,000 hectares of forest and continue to preserve the 13 million already managed by its forestry agency in order to combat desertification caused by climate change.
- Chile also released its U.N. climate commitment in December 2014, and since has been busy engaging citizens from its southern tip at Punta Arenas all the way up to mining towns in the north of the Atacama Desert. This method of consultation sets precedent for Latin America and the world on drafting such international agreements.

WWF in Chile
WWF-Chile is working to make salmon fishing more sustainable so it minimizes the marine impact and provides economic growth opportunities for the local people. WWF is also working to preserve forests by working with timber companies.