Latin America and the Caribbean Action on Climate Change
Latin America has been taking significant steps to respond to climate change.
Countries such as Brazil, Mexico, Peru, and Colombia have made significant commitments to reducing their emissions. From 1990 to 2012, deforestation in some countries like Brazil and Mexico has declined, driving the relative contribution of the forest sector to overall emissions in the region downward.
Other countries, such as Costa Rica, Uruguay, Nicaragua, and Chile, are betting on the potential of renewable energy, ramping up the shift in their energy mix away from fossil fuels. In the period between 2006 and 2013, total renewable energy capacity in Latin America grew more than 270 percent, showing the appetite for new renewable energy technologies in the region.
And increasingly, Latin American countries are assessing the ongoing and projected impacts of climate change across critical sectors of the economy, such as agriculture, fisheries, energy and infrastructure. These countries want to prepare their population and key productive sectors for the growing climate variability and long-term changes now underway.
Below are some examples of how countries in Latin America are addressing the emissions coming from the region and the implications of a changing climate. To learn more about WWF's work in Latin America, please visit our Hablemos del Clima website.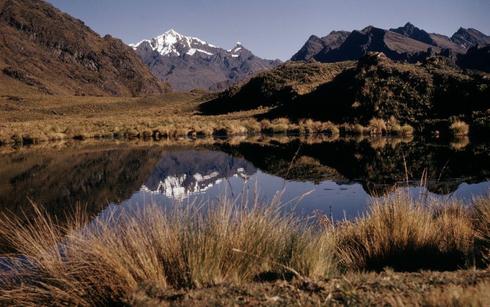 Bolivia enacted the world's first laws recognizing the rights of nature in 2010 with its Law of the Rights of Mother Earth. According to the law, the Earth is a political subject with rights to life, biodiversity, water, clean air, and more. The law states the government should develop policies to safeguard the Earth from the causes of global climate change.
Villamontes in La Paz was the first Bolivian municipality to implement a climate change adaptation plan, which was completed in 2012 with the help of CAF Development Bank of Latin America and several non-governmental organizations. The plan, which is to be replicated by other municipalities, seeks to reduce the emerging impacts of climate change while ensuring food security.
As part of its 2015 Intended Nationally Determined Contributions (INDC)*, Bolivia intends to increase the share of renewable energy sources in its energy mix from 39% in 2010 to 79% by 2030. The government also plans to reduce the vulnerability of water supplies by approximately 40% between 2010 and 2030, and is committed to halting illegal deforestation and to increasing its forest area by 4.5 million acres by 2030 (from 52.5 million hectares in 2015).
Learn more with Bolivia's Intended Nationally Determined Contribution (INDC) in Spanish and English and its 2009 National Communication to the UNFCCC in Spanish and English.
*Intended Nationally Determined Contributions (INDC) in this photo story refers to the commitments that countries have made on what post-2020 climate actions they intend to take under a new international agreement.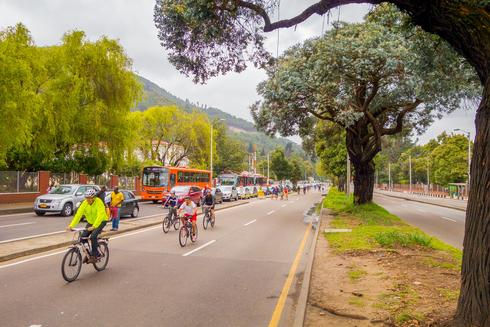 Colombia has been a source of significant innovation in cities. Working at the interface between urban planning and climate change, Colombia has won various awards for greening its transportation system. The cities of Medellín and Bogotá won Sustainable Transport Awards in 2012 and 2005, respectively, for the development of sustainable transport measures, such as public bicycle programs and rapid transit systems.
In 2013, Colombia committed to achieving zero net deforestation in the Colombian Amazon, equivalent to 40% of its territory by 2020, by improving governance and promoting agreement with key productive sectors to address deforestation, supporting low carbon development alternatives in the region, and supporting the livelihoods, territories, and rights of indigenous peoples in the Colombian Amazon. And as part of this process, Colombia has expanded the Serranía de Chiribiquete National Natural Park to almost 2.8 million hectares, an area as large as Belgium.
Colombia's government is investing in preparing the country for climate disruption through extensive adaptation efforts. Its National Adaptation Plan for Climate Change was developed in 2011 is already being implemented.
As part of its 2015 INDC, Colombia committed to reducing its greenhouse gas emission by 20% below what they otherwise would be by 2030. The government also indicated that, with international support, it could achieve a 30% reduction in emissions in 2030.
Learn more with Colombia's INDC in English and in Spanish and its 2010 National Communication.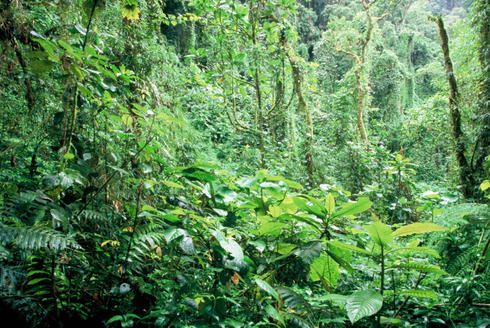 Costa Rica is close to becoming the first 100% renewable energy-powered country in Latin America. In 2013, Costa Rica generated 87% of its electricity from renewable energy sources. Although the majority came from hydropower generation, around 20% of the total renewable electricity was generated from non-hydropower renewables . And this year, Costa Rica was able to supply 100% of its electricity for the first months of 2015, showing that their target of 100% renewable energy by 2021 is within reach .
The country increased forest cover from 24% of the total land in 1985 to almost 52% in 2012, increasing the amount of carbon removed from the atmosphere and stored in the vegetation and soils.
As part of its 2015 INDC, Costa Rica has reaffirmed its commitment to become carbon-neutral by 2021. In addition, Costa Rica has committed to reducing emissions of greenhouse gases by 44% below what they otherwise would be in 2030. This is equivalent to a reduction in emissions of 25% below 2012 levels. The government is also committed to producing a national climate adaptation plan by 2018, focusing in particular on biodiversity, agriculture, water, coastal areas, fisheries, health, infrastructure, energy, tourism, and cities. A key component of its plan will be its National Disaster Risk Management Policy 2016-2030, including risk reduction, disaster response and readiness, and disaster recovery.
Learn more with Costa Rica's INDC in English, its INDC in Spanish, and its 2014 National Communication to the UNFCCC.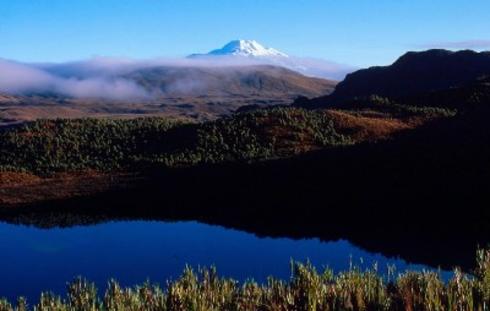 The Socio Bosque Program, launched in 2008, implemented a voluntary, incentive-based program to stem deforestation and promote ecosystem recovery (including reforestation). So far, the program has conserved 1.4 million hectares of forest, an area close to the size of Connecticut.
The country also plans to obtain 93% of its electricity from hydropower (from the 50% produced by hydropower in 2012) with new plants to be built by 2017, in addition to the development of solar, geothermal, and biomass sources.
As part of the government's INDC submitted to the UNFCCC in 2015, Ecuador intends to reduce its emissions in the energy sector— which presently accounts for 50% of the country's emissions— by 20.4%-25% by 2025 of what they otherwise would be. Furthermore, Ecuador's government has indicated that with sufficient international resources and support, energy sector emissions could be reduced by a total of 37.5%- 45.8% below the BAU scenario by 2025.
The government also plans to curb emissions from agriculture, forestry and other land uses, which presently account for about 43% of Ecuador's greenhouse gas emissions. However, the government indicates that the sustainability of these forestry and conservation measures depend on international financial support.
The government of Ecuador also is developing a National Climate Change Plan with measures intended to prepare Ecuador for climate disruption, emphasizing agriculture and other land uses, water, ecosystems, energy, risk management, and capacity building.
Learn more with Ecuador's INDC and its 2011 National Communication to the UNFCCC.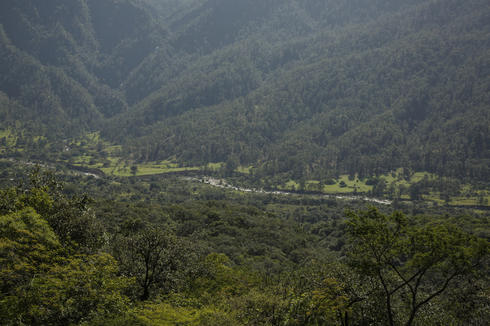 Guatemala implemented a new energy policy that aims to source 80% of its electricity from renewable energy by 2030. Guatemala is already home to one of Central America's largest solar plants.
Since the Kyoto Protocol agreement in 1997, Guatemala has implemented various laws and institutions to address climate change through both mitigation and adaptation. For example, In 2013, the government adopted a law on climate change that seeks to ensure a reduction in vulnerability and adaptation efforts to the effects of climate change, in addition to mitigation of greenhouse gas emissions.
The government has also implemented a new law to combat deforestation. The law focuses on sustainable development initiatives in rural communities from 2017 to 2047. The government has also committed to over $1.04 billion—in addition to almost $2 billion from the private sector—for the duration of the program.
As part of its 2015 INDC, Guatemala committed to an 11.2% reduction in greenhouse gas emissions by 2030, based on 2005 emission levels. The government said it would increase this to a 22.6% reduction dependent on various factors, such access to cost-effective technology and a stable economy.
Learn more with Guatemala's INDC and its 2011 National Communication, both in Spanish.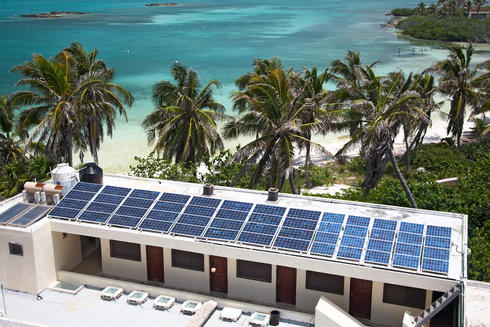 Mexico was the first developing country to develop a comprehensive law to address climate change in 2012.
Mexico also introduced a carbon tax in 2014 at $3.50 per ton of CO2, accounting for different fossil fuels and excluding natural gas.
Mexico was the first developing country to submit its INDC to the UNFCCC in 2015, in preparation for the United Nations' climate talks due to take place in December 2015. Mexico committed to decrease emissions of its greenhouse gases 22% of what they would otherwise be by 2030. That could increase to 36% depending on global cooperation and access to financial and technological resources.
Mexico also committed to reaching zero percent deforestation by 2030, and to invest on adaptation measures to prepare Mexico for the impacts of climate change. Mexico's INDC emphasized protecting communities, as well as increasing the resilience of strategic infrastructure and of ecosystems.
Learn more with Mexico's INDC in English and its 2012 National Communication.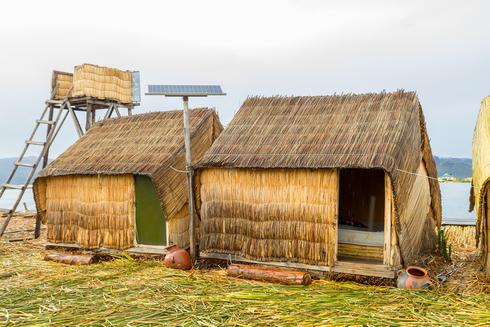 Renewable energy in Peru has the potential to supply electricity for more than 2.5 million people, and the government has already pledged to increase the share of the total energy mix to be provided by renewables from 27% in 2011 to 40% by 2021.
As part of its 2015 INDC, Peru committed to reducing the country's emissions of greenhouse gases by 20% below what they otherwise would be in 2030.
The Peruvian government is also committed to adaptation measures to better prepare for climate disruption. The measures focus on water, agriculture, fisheries, forestry, and health. In addressing those areas, Peru emphasizes five crosscutting topics: managing disaster risk, increasing infrastructure resilience, promoting private investment, protecting the poorest and most vulnerable populations, and explicitly considering gender issues.
Peru has also played a significant leadership role at the global level during the past two years, by taking on the role of President of the Conference of the Parties (COP) for the UNFCCC at the critical juncture as governments of the world negotiate a new global accord due to be agreed in Paris in December, 2015.
Learn more with Peru's INDC in English and Spanish and its 2010 National Communication.