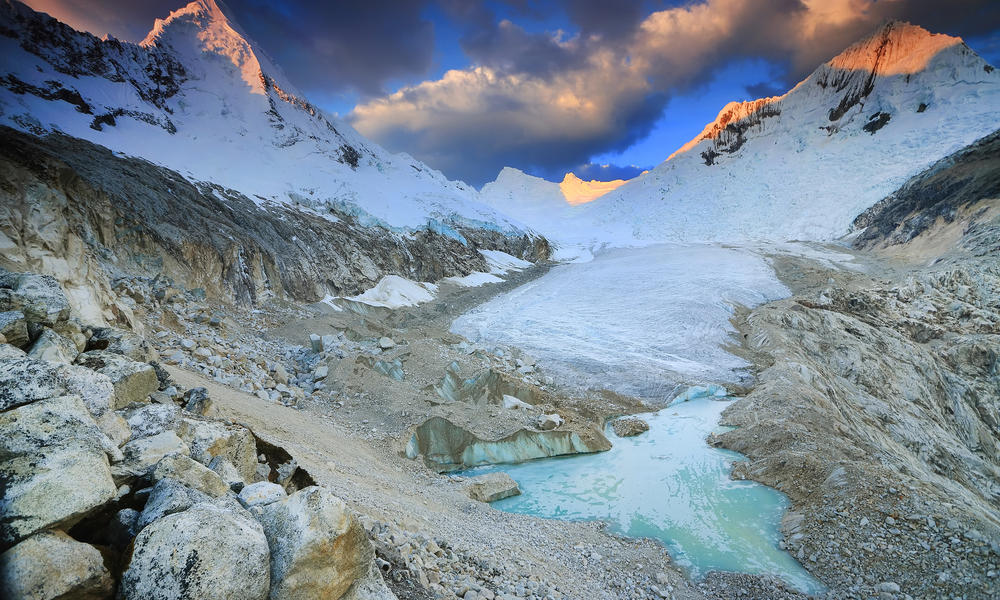 In 2013, extreme snow led to a state of emergency in 10 regions, affecting 100,000 people.

Around 70% of the world's tropical glaciers are in Peru.

Most of these glaciers will likely disappear within 10 to 15 years.
Home to both glaciers and deserts, the highest navigable lake and the Amazon rainforest, Peru is already facing the consequences of climate change. Since the early 2000s, however, Peru has emerged as a leader in climate change policy, especially with its plan to reduce greenhouse gas emissions 31% by 2030. The country also has a strong history in passing environmental laws aimed at mitigating climate change, despite only being responsible for 0.2% of global greenhouse gas emissions.
Climate Change Impact
Melting tropical glaciers will eventually result in water scarcity for nearby inhabitants; in the short term, however, this means extreme flooding and mudslides. The Peruvian government says glaciers have already retreated by 40 percent in the past 40 years.

Peru's Amazon could be negatively affected: in 2012 the rainforest became a net emitter of carbon dioxide (rather than oxygen) due to two droughts in the region in the years before. This means the natural ecosystem is not only harmed, but its function as a carbon sink, which has global implications, could be drastically altered.

Almost a third of the economically active population depends on agricultural activities, which contribute 62.8% of Peru's food supply. Two-thirds of farming lands depend on rainfall (not irrigation), which will become less predictable with climate change.

Peru is directly affected by weather variability caused by El Nino, the effects of which could be worsened by climate change.
Climate Action
Peru's U.N. emissions reduction plan includes up to 76 specific mitigation projects that could reduce emissions by up to 42%, making it easier for wealthier countries to invest in and help implement such projects.

Peru also pledged in 2010 to reduce the net rate of deforestation to zero by 2021. This change could decrease national greenhouse gas emissions by 47.5% (based on emissions in 2000).

In 2003, Peru introduced environmental legislation, its National Strategy on Climate Change, with the objective of both mitigating and adapting to the impacts of climate change.
WWF in Peru
WWF Peru works to
protect freshwater systems
and ecosystems and provide water security. WWF Peru also works to
conserve marine life
in this highly productive fishery, specifically dolphins and turtles. A
campaign in the Amazon
seek to work with local communities in order to protect the rainforest from hydrocarbon projects, such as oil exploration.