David Reed
Senior Policy Advisor, Policy
David Reed is Senior Policy Advisor for WWF-US. He holds a Ph.D and graduate degrees from the University of Geneva, Switzerland. He has worked for thirty-five years in social and economic development programs in Latin America, Africa, and Asia at both grassroots and managerial levels.
When joining WWF in 1989, Dr. Reed directed several international programs to address the environmental impacts of macroeconomic reforms, becoming a widely-published author and global expert on the complex relationships between economic policies, social structures and environmental change in the developing world. Seminal works include Structural Adjustment, the Environment, and Sustainable Development (Earthscan, 1996) and Escaping Poverty's Grasp: The Environmental Foundations of Poverty Reduction (Earthscan, 2006).
More recently, he has focused attention on the deepening impacts of ecological change on U.S. national security interests around the world, through which he has strengthened relations between WWF and the U.S. security and intelligence communities. His more recent works include In Pursuit of Prosperity: U.S. Foreign Policy in an Era of Natural Resource Scarcity (Routledge, 2014), a volume that explores the impacts of natural resource scarcity and climate change on social stability and U.S. security interests in countries of importance to our country. His forthcoming book, Water, Security and U.S. Foreign Policy (Routledge), with a foreword by Gen. Jim Jones, is scheduled for release in late June, 2017.
"We want to encourage economic development, but it has to be development that's sustainable and equitable."
In The News
Foreign Policy in Focus (By WWF's David Reed)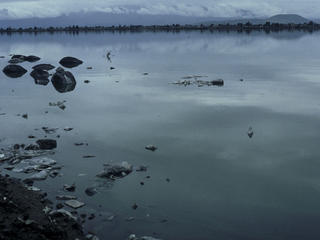 Videos
In Pursuit of Prosperity: US Foreign Policy in an Era of Resource Scarcity
In this age of globalization, it is clear that America's prosperity and security depends on that of our political and economic partners. Yet, today we see mounting evidence that our partners' stability is threatened by global environmental change. Increasing pressure on limited resources is disrupting global supply chains, causing social instability, destabilizing regional relations and expanding illegal trade. Policy leaders, security experts and change makers discuss why environmental sustainability must become a central tenet of US foreign policy in order to protect our national security and promote global prosperity.
More on David
Title
Senior Policy Advisor
Education
PhD - Development Economics, University of Geneva, Switzerland
MA - Sociology of Developing Countries, University of Geneva, Switzerland
BA - Political Science, Beloit College
Areas of Expertise
Poverty and the environment
Trade, rural livelihoods and the environment
The Global Environment Facility
Governance and natural resource wealth
Economic reforms, social equity and environmental sustainability
Public-private partnerships and carbon finance