Lou Leonard
Senior Vice President, Climate Change and Energy
Some people think of climate change as something that will happen in the future—a problem for their kids or grandchildren to solve. As a conservationist who has worked with communities across America and around the world, Lou has seen the effects our changing climate is having right now. From unprecedented droughts and wildfires in the American West, where Lou began his career, to dying coral reefs in East Africa, where he lived and taught, to extreme rainfall in New England, where Lou grew up, climate change is here and getting worse.
As senior vice president of WWF's Climate and Energy Program, Lou is the organization's strategic leader on work to fight climate change and usher in a zero-carbon, climate-resilient world, powered by renewable energy.
With Lou's strategic leadership, the climate team is focused on delivering on goals of the landmark Paris Agreement, helping communities and ecosystems adapt to rapid change, and maximizing the leadership and impact of business, cities, and civil society on accelerating action on climate. Lou previously served as WWF's director of US climate policy, leading the organization's work to support a new climate and clean energy law for the nation, as well as building WWF's program on forests and climate change.
A lawyer by training, Lou has practiced and taught international and domestic energy and conservation law, including with the US government and in the private sector. He served as special counsel to the secretary of the interior specializing in water law and Native American rights. From there, Lou worked as a senior associate for Latham & Watkins, LLP, specializing in California natural resources and energy issues. He left Latham to accept a Fulbright Senior Scholarship teaching law at the University of Dar es Salaam in Tanzania, where he lived and worked from 2006-2007. While in Tanzania, Lou also supported local communities and civil society groups on land and forest conservation.
Lou is also a regular contributor to The Huffington Post, where he blogs about climate change.
"Our political system in America is a bit like an ocean liner…neither is good at sudden changes in direction. But there are moments in time when we must act quickly and decisively. If we are to stop the climate crisis, that time is now."
In The News
The Texas Tribune
Paris Agreement Passes Crucial Global and Local Test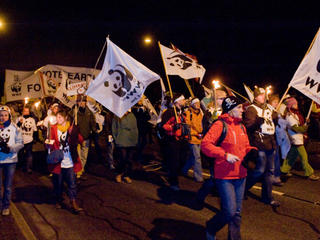 More on Lou
Title
Senior Vice President
Education
JD – Certificate in Environmental Law, Boston College Law School
BA – Georgetown University
Areas of Expertise
Global climate change policy
US climate change policy
Conservation law and policy
Environmental law
Water rights issues
Publications
The 3% Solution application/pdf, 1.27 MB

The 3% Solution: Driving Profits Through Carbon Reductions helps U.S. businesses chart a new path forward. This path is tremendously profitable, practical and helps curb climate change.
View All Publications