Shubash Lohani
Director, Sustainable Landscapes, Forests
A Nepali citizen, Shubash is Deputy Director for the Eastern Himalaya Ecoregion program. He supports design, planning and implementation of landscape level conservation and sustainable development projects in six priority landscapes of Nepal, Northeast India and Bhutan.
Before joining WWF-US in 2007, he worked with WWF-Nepal, where he played an instrumental role in developing the Terai Arc Landscape and Nepal's Tiger Conservation Action Plan. He also supported the design and implementation of several innovative conservation approaches in the Terai, including a carbon project for alternative energy. He led the development of strategic plans for WWF-Nepal and WWF-Bhutan and has grown and maintained important relationships with other non-governmental and governmental organizations, both in the United States and the Eastern Himalayas.
"There is a beautiful reciprocal symmetry in conservation. My work with local communities in the Eastern Himalayas has shown me that when people take care of nature, nature takes care of them."
In The News
CBS News
In an attempt to create a safer environment for both the farmers and the indigenous species, the WWF is working with the local government to help the region's 8 million residents convert from wood-burning stoves to biogas stoves.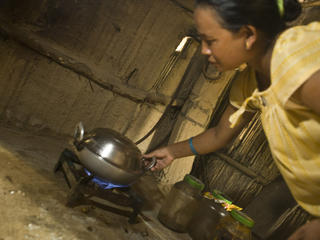 More on Shubash
Title
Director, Sustainable Landscapes
Education
MS - Environmental Science, The University of Tokyo
BS - Environmental Science, Kathmandu University
Areas of Expertise
Large scale conservation planning and management
Large mammal conservation
Natural resource management and governance
Community development
Climate change adaptation