Global Forest & Trade Network
Overview
The future of the world's forests depends greatly on the actions of North Americans. We are one of the world's largest producers and consumers of wood and paper products. And the US is one of the top importers of wood from countries considered high risk for illegal logging and poor forest management.

So how do we ensure forests can continue to provide the world with what it needs to survive? Everything from wood for building homes to habitat for hundreds of thousands of species?

By slowing the pace of deforestation and forest degradation. The actions of governments, nonprofits and consumers are key to slowing the pace. But the actions of companies are particularly important. They have tremendous purchasing power to support responsible forestry and trade globally, as well as to eliminate the market for unsustainable and illegal wood.

Without such action, we will continue to lose plant and animal species, some that we have not even discovered. Poverty will continue to increase among the millions who depend on forests for their livelihoods. Fresh air and water will become the exception, not the norm. The supply of some forest products and types of wood will become more scarce. And we will miss the opportunity to curb emissions associated with global warming.
A key part of the solution is making good decisions from the forest floor to the sales floor. That's where WWF's Global Forest & Trade Network-North America (GFTN-NA) program comes into play.
The program engages companies, trade associations, public procurement entities and institutions across North America that are committed to responsible production and sourcing of forest products. It is a network made up of a diverse group of people: forest managers, forest product producers, forest product buyers and many more.
Priority Commodities
Many wood products in American homes—from the kitchen table to hardwood floors—come from the same forested areas in Africa where elephants, rhinos, lions and other magnificent species roam wild. Few purchasers know that the wood from these forests is illegal. It was harvested, transported, processed, bought or sold in violation of national laws.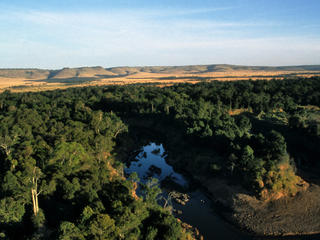 Why It Matters
McDonald's Corporation

Twenty-three percent of McDonald's Corporation's fiber-based packaging (such as hot cups, carry out bags and clamshells) is certified or recycled. The company is moving toward its goal of 100 percent by 2020, with a preference for FSC.

Avon Products, Inc.

Halfway there in its goal to purchase 100 percent of its paper from independently certified or post-consumer, recycled-content sources by 2020

Domtar Paper Company LLC

Helped dozens of landowners in the southeastern US achieve FSC group certification on 500,000 acres.

Hewlett Packard Co.

On track to meet its 2015 goal of 50 percent, by tonnage, of HP-branded paper that is made from FSC-certified and/or post-consumer waste.

International Paper

Since 2007, has added approximately 1.5 million tons of FSC-certified wood fiber to its US paper and packaging manufacturing system

The Kimberly-Clark Corporation

111 percent increase in its use of FSC fiber since 2009

The Magellan Group, Ltd.

100 percent FSC-certified tropical wood for decking, rain screen and flooring

Procter & Gamble

On track to meet its goal of 40 percent FSC-certified fiber in its tissue and towel products by 2015

Tetra Pak Inc.

100 percent FSC-certified paper products used in its US and Canada offices

Williams-Sonoma, Inc.

11 percent of the wood used in Williams-Sonoma, Inc.'s furniture in 2013 was FSC-certified and more than half that amount was recycled