Sacred Earth: Faiths for Conservation
Overview
Many of the most important conservation places in the world are sacred. Sites like the Amazon, South Dakota's Black Hills, and the Mekong River are deeply rooted in local spiritual and cultural traditions. These places also face overwhelming threats, including deforestation, pollution, unsustainable extraction, melting glaciers and rising sea levels. Such threats not only endanger the integrity of ecosystems but also leave the people who live there impoverished and vulnerable.
Over 80 percent of people in the world follow a specific faith; there are at least 2 billion Christians, 1.34 billion Muslims, 950 million Hindus, and 200 million Buddhists worldwide. WWF's Sacred Earth program works with religious leaders and faith communities who best articulate ethical and spiritual ideals around the sacred value of Earth and its diversity, and are committed to protecting it.
The growing climate crisis is the clearest reminder that we are all connected: the land, waters and atmosphere we share, our global food supply, the social contract that promotes peace within the human family. All are at risk from climate disruption and related natural resource scarcity. At this moment in history, we must look for new ways to collaborate across traditional lines.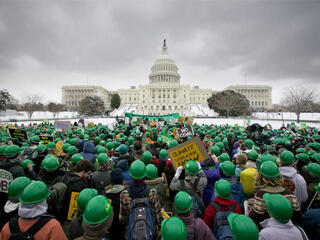 Why It Matters
"I feel that we, as humans, it is our duty to protect wildlife and treat them as other creatures that God has created. I am appealing not only to Muslims but humanity to really look after the animals, the wildlife, the plants. All these are for us to use, but at the same time protect them. And in the long run, by doing so, we are protecting ourselves, our existence."

Prof. Abdulghafur El-Busaidy
National Chairman of the Supreme Council of Kenya Muslims

"We hear the voices of the Earth. We can share that information with you so we can all be good relatives to all that is."

Rosalie Little Thunder
Lakota Elder

"It is time to demonstrate a love for the creator by loving the creation."

Dan Misleh
Executive Director
Catholic Coalition on Climate Change

"Our well-being and survival is totally dependent on things that are outside, like this Earth, the freshwater and the fresh air that we breathe."

Dzogchen Ponlop Rinponche
Buddhist Scholar

"Christianity, Islam and Hinduism represent the major religions of East Africa. In that sense, our religions include poachers and destroyers of our wildlife since these three religions represent the majority of the people. We will work with WWF to remove ignorance from them and prevent the destruction of animals and their habitats."

The Rev. Patrick Maina
Presbyterian Church of East Africa
What WWF Is Doing
Our partnerships with faith leaders and communities focus on activities such as forestation and watershed restoration, river protection and clean up, climate change adaptation and mitigation, and combating illegal wildlife trade.
WWF extends a call to faith-motivated youth of America to be the voice for wildlife and wild places that have no voice of their own. Being an advocate means leading by example—such as recycling your bottles, buying sustainably-produced food and riding your bike to school instead of driving. It may also mean speaking out in your local community about the environmental issues you care about.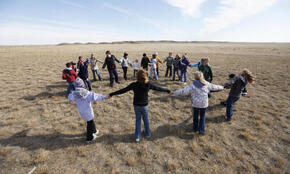 Faith Motivates Conservation
Faiths guide and direct the way we think, behave, and live our lives. But the power of faith is not solely spiritual. Collectively, faith-related institutions own almost 8 percent of total habitable land surface and constitute the world's third largest category of financial investors. Their determination to address climate change or to protect wildlife has enormous potential to influence the fate of natural spaces and species.
WWF's Sacred Earth program builds a global dialogue with religious leaders and faith institutions on ways to develop and enrich societal aspirations, values, and lifestyles that are ecologically sustainable and spiritually principled. We support the work of faithful Christian congregations that seek to become better stewards of Creation, of Buddhist monasteries that practice compassion toward the Earth as part of their Bodhisattva vow, and of Muslim imams who see the protection of nature as a trust from Allah.
Collaboration Brings Results
WWF's work is based on strong, long-term partnerships with a diverse range of religious leaders and faith institutions. We maintain a close partnership with the Alliance of Religion and Conservation (ARC), a UK-based organization that works with religions around the world and was established by WWF in 1985.
In the Eastern Himalayas, WWF helped establish Khoryug, an association of Tibetan Buddhist monasteries that works on environmental protection under the auspices of His Holiness, the 17th Karmapa, Ogyen Trinley Dorje. The partnership has resulted in the publication of environmental guidelines for Buddhists and more than 55 monastery-led projects to address forest degradation, water loss, wildlife trade, waste, pollution and climate change.
In the Greater Mekong, WWF works to protect endangered Irrawaddy dolphins in collaboration with His Holiness the Mahasangharaja Bour Kry, the Great Supreme Patriarch of Buddhism in Cambodia, and Buddhist temples that flank the Mekong River. Monks train to be effective advocates for freshwater conservation in an effort to ensure that the population of fewer than 80 Mekong Irrawaddy dolphins continues to survive.