Targeting Natural Resource Corruption
Overview
---
---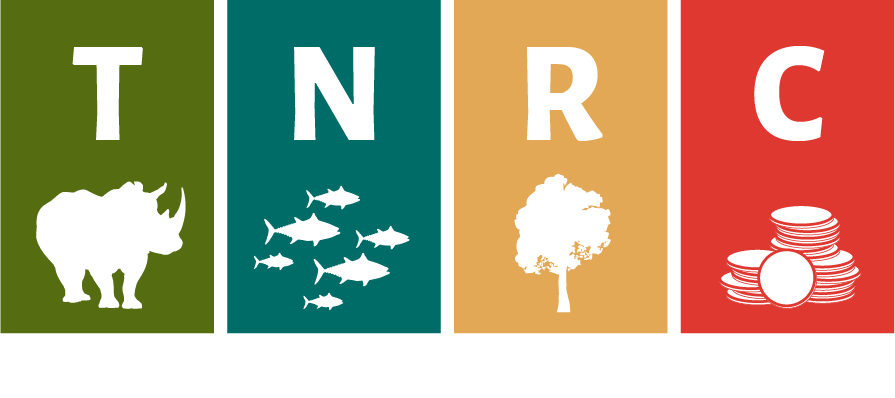 Corruption undermines global development and biodiversity conservation.
Corrupt practices distort good governance, undermine the sound management of natural resources, facilitate environmental crime and illegal trade, and drive resources away from the public good and into private hands.
About the Project
Targeting Natural Resource Corruption (TNRC) is a USAID-funded project to improve biodiversity outcomes by equipping practitioners to address the threats posed by corruption to wildlife, fisheries and forests. It does this through three Strategic Approaches:
Build Knowledge
Distill existing anti-corruption knowledge to make it relevant for NRM practitioners
Research and strengthen evidence on how anti-corruption efforts can help improve biodiversity outcomes

Communicate for Change
Engage networks and partnerships to exchange knowledge and amplify the reach of anti-corruption information
Empower others to implement context-appropriate anti-corruption initiatives in NRM

Apply Knowledge and Test Hypotheses
Pilot and learn from new approaches
Apply broader anti-corruption interventions under Associate Awards

---
TNRC is implemented by a consortium of leading organizations in anti-corruption, natural resource management, and conservation: World Wildlife Fund (WWF), the U4 Anti-Corruption Resource Centre at the Chr. Michelsen Institute, TRAFFIC, and the Terrorism, Transnational Crime and Corruption Center (TraCCC) at George Mason University.
---
TNRC is a Leader with Associates (LWA) award. The Leader Award is managed out of WWF-US and supports research, knowledge dissemination, networking, and piloting new approaches. Up to $35 million for Associate Awards may be mobilized by USAID country offices and other operating units, at their discretion, to support analysis and/or implementation of context-specific anti-corruption programming.
The Associate Awards will leverage and contribute to TNRC's knowledge agenda, while responding to specific programming priorities agreed between USAID missions/operating units and TNRC.
Want monthly news, research, and training opportunities from TNRC?
Join TNRC's mailing list:
You can change, edit, or delete your information at any time.
---
---
This content is made possible by the generous support of the American people through the United States Agency for International Development (USAID). The contents are the responsibility of World Wildlife Fund (WWF) and do not necessarily reflect the views of USAID, the United States Government, or individual TNRC consortium members.
---
---