In-Depth
Infinite Depths
Protecting oceans and a global seafood pipeline
Issue: Fall 2014
Author: Julian Smith
Photographer: Meridith Kohut
The Don Luciano, a weather-beaten 45-foot fishing boat, motors out of Cocholgüe harbor in the early morning darkness. Behind the vessel, the houses of the village spill down the steep hillside toward the rocky harbor, where a narrow beach is lined by brightly painted boats in various states of repair. Cocholgüe, a cove on Chile's central coast, is home to roughly 2,000 fishermen and their families. As Captain Fabian Rodriguez steers, his crew of six snoozes in cramped bunks despite the deafening diesel engine. The Don Luciano is one of the larger examples of Chile's 9,300 artisanal fishing boats, which brought in 1.3 million tons of seafood in 2012.
The crew members emerge onto the rolling deck with the rising sun and pull on bright orange overalls and jackets and turquoise gloves. A beach ball-sized float marks the first set of gillnets, which are 200 feet long and suspended 10 feet above the seafloor. A muscular choreography begins: two men pull up the nylon nets, using a motorized winch when arm strength isn't enough; two more disentangle hake that have been snagged by their gills (hence the term "gillnet"); and two coil the ropes and stack the empty nets.
The piles of fish grow, but painfully slowly, as seagulls bob in the swells and pelicans glide past in military formation. When the process is finished two hours later, the men reset the nets and use buckets of seawater to sluice fish slime from the decks and each other. The next set of nets is even more disappointing, with gaping holes left by boat anchors, stiff currents, or maybe sea lions.
Rodriguez shakes his head as he steers toward home around noon. Today's catch looks to be about 15 boxes, each holding 60 pounds of fish, which will earn each man about $10. Rodriguez, a fisherman for 20 years, remembers when an average haul was 30 to 40 boxes. "You very rarely had a small catch, but not now," he says. "These last few years it's been low."
"The science is clear—we must transition to sustainable practices and better manage our fisheries to avoid ecological catastrophe. We know that markets have a role to play in this, but we must also ensure that poor men and women who depend on small-scale fisheries for their livelihoods will benefit at the end of the day."

Dr. Cristina Rumbaitis del Rio Senior Associate Director, The Rockefeller Foundation
Chile's seafood industry, the sixth largest in the world, includes everything from tiny fishing boats and huge industrial trawlers to seething fish farms and aseptic factories. It's a microcosm of the problems and potential solutions facing global fisheries, as stocks face collapse even as every year brings millions more mouths to feed. But with help from WWF—and with a newly amended fishery law, for which WWF gave input—the country is edging toward sustainability. "We're on the right track," says Ricardo Bosshard, WWF's Chile director. "But we know we're on a journey of 10 years, maybe more."
Three billion people rely on seafood, both wild-caught and farmed, as their main source of animal protein. The industry supports 200 million jobs, making seafood one of the world's biggest traded food commodities.
But that bounty has come at a price. Over 85% of marine fish stocks are considered either fully exploited or overfished, and more than one in five fisheries has collapsed. Climate change is altering the distribution of fish by acidifying the oceans and raising water temperatures. With more than 9 billion people estimated to crowd the planet by 2050, the continuing role of fish as food is becoming less and less secure.
Sandwiched in large part between the Andes and the Pacific, Chile is a coastline as much as a country, with more oceanfront real estate than the east and west coasts of the US combined. Seafood is the country's third-largest export, but after decades of mismanagement, over two-thirds of Chile's commercial bony-fish stocks are currently overexploited or collapsed, says Mauricio Galvez, WWF Chile's Fisheries Program coordinator. "It is not only an environmental or economic issue. There are thousands of vulnerable people who directly depend on such stocks."
The decline is in evidence in places like Cocholgüe. Antonio Bustos, president of the local fishermen's union, is a bear of a man with a handshake toughened by decades at sea. "I'm a dignified man," he says. "I don't want to live off of handouts. I want to work and earn my money." But it's getting harder and harder to make ends meet, he says, with prices falling and the fish getting smaller and harder to find every year. "Our kids don't want to be fishermen anymore."
Many artisanal fishermen blame large industrial vessels (defined as boats more than 60 feet long) for the dwindling catches. They say these big boats fish indiscriminately beyond about five nautical miles out—but still within the historical artisanal fishing grounds—and misreport their catch. In 2012, 175 registered industrial vessels caught nearly as much as Chile's entire artisanal fleet. Unregulated artisanal fishing is also a problem, says Bustos. Illegally caught hake sell for roughly $10 per box versus the $20-$30 that legal fishermen have to charge to cover costs. "Our legal catch is better-quality, bigger fish," says Bustos. But given that price competition, law-abiding fishermen struggle to make a profit.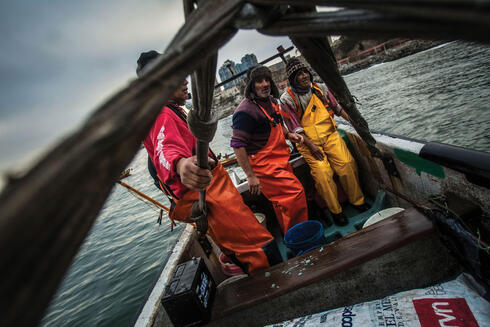 On top of that are the fishing quotas the government instituted in 2001 to try and save the country's crashing stocks. "The quotas are so small you can't make a living," Bustos says—and some fishermen simply ignore them. Meanwhile, the fish keep getting smaller. Over the past decade, the median size for mature hake has reportedly dropped from 14.5 inches to 11 inches. "Twenty or 30 fish used to fill a box," Bustos says. "Now it takes 80 or 90. One hake fillet used to cover a plate, and now you need two."
Bustos says it would help if the government promoted higher hake prices and provided fishermen with gear to catch different species in different seasons. Having their own fish processing plant, he suggests, would help the residents of Cocholgüe and other caletas (local associations of fishermen) connect directly with international markets, as industrial operations do.
"Fisheries are complex, diverse and dynamic. Therefore, there is no guarantee that what is useful in Chile will be useful in [places like] Indonesia or Madagascar. But at least we believe that many good lessons can be adopted by our neighboring countries, because we share many similarities with them in the fishery section."

Mauricio Galvez Fisheries Program Coordinator, WWF Chile
Dante Queirolo of the Pontifical Catholic University School of Marine Sciences in Valparaiso agrees that the hake fishery is in bad shape, and that illegal and unreported fishing is a serious problem. "People cheat," he says. "We need to recognize that the monitoring system has failed." To address this, the Chilean National Fisheries Service (Sernapesca) launched a new landing certification program this year to record how many fish are being caught by artisanal boats over 40 feet long.
The new landing certifications are part of an overhaul of Chile's national fishing law, which went into effect in February 2013. WWF advocated for improvements in the law that focus on conservation and sustainability, including setting up legally binding fishery recovery and management plans, and using a transparent, science-backed process to set the yearly quotas.
One of the best places to find fish for domestic consumption is in Santiago's fish market, built in 1996 with a grant from Japan. It's the largest of its kind in the country, with over 1,000 tons of seafood sold every month, and it rumbles with activity starting well before dawn. Burly workers unload boxes of fish from trucks as vendors sell coffee and snacks out of shopping carts. Early morning buyers stroll between stalls looking for deals on every kind of seafood imaginable: salmon and giant squid, crabs and elephant fish, a whole octopus here, half a swordfish there. The smell is overwhelming, almost a visible haze in the air.
As the morning progresses, more shoppers arrive to haggle over ingredients for dinner or linger at a lunch counter over a thick bowl of caldillo de congrio, a traditional Chilean conger eel stew that's known locally as a hangover cure.
The market reflects a vibrant slice of Chile's economy, which in turn is only part of a much larger picture. Together, Chile, Peru and Argentina provide about 9% of the world's total catch in two main categories: whitefish such as Patagonian toothfish (aka Chilean sea bass) and species low on the food chain like Peruvian anchoveta, used for fish oil and animal feed. Many of these stocks are in bad shape, which is why WWF helped establish the Southern Cone Alliance, a marine initiative aimed at long-term sustainability, in 2013.
WWF marine and fisheries offices in Chile and Peru, together with Argentina's Fundación Vida Silvestre, a partner organization, are collaborating to ensure that the region's fish are harvested at biologically safe and sustainable levels, without undue environmental impacts. The goal is to have three-quarters of priority fisheries certified as sustainable by the Marine Stewardship Council (MSC) by 2020.
Artisanal fishing boats set sail well before dawn from the port at Concepción, Chile. The country's 9,300-boat artisanal fleet brings in over half its total annual catch.

Jose Cordova, 47, rises with the dawn aboard the Don Luciano, a 45-foot fishing boat, as it nears the day's first set of gillnets. Chile's small-scale fishing vessels offer few comforts but a sense of rough camaraderie.

Two hours off the Pacific coast of Chile, the crew of the Don Luciano pull in nets of South Pacific Hake. Despite a governmental monitoring system, illegal and unreported fishing decimate stocks and undercut the price of fish caught legally.

Hake tangled in gill nets on the deck of the Don Luciano. Chile's hake stock is considered overexploited and in risk of collapse—as are at least 12 more of the country's 20 largest fishery stocks.

Aboard the Don Luciano, the day's catch of hake is disappointing. Today's labor will earn each worker the equivalent of about $10.

Due to a combination of factors, including overfishing and the lack of a clear recovery plan, the median size for mature hake has been reduced by nearly 25% over the past decade.

Abraham Pastillas, 51, coils line aboard the Don Luciano, where his son Joel, 24, is also a crewmember. Many Chilean fishermen say their children plan to pursue other careers that are less difficult and more secure.

Customers carry crates of fresh fish bought directly off the boat from artisanal fishermen in the port in Concepción, Chile. The WWF is helping the government regulate and monitor the industry to make it more sustainable.
"Chile is blessed with rich waters that provide the high-quality seafood—and the protein it provides. Yet the country is now at a crossroads. Its fisheries can either follow the downward path that has plagued so many countries, or it can take a road to recovery by adopting strong governance of its fish stocks, grounded in the best science available and an honest commitment to sustainability."

Richard Cudney, PHD

Program Officer, Conservation and Science Program, The David and Lucile Packard Foundation
But wild fisheries are still struggling, and one way to take some of the pressure off is to farm fish instead. Six hundred miles south of Santiago, where Chile's geography starts to dissolve into a fractal maze of mountains and water, a grid of metal walkways floats in a channel near the city of Puerto Montt. Under a gloomy sky, a worker in a rain jacket and rubber boots tosses food pellets into one of 10 pens, open on the surface but contained by underwater netting, that form the structure. The surface boils, evoking images of piranhas and unlucky swimmers. Here, though, it's two-week-old coho salmon: 50,000 in each 10,000-square-foot pen, to be exact, or half a million fish in less than two and a half acres.
Workers, who live in floating buildings nearby, monitor their charges through underwater cameras and speak about them almost as if they were children. "If they're not eating, something isn't right," says Francisco Elgueta Diaz, operations manager for the Chiloé plant of AquaChile, the country's largest salmon exporter. Sometimes they have to vaccinate every fish, individually, by hand.
Aquaculture has been practiced for thousands of years, starting in ancient China, but it wasn't until the mid-20th century that "fish farming" grew into a truly large-scale food source. Today it's the fastest-growing part of the world food economy, accounting for about a third of all fish consumed.
In Chile, aquaculture is a $5 billion industry, with 2,300 active operations employing 120,000 people directly or indirectly. The country is the second-largest producer of farmed salmon after Norway but, as it has elsewhere, the aquaculture industry has drawn criticism for polluting and otherwise disturbing natural habitats and ecosystems.
Those negative impacts can also spread. Crowded underwater pens can contaminate their surroundings with feces and food pellets (often made, ironically, from wild-caught fish). Escaped fish can spread disease and out-compete native species. In many areas, the ships that supply the farms and feeding-machine generators create constant noise, which may be short-circuiting cetacean communications and driving away marine mammals like the Chilean dolphin. And the sometimes-heavy use of antibiotics is thought by some to increase antibiotic resistance in people.
To top it off, in 2007 an outbreak of the Infectious Salmon Anemia virus (ISA) rocked Chile's aquaculture industry, causing production to plunge by 40% and dovetailing with the worldwide economic crisis to cause widespread unemployment in areas where fishing is a way of life.
AquaChile is one of two salmon producers that have worked directly with WWF to improve the sustainability of their operations. They're also part of the Global Salmon Initiative, an agreement announced in August 2013 by 15 of the world's leading salmon farming companies to have their farms ready for certification by the Aquaculture Stewardship Council (ASC) by 2020. That would mean 70% of the world's farmed salmon would be independently evaluated to meet strict standards of environmental, economic and social benefits.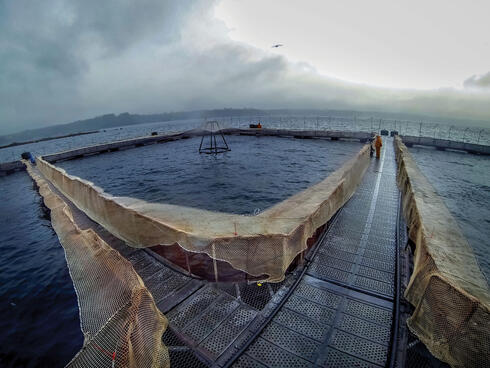 "In the salmon industry, it's not enough that one company does things right," says Nico Nicolaides, AquaChile's chief operations manager. "We all have to do things right. There are no boundaries in the sea."
Salmon farming has recovered to pre-ISA levels, but AquaChile is taking no chances. All visitors to the fish farms have to follow strict sanitation rules, washing their hands and spraying rubber boots with disinfectant on arrival and again on departure. Researchers are also trying to develop a vaccine against a rickettsia-based disease prevalent in Chile, which would let fish farms cut back on their use of antibiotics significantly.
The aquaculture company Cermaq, another major player in Chile's salmon farming industry, is working on ways to eliminate destructive salmon parasites like sea lice. A long-term view is key in this industry, says CEO Francisco Miranda Morales. "You can have a very profitable business in a very short time period. But that's not going to last. When biology is involved, what you do today will affect the future."
The future, or at least part of it, is on view at the AquaChile processing plant in Puerto Montt. Workers sign in with fingerprint readers and suit up in full-body smocks with boots, hoods and face masks. (They also disinfect carefully before entering; the ISA outbreak left the plant fishless and shuttered for three years.)
Inside, the plant is cold and humming with machinery and precision activity, like a high-speed industrial operating room smelling of chlorine and salt. Farmed salmon arrive by tanker truck and come through large hoses into the gutting room, the only part of the factory where workers wear red uniforms. From there the fish are carried by conveyor belts through high-tech slicing machines and hand-trimming stations where workers with chainmail gloves work like skilled surgeons. The fish are sorted, cut, de-scaled and filleted, emerging at the other end in vacuum-sealed sections that are packed into Styrofoam boxes and whisked off for shipment around the world. "They can be in the US in 48 hours by plane, farm to table," says plant manager Gerardo Crot Rebolledo, clearly proud of the operation.
It's strange to think that these flash-frozen fillets were swimming in the chilly southeastern Pacific just days ago. The transformation reflects the two important roles fish play in the modern world, as living creatures and as commodities.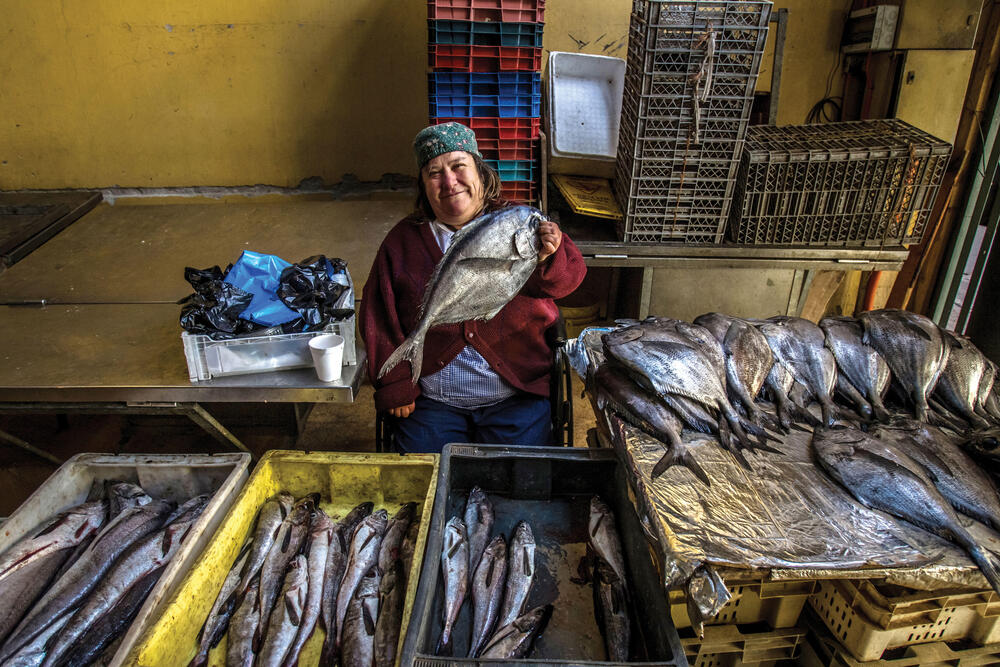 At the entrance to Cocholgüe, where the Don Luciano plies the water nearly every day, is a sign bearing a poem by the Chilean writer Francisco Coloane. "All life comes from the sea," it says. "There is an infinity in the depth of the ocean that man does not yet know."
What we do know, however, is that safeguarding fisheries has a ripple effect on the entire marine environment, affecting everything from seabirds and sea turtles to marine mammals such as fur seals and dolphins. Healthy ocean ecosystems are more resilient to emerging threats such as warming water temperatures and ocean acidification. Making fisheries sustainable over the long term is critical for the billions of people who depend on fish for their food and livelihoods. Still, human actions have altered the bounty of fish once found in the ocean depths: we have made that seemingly endless bounty finite. That's where WWF's experience working on complicated issues from all sides comes into play, says Bosshard. To solve this challenge, he adds, "we must try to engage with what is really, really complex."
Explore More
About

World Wildlife magazine provides an inspiring, in-depth look at the connections between animals, people and our planet. Published quarterly by WWF, the magazine helps make you a part of our efforts to solve some of the most pressing issues facing the natural world.