In-Depth
The Long Game
In Ecuador, fishing and ocean conservation are at the heart of a national plan
Issue: Spring 2019
Author: Brendan Borrell
Photographer: Antonio Busiello
Salt water sprays across the bow as the captain steers into the wind. Bracing herself against a guardrail, Cristina Castro, a researcher with the Pacific Whale Foundation, points toward the horizon, where the gray-blue sea meets the gloomy skies above. At first, there is nothing.
But then a smooth, black form breaches the choppy water like a surfacing submarine: a humpback whale. A stubby dorsal fin, then the body grows narrow. One final flap of the tail, and the magnificent creature is gone.
Another soon takes its place. It appears there are three whales, swimming alongside what must be 40 dolphins. Castro makes a run for her camera—such mixed pods are a rare treat, even here at a prime whale-watching locale near Puerto López, Ecuador.
Ecuador, as it turns out, is less a hunk of land than a stretch of open ocean: The country's maritime territory is five times larger than its continental one. And, in addition to being home to humpbacks and dolphins, these coastal waters host one of the world's largest aggregations of giant manta rays. Then, of course, there are the whale sharks, the largest fish on the planet.
All of which explains why it is so troubling to see, later that day, a lone humpback surface, tangled in a tattered yellow fishing net. Seemingly exhausted, it rests motionless on the surface. Every time the boat comes close, the whale dives, dragging with it a long strand of fishing floats. Although this area is a marine reserve, the whale could have run into the abandoned "ghost gear" floating just about anywhere. The captain notifies park authorities, who deal with such entanglements more often than one would hope, and two days later they are able to save the whale.
The episode is a reminder that whales aren't the only ones plying these waters, and protecting an ocean ecosystem is a daunting task.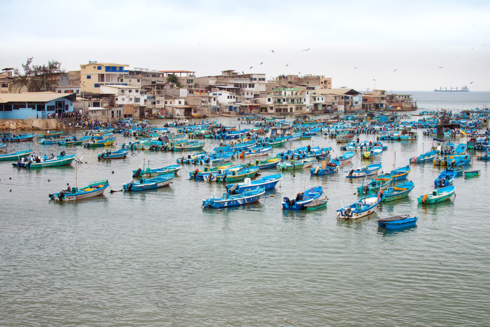 "We are a fishing nation," says Pablo Guerrero, fisheries director for WWF-Ecuador, Latin America, and the Caribbean. Along with controlling one-tenth of the world's canned tuna market, Ecuador also has some 30,000 to 46,000 small fishing vessels, believed to be the largest artisanal fishing fleet in South America. This diversity creates a chaotic fishing environment fraught with conflicts.
Guerrero is a veteran of such conflicts. He's also an optimist. While few believed it would be possible to tame the chaos, he and his colleagues have, over the past 10 years, come a long way in demonstrating that protecting a country's oceans can be good for both its ecosystems and its people. "Sustainable fishing means sustainable communities with secure and profitable livelihoods," he says.
The progress Guerrero and team have made, including in better monitoring of fisheries, has helped to make the country a model for other developing nations. "Ecuador has been a pioneer," says Lauren Spurrier, WWF-US vice president of oceans conservation. "Pablo is at the center of that work."
And while Guerrero often wishes he could put an immediate end to damaging fishing practices, he recognizes that the game he's playing is a long one. "You need to be like a Galápagos tortoise," Guerrero says, "with a very strong and resistant carapace."
A day after the whale sighting, Guerrero is standing on the concrete docks of Ecuador's largest and most important fishing port, in the city of Manta. Hundreds of boats bob in the water, and prehistoric-looking frigate birds circle like pterodactyls. Guerrero, broad-shouldered, in his 50s, with Popeye biceps and a salt-and-pepper beard, watches as sharks are hoisted from the cargo hold of a boat named the Ramon Eduardo.
Nearby, government inspector Miguel Angel Roca Cedeño records the shark bycatch as he monitors the boat's entire download. Shark populations around the world have been decimated by the Chinese appetite for shark fin soup, and longline fishing vessels like this one have been major culprits in their decline. Cedeño is here to ensure that fishers are not illegally targeting the sharks. In the past 10 years, a WWF-supported program to improve the mahi-mahi fishery here has led to an increase in the number of inspectors at this port from three to 55. The total operating along Ecuador's coastline now numbers 283.
Shark bycatch during the mahi-mahi season is now nearly nonexistent for the boats targeting the species, though it remains a dismaying problem during the rest of the year, when the fleet targets marlin and other large open-water species. WWF played an instrumental role in this shift by providing data that convinced the Ecuadorian government to drop import tariffs on circle hooks, giving them a price advantage over more harmful J-hooks. Now, in the rare cases when turtles are hooked, about nine out of 10 are released unharmed or with only minor injuries. "It's a 180-degree change from where we were 10 years ago," Guerrero says. "A complete and positive change."
A native of the coastal city of Guayaquil, Guerrero always loved the ocean, but protecting such a coveted resource from fishers seemed far-fetched. When Guerrero first landed a job as the director of marine resources for Galápagos National Park in the late 1990s, 97% of the park's land area was protected, but rules prohibiting commercial fishing in its waters weren't rigorously enforced. Although the islands are best known for the oddball creatures that Charles Darwin spied on land—think giant tortoises, finches, and blue-footed boobies—they also offer some of the most productive marine ecosystems in the eastern Pacific.
Following the passage of the Galápagos Special Law in March 1998, the government created the Galápagos Marine Reserve with support from WWF and other organizations. Guerrero and his team were tasked with implementing the special law and management plan, which involved, among other things, banning large tuna vessels from its waters. At the time, he says, "the industrial fishermen didn't think we were going to have the capacity to enforce it."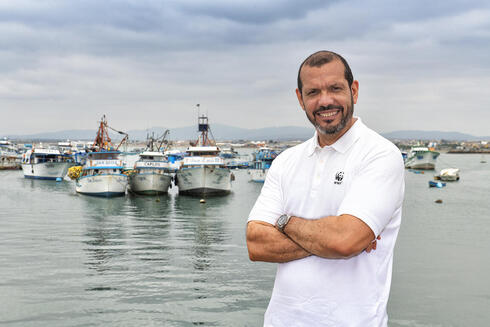 Guerrero, however, knew their operations as well as any seasoned sea captain. As a young marine biologist in the 1980s, he worked as a fisheries monitor on those same vessels, collecting the kind of data that would eventually lead to the first rules to protect dolphins in Ecuador and neighboring countries. Trapped on a ship for months at a time, Guerrero learned how to manage interpersonal relationships and navigate potentially dicey situations. A skipper once pulled out a rifle and shot sharks in a net just to provoke him. "You need to be not the biologist but the psychologist," Guerrero explains.
While Guerrero played bad cop with the industrial tuna sector, he played good cop with the Galápagos artisanal fishers who were authorized to harvest marine life like spiny lobsters and sea cucumbers. Through the design and implementation of a participatory management system for the reserve, he and his team helped the fishers plan for a sustainable fishery. "The strength," he says, "is to find consensus at the local level."
Twenty years later, the Galápagos Marine Reserve is an unmitigated success—proof that a country can both profit from and protect its marine resources. Over 240,000 visitors flock to the Galápagos every year, paying a fee that supports the management of protected areas and the livelihoods of locals who work as naturalist guides and in other parts of the tourism industry.
A 2017 study found that the tuna fleet also benefits from the reserve, which has increased the harvest of yellowfin and skipjack tuna outside its boundaries. Once-hostile fishers now talk about the reserve as a "bank account" that delivers interest in the form of their catch, year after year.
These successes cemented Guerrero's view that the key to protecting Ecuador's marine resources is to earn people's trust, and he wondered how lessons learned in the Galápagos might translate to reforming fisheries management at a national level. In 2007, he was hired by WWF-Ecuador and got the chance to find out.


---
One morning, Guerrero takes a seat at the end of a long conference table across from a man named Andrés Holguín Espinel. An energetic 70-year-old sporting a white guayabera shirt, Holguín Espinel is the longtime lawyer for Negocios Industriales Real (NIRSA), one of Ecuador's largest tuna exporters.
You might think the meeting between Holguín Espinel and the conservationist who enforced the ban on the entire industrial fleet (including his own company's tuna boats) from the Galápagos would be awkward. But about eight years ago, the two men realized they both wanted the same thing: to make the Ecuadorian purse seine tuna business more sustainable. Holguín Espinel says he came to the conclusion that the survival of the family-owned company he represented—and its 4,500 employees—was at stake. "To preserve the ocean stock is to preserve their future," he says.
Out by the company docks, a half-dozen men are lashing together bamboo poles into what looks like a raft. They move fast, instinctively, repeating a procedure that lies at the heart of Ecuador's tuna harvest. They flip the raft, tie fishing floats to it, wrap it in nylon webbing, and attach long white ropes like the tentacles of a jellyfish. Within minutes, they've completed a fish-aggregating device, or FAD, which they stack along with hundreds of others in the yard.
Unlike in Mexico, Colombia, and Venezuela, where fishers follow dolphins to find schools of tuna, the Ecuadorian fleet uses FADs to bring the fish to them. A large vessel may set out more than 400 devices in open water. The FADs attract large tuna, but can also kill juvenile fish and entangle sea turtles and sharks. Over time, they deteriorate or get lost—more ghost gear littering the ocean.
There may be a different way. Another bamboo raft in the yard is a prototype, this one wrapped in a natural material that looks like burlap. For the past several years, NIRSA and its partners have been testing such "bio-FADs" using biodegradable materials including bamboo, cotton, and palm fronds. In field tests, these rafts have been just as successful as traditional ones at luring tuna. Unfortunately, the rafts have survived only 45 days in the water; they need to last at least three months to be economically viable
Overcoming that hurdle is a key step in getting Ecuadorian tuna certified by the Marine Stewardship Council (MSC), an effort in which WWF-Ecuador and NIRSA have played critical roles. As an industry heavyweight that produces a million cans of tuna each day, NIRSA's sustainability steps so far have already altered the dynamics of tuna fishing throughout the eastern Pacific.
"We are trying to lead by example and create a domino effect," Guerrero explains. He believes other producers will be inspired to adopt the same practices in order to compete in European and US markets.
That's already happening to some extent. At the 2016 meeting of the Inter-American Tropical Tuna Commission, which manages tuna in the eastern Pacific, the Ecuadorian government presented a proposal to establish the world's first-ever harvest control rules for tropical tuna stocks. Such rules are considered the first step for science-based fisheries management, requiring immediate actions if stocks fall below predefined thresholds.
The rules were also among the requirements for MSC certification, which is why NIRSA—and other fishing companies working with WWF on the effort—lobbied the Ecuadorian government to submit the proposal. The measure was ultimately approved, creating a level playing field for all producers.
How does that make Holguín Espinel feel? "I sleep much better," he says.


---

Back on the whale watching boat, researcher Castro drops a hydrophone into the drink and connects it to a pair of speakers propped up on a seat. She turns up the volume, and the tourists on board get to eavesdrop on the eerie, moaning songs of humpbacks.
The fact that whales can coexist with fishers in these jam-packed waters is a testament to the trust that Guerrero and his colleagues have been able to foster with local communities.
In these very waters, WWF-Ecuador's Oceans and Coasts program officer Jorge Samaniego has worked to strengthen marine and coastal protected areas, and the wildlife corridors between them, to protect big marine species like whale sharks and giant manta rays, and to guarantee the sustainable livelihoods of coastal communities. It's working. As in the Galápagos, fishers here have come to understand that no-go zones can help their bottom lines.
Manuel Reyes, the president of a local artisanal fisher's association, says WWF has worked hard to support Ecuador's effort to survey and protect its waters, and to keep industrial trawlers out of the priority conservation areas on which smaller fishers depend. "It can be beneficial," he says, "for everyone."
Hearing that such a sentiment came straight from the mouth of a fisher is the reason Guerrero is able to stay optimistic about the future.
"That's the sweet part of the work," he says.
Explore More
About

World Wildlife magazine provides an inspiring, in-depth look at the connections between animals, people and our planet. Published quarterly by WWF, the magazine helps make you a part of our efforts to solve some of the most pressing issues facing the natural world.