How to make your picnic basket eco-friendly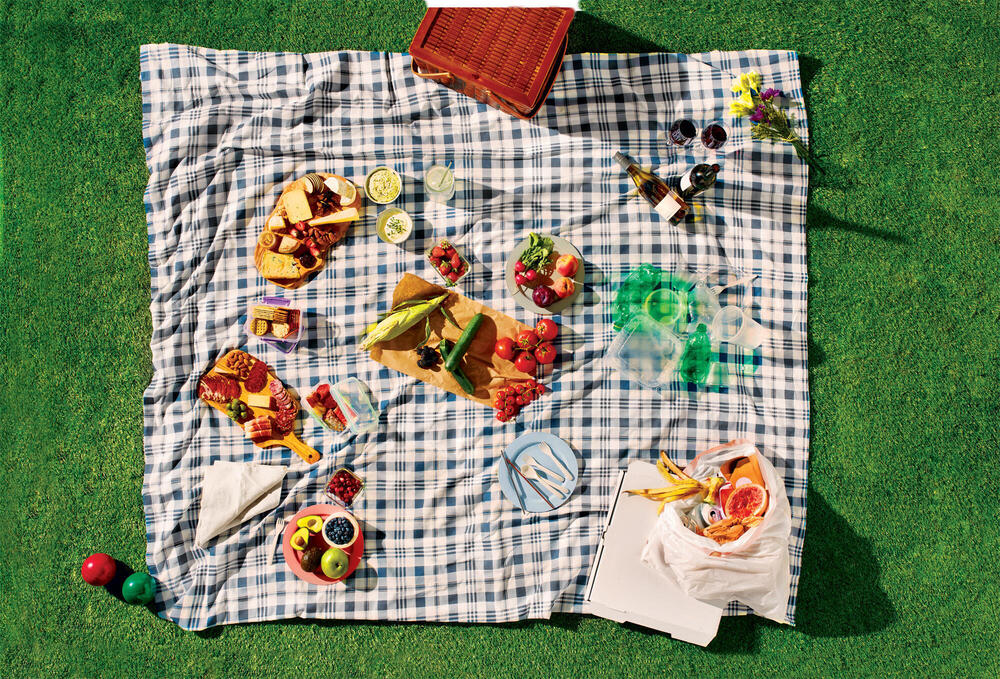 Al fresco dining is a sure sign that spring has arrived. As the chill of winter fades, many Americans turn to picnics as a way to experience the outdoors and spend quality time with family and friends. But eating outdoors isn't just ideal for safe, pandemic-era, socially distant fun, it's also a perfect opportunity to practice eco-friendly habits. The next time you head to your favorite grassy hillside or park, consider: What's in your picnic basket?
Wine grapes are highly sensitive to temperature and precipitation changes. As temperatures climb in places like California, which produces more than 80% of all US wine, hotter, drier conditions could force winemakers to become increasingly reliant on irrigation systems, putting further strain on drought-prone regions.
Estimated global average amount of water required to produce 2.2 pounds of cotton fabric—enough to wash around 66 loads of laundry. WWF works with farmers and companies to promote implementation of cotton production improvement programs, increase water use efficiency, and reduce pressure on freshwater supplies.
The share of the world's agricultural lands used for maintaining livestock, including cows that produce the dairy in many of our favorite foods. Poorly managed, livestock production can cause harmful soil erosion, deforestation, and land degradation. Well managed, it can can help feed people using land that's not suitable for crops.
In 2019, the average American consumed 653 pounds of dairy, around 6% of which was cheese.
The typical American eats an estimated 220 pounds of meat each year, more per capita than most other countries. Poultry and red meat account for the majority of the meat we consume, while pork consistently ranks third.
Percentage of plastic waste recycled annually in the US.
Bees and wasps might not be welcome picnic guests, but these buzzing insects (plus many species of butterflies, birds, beetles, and bats) are vital to our agricultural systems. In fact, more than 100 crop species grown in the US—including almonds, berries, squash, and seeds—rely on pollinators.
More than half of all waste in the US winds up in landfills. In 2018, that meant that we threw away a whopping 146 million tons of glass, papers, textiles, food waste, metals, and countless other materials, some of which can take hundreds of years to break down.
ISTOCK.COM/DNY59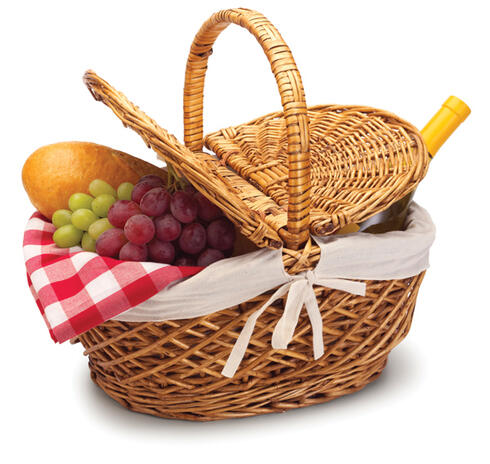 TIPS FOR AN ECO-FRIENDLY PICNIC
Plan ahead
Create a menu in advance so you prepare just the right amount of food. Have leftovers? Bring reusable containers so you can take them home with you. Compost any scraps.
Ditch single-use plastics
Opt for reusable items—silverware, plates and cups, glass containers, water bottles, and cloth napkins—for transporting and serving food. These limit waste while keeping plastics out of landfills and vulnerable ecosystems.
Keep it local
Walking or biking to picnic areas closer to home is carbon-free—and it's good for you. Taking public transportation or carpooling to your destination can also save money on fuel and parking and reduce your environmental footprint.
Eat mindfully
Limit your consumption of high-impact foods, balance meals with a variety of nutritious ingredients, and choose in-season foods. By visiting with local farmers, ranchers, and farmers markets, you can better understand how and where your food was grown—and become a more conscious consumer.
Shop sustainably
Seek out items with labels indicating their certification as sustainable or crafted from recycled or responsibly sourced materials.
COW © ISTOCK.COM/GLOBALP; CHEESE © ISTOCK.COM/PIONEER111; CHICKEN © ISTOCK.COM/ANTAGAIN; BEE © KEVIN SCHAFER/ALAMY STOCK PHOTO; TRASH CAN © ISTOCK.COM/GARYFOX4511; WATER BOTTLE © ISTOCK.COM/MALERAPASOL; COTTON PLANT © ISTOCK.COM/MAHIRATES; GRAPES © ISTOCK.COM/LEZH
Explore More
About

World Wildlife magazine provides an inspiring, in-depth look at the connections between animals, people and our planet. Published quarterly by WWF, the magazine helps make you a part of our efforts to solve some of the most pressing issues facing the natural world.