A new study finds significant mislabeling of wood products from US retailers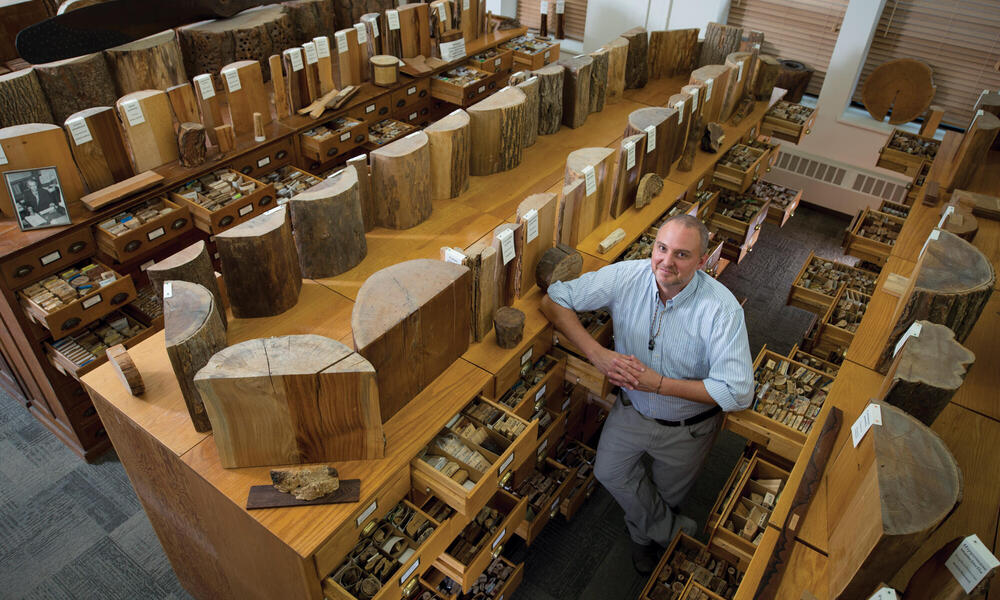 Alex Wiedenhoeft hunches over a ponderous black contraption, guiding its blade over a tightly clamped piece of wood. The blade shaves a slice so thin, it's translucent. Using a wet paintbrush, Wiedenhoeft transfers the wood section to a glass microscope slide.
The device, a sliding microtome, is one of Wiedenhoeft's tools at the Center for Wood Anatomy Research, part of the USDA's Forest Products Laboratory in Madison, Wisconsin. Wiedenhoeft directs a team that uses the center's vast collection of wood samples for research and forensic projects; they also use the collection to help government agencies and individual citizens identify wood samples.
Recently, WWF and World Resources Institute partnered with the lab to examine 73 commercial wood products—tables, chairs, and other common items—sold by major US retailers. Checking wood samples against the center's reference specimens, Wiedenhoeft found that 40 of the 73 products were labeled as the wrong tree species; 20 weren't even solid wood, despite being labeled as such. These discrepancies could point to fraud and even illegal logging in a company's supply chain.
Wiedenhoeft says nobody knows how much wood in US stores is mislabeled. "This study is the first step in getting some real numbers," he says. "Once we have that foundation, we can develop tools to help law enforcement agencies and companies keep mislabeled wood out of the market."
For consumers interested in buying legal products, purchasing Forest Stewardship Council™-certified products is the best bet.
Explore More
About

World Wildlife magazine provides an inspiring, in-depth look at the connections between animals, people and our planet. Published quarterly by WWF, the magazine helps make you a part of our efforts to solve some of the most pressing issues facing the natural world.