Youth Leadership Award winner Maka Monture Päki heads to the UN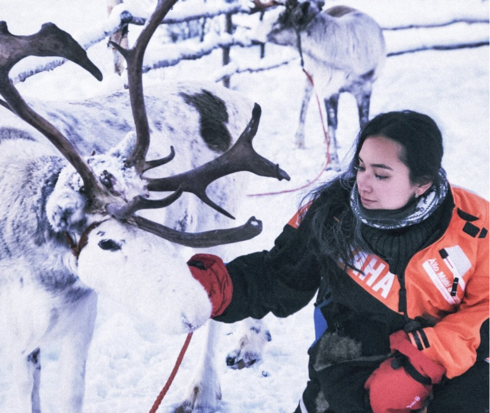 MAKA MONTURE PÄKI
AGE 26
HOME Anchorage, Alaska
CAUSE Representing Indigenous voices in climate change talks
Growing up in rural Yakutat, Alaska, Maka Monture Päki found her calling early on. A member of the Tlingit and Mohawk tribes, she started dreaming at age 10 of representing Indigenous voices in global conversations about climate change.
This year, as the winner of the inaugural WWF-US Youth Leadership Award, she'll get that chance. The award aims to give the next generation of conservation leaders access to a global platform and experts, and provides a financial prize that can be used to further recipients' professional or educational goals related to their conservation work.
Monture Päki plans to use the award money to attend the upcoming Conference of the Parties (COP) of the United Nations Framework Convention on Climate Change. At the December conference, she'll have the opportunity to engage with the Indigenous Peoples' Caucus, one of the seven main constituencies representing the general public.

She says she gained the confidence and perspective to take this huge step by way of her work for Alaska Youth for Environmental Action and as a cofounder and organizer of the Arctic Youth Ambassadors Program.* Launched in 2015, the program creates opportunities for Indigenous young people from rural Alaska to share their voices and offer solutions to address the effects of climate change in the Arctic. "Fighting for Indigenous rights on the global front is exhausting but extremely rewarding, because it's all about the love I have for the tribe," she says.
Monture Päki grew up living off the land and credits her upbringing with instilling her stewardship approach to the environment. "As a Tlingit person, you grow up having a deep, meaningful relationship to the land. You give back to the Earth. You take no more of berries or medicine or salmon than you need. When you take a salmon, you thank it and you thank the river for creating those pathways to feed your family and to sustain life."
Her goals for her future include bringing that powerful perspective to a career with the United Nations. This award represents an exciting new step on that path. "For me," she says, "it's about achieving a lifelong goal of attending COP and having a position in which to represent Indigenous people. It's honorable. I'm not sure there are words to describe what this means in English."
*The Arctic Youth Ambassadors program was originally established by the U.S. Fish and Wildlife Service and U.S. Department of State in partnership with nonprofit partner Alaska Geographic. Read more about the program here.
Explore More
About

World Wildlife magazine provides an inspiring, in-depth look at the connections between animals, people and our planet. Published quarterly by WWF, the magazine helps make you a part of our efforts to solve some of the most pressing issues facing the natural world.