William Anderegg
The University of Utah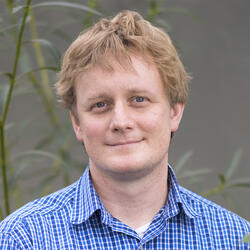 William Anderegg is an assistant professor at the University of Utah's School of Biological Sciences. His research centers around the intersection of ecosystems and climate change. Anderegg strives to understand the future of Earth's forests in a changing climate by studying how drought and climate change affect forest ecosystems, including tree physiology, species interactions, carbon cycling, and biosphere-atmosphere feedbacks. In 2018, he was awarded an Early Career Fellowship from the Ecological Society of America, and a prestigious Packard Fellowship for Science and Engineering from the David and Lucile Packard Foundation for his research on the effects of climate change and drought on forests. Previously, he was an associate research scholar and a postdoctoral fellow at Princeton University. Anderegg holds a bachelor's and a doctorate in biology from Stanford University.
Ann Bartuska
Resources for the Future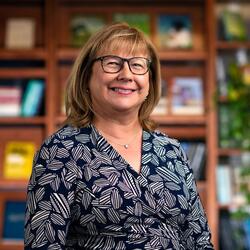 Dr. Ann M. Bartuska is a senior advisor at Resources for the Future. There, she focuses on natural resources and forestry, particularly considering natural climate solutions through forests and agricultural lands. She will be involved in outreach supporting the valuation of information obtained through satellite imagery. Past leadership positions include serving as the US Department of Agriculture's chief scientist and deputy under secretary for research, education, and economics, and as the US Forest Service's deputy chief for research and development. She has served in several leadership positions including an appointment to a member of the National Science Foundation advisory board, executive director of The Nature Conservancy's invasive species initiative, and president of the Ecological Society of America. Bartuska received a BS in biology from Wilkes College, an MS in botany and ecology from Ohio University, and a PhD in biogeochemistry and ecosystem ecology from West Virginia University.
Susan Chomba
World Agroforestry Centre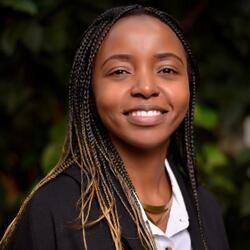 Dr. Susan Chomba is based at the World Agroforestry Centre in Nairobi, where she currently leads one of its mega-projects, Regreening Africa. Its primary objective is to reverse land degradation by scaling up proven, cost-effective technologies across eight African countries. With over 15 years of experience, Chomba works on climate change policies, land tenure, equity, vulnerability, and gender. She is passionate about applying research to inform development, and works towards bridging the gap between the two. Chomba believes that research is critical for transforming the lives and livelihoods of smallholder farmers in Africa, and development interventions informed by research are most effective. She holds a BSc In forestry from Moi University, Kenya, a double MSc in agricultural development and agroforestry from the Universities of Copenhagen and Bangor (UK), respectively, and a PhD in forest governance from the University of Copenhagen.
Christopher Field
Stanford Woods Institute for the Environment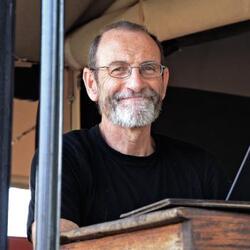 Dr. Christopher Field is the Perry L. McCarty Director of the Stanford Woods Institute for the Environment, and Melvin and Joan Lane Professor for Interdisciplinary Environmental Studies at Stanford University. He is deeply involved in efforts to advance understanding of global ecology and climate change. Previously, he was on staff at the Carnegie Institution for Science, founding director of the Carnegie's department of global ecology, and cochair of the Intergovernmental Panel on Climate Change's Working Group II, His recognitions include election to the US National Academy of Sciences, the Max Planck Research Award, and the Roger Revelle Medal. A member of Harvard University board of overseers, California Academy of Sciences' board of trustees, and the WWF-US Board of Directors, Field is a fellow at several institutions. He holds a bachelor's and a doctorate in biology from Harvard College and Stanford, respectively.
Eva Gurria
United Nations Development Programme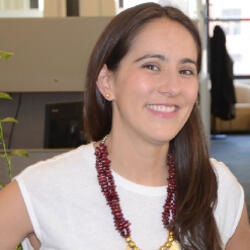 Eva Gurria is the Coordinator for Nature Based Solutions at UNDP's Global Programme on Nature for Development. She is a development professional with 10+ years of experience managing global projects and advocacy campaigns, and coordinating multi-stakeholder teams and networks in the fields of natural resource management, climate change and sustainable development. Eva was the Nature-Based Solutions Lead, for the Climate Action Summit, at the Executive Office of the UN Secretary-General. Before joining the SG's office, Eva worked as policy advisor with UNDP. She worked with the Environmental Governance Programme responding to challenges faced by developing countries implementing environmental, gender and human rights dimensions of public administration work in the mining sector. She was also organization lead for the Equator Initiative bringing together the UN, governments, civil society, businesses and grassroots organizations to recognize and advance local sustainable development solutions from indigenous peoples and local communities. Eva holds an MA of Liberal Arts in Sustainability and Environmental Management from Harvard University and an MA in Public Administration and Strategic Public Policy from the American University of Paris.
Karen Holl
University of California, Santa Cruz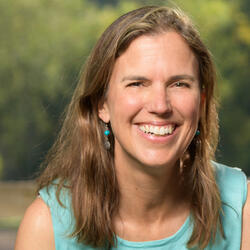 Karen Holl is a professor of environmental studies at the University of California, Santa Cruz, where she has served as chair of the Environmental Studies Department. Her research focuses on understanding how local and landscape scale processes affect ecosystem recovery from human disturbance and using this information to restore damaged ecosystems. Her current research focuses on rain forests in Latin America and chaparral, grassland, and riparian systems in California. She oversees a tropical forest restoration study in Costa Rica and has worked with students and collaborators in Mexico, Brazil, Colombia, and Panama. She advises land management and conservation organizations in California and internationally on ecological restoration. Author of Primer of Ecological Restoration, Holl was an Aldo Leopold Leadership Fellow, a Fellow of the California Academy of Sciences, and cowinner of the Theodore Sperry Award of the Society for Ecological Restoration.
Stewart Maginnis
International Union for Conservation of Nature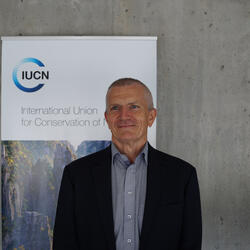 Stewart Maginnis is the global director for the Nature-based Solutions (NBS) group at International Union for Conservation of Nature, an international organization of states, government agencies, NGOs and indigenous peoples' organizations. He and his team have developed and promoted NBS as a framework for harnessing ecosystem management as a solution to socio-economic challenges. They have been supporting the application of NBS to climate change, food and water security, and disaster risk reduction, and recently finalized a process to develop a global NBS standard. Maginnis has worked in sustainable development and biodiversity conservation for 35 years, 15 of which were based Tanzania, Sudan, Ghana, and Costa Rica. He led development and promotion of forest landscape restoration, to which over 60 countries committed 180 million hectares under the Bonn Challenge. Maginnis was educated at Oxford University and Queen's University Belfast.
Shaun Martin
World Wildlife Fund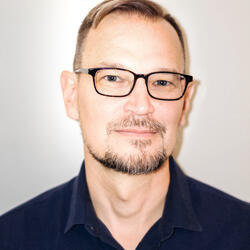 Shaun Martin is acting goal lead for climate and energy and senior director for climate change adaptation and resilience at World Wildlife Fund. He helps influence policy and practice by bringing climate change and resilience dimensions into the fields of conservation and sustainable development. Martin has designed and delivered climate change resilience training to over 1,500 people across the globe, including WWF staff and partners in government, civil society, academia, United Nations agencies, and multilateral banks. He has served on several board and groups, including for the Convention on Biological Diversity, contributed to the nature background report for the Global Commission on Adaptation, and coauthored Enhancing National Climate Plans Through Nature-Based Solutions and Enhancing Nationally Determined Contributions Through Protected Areas. Martin holds a bachelor's in chemistry and a master's in international economic and social development from the University of Pittsburgh.
David Obura
CORDIO East Africa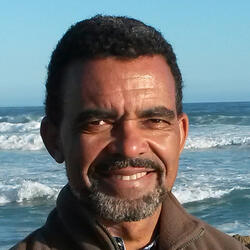 David Obura is a founding director of CORDIO East Africa, an organization supporting sustainability of coral reef and marine systems in the Western Indian Ocean. His primary research is on coral reef resilience, particularly regarding climate change, and the biogeography of the Indian Ocean, and he has recently expanded to sustainability science using coral reefs as a model. At the boundary between science and action, Obura works to integrate conservation and development through inclusive blue economy principles and links provided by global sustainability goals and targets. He works from the local scale—fostering innovative action to promote sustainability—through regional scale alignment and integration, to the global scale, bringing knowledge and local-regional practices into decision-making. He serves on the Earth Commission, contributing to describing a safe, just corridor into the future for both people and planet.
Vanessa Pérez-Cirera
WWF-International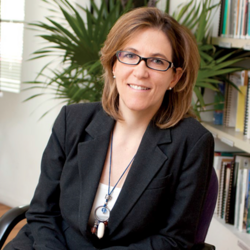 Dr. Vanessa Pérez-Cirera is an environmental economist dedicated to international climate policy and economics. First serving as deputy policy director at the Mexican Ministry of Environment and Natural Resources, she came to World Wildlife Fund in 2002, where she held senior management positions in Mexico and internationally for the Global Network, covering climate policy, energy, and business engagement. She then returned to academia, heading the Research Program on Sustainable Development for Universidad Iberoamericana. Currently, she serves as global deputy of WWF´s Global Climate & Energy practice, where she focuses on how to transform the energy and food systems hand in hand with business and governments. Pérez-Cirera has a bachelor's in economics from Universidad Iberoamericana, a master's in development policy, and a doctorate in environmental policy, both from the University of York.
Fran Raymond Price
WWF-International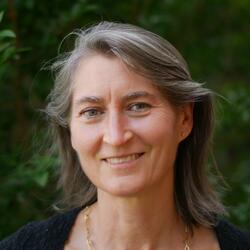 Fran Raymond Price joined World Wildlife Fund in June, after 18 years at The Nature Conservancy, where she helped guide their adoption and promotion of responsible forest management and certification. Her work has focused on creating and fostering market-based incentives to protect forest ecosystems. She has helped bring forest carbon finance to smaller forest owners in the United States, most recently by assisting the development and launch of the Family Forest Carbon Program. Previously, she directed the Forest Monitoring Project, and helped coordinate philanthropic investments in forests and renewable energy at the Rockefeller Brothers Fund. She began her forestry career as a Peace Corps volunteer and served on several boards, including for the Forest Stewardship Council. Price holds a bachelor's in history and government from Cornell University and a master's in forestry from the Yale School of Forestry and Environmental Studies.
Denise Reed
University of New Orleans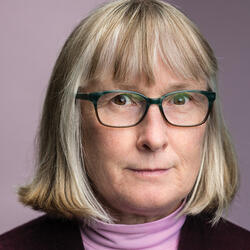 Dr. Denise Reed has studied coastal issues worldwide for over 35 years, and is an expert in coastal marsh sustainability and the role of human activities in modifying coastal systems. She has conducted field research in coastal marshes on the Gulf Coast and in the Mid-Atlantic, California, and the Pacific Northwest. She served as Distinguished Research Professor at the University of New Orleans and spent five years as chief scientist at The Water Institute of the Gulf. Reed has served on numerous boards and panels addressing the effects of human alterations on coastal environments and the role of science in guiding restoration. She has been a member of the USACE Environmental Advisory Board and serves on NOAA's Science Advisory Board. Reed received her BS in geography from Sidney Sussex College, Cambridge, and her MA and PhD from University of Cambridge.
Carter Roberts
World Wildlife Fund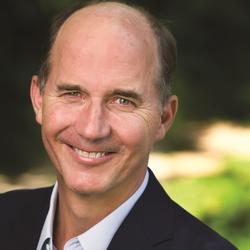 Carter Roberts is president and CEO of World Wildlife Fund in the United States. He leads WWF in creating initiatives that combine science, market signals, and the wisdom of communities to protect the natural resources upon which all life depends. Under his leadership, WWF has built strategies to scale up the production of sustainable food and renewable energy; double the population of tigers; shut down ivory markets; and protect ecosystems including the Amazon, the Himalayas, and the Okavango Delta. Roberts serves on the boards of the Nicholas Institute for Environmental Policy at Duke University and the Grantham Institute for Climate Change at Imperial College and the London School of Economics. He holds an MBA from Harvard Business School and a BA from Princeton University.
Carlos Manuel Rodríguez
Global Environmental Facility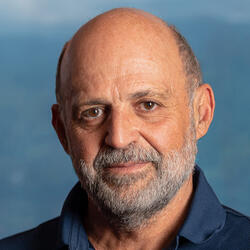 Carlos Manuel Rodríguez was elected CEO and chairperson of the Global Environment Facility (GEF) by its governing body in June 2020. The former three-term Costa Rican environment and energy minister pioneered development of the payment for ecosystem services initiatives and strategies for forest restoration, ocean conservation, and decarbonization. An internationally recognized expert on environmental policy, negotiations, and conservation financing, Rodríguez was vice president for global policy at Conservation International for 12 years, working in 30 tropical countries in Central and South America, Africa, and Southeast Asia. He previously worked as director of Costa Rica's National Parks Service, and is founder and a board member of many environmental NGOs and tropical research institutes. Since the 1992 UN Sustainable Development Summit, he has participated in all of its multilateral environmental negotiations, including those for the GEF and the Green Climate Fund.
Jennifer Rubis
The Green Climate Fund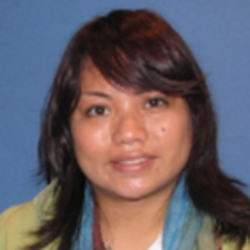 Jennifer Rubis is the indigenous peoples specialist for the Green Climate Fund (GCF). She joined GCF in 2019, after serving 10 years with UNESCO, where she coordinated the Climate Frontlines forum and was program specialist for the Local and Indigenous Knowledge Systems program. Her specialty areas include indigenous knowledge and climate change with a focus on adaptation and impacts, indigenous-led initiatives in community forestry and natural resource management, using technologies to assist marginalized people in developing countries, community tourism, indigenous and land rights issues, and traditional knowledge documentation. Since 2000, she has worked, from community to international levels, towards inclusion of indigenous knowledge in environmental policy and decision-making. A Dayak from Malaysian Borneo, Rubis comes from a line of shamans and priestesses and from one of the few Jagoi families that actively honor, through practice, their hill rice cultivation traditions.
Nathalie Seddon
University of Oxford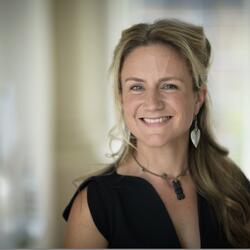 Nathalie Seddon is a professor of biodiversity at the University of Oxford and director of the Nature-based Solutions Initiative, an interdisciplinary program of research, policy advice, and education aimed at increasing understanding of the effectiveness of nature-based solutions to global challenges. She developed broad research interests in the origins and maintenance of biodiversity and its relationship with global change. Seddon is senior associate of the International Institute for Environment and Development, and advises governments, United Nations agencies, NGOs, and businesses on nature-based solutions. She trained as an evolutionary ecologist at Cambridge University.
Nik Sekhran
World Wildlife Fund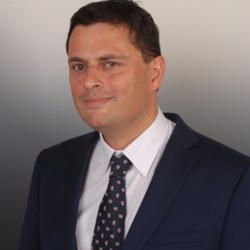 Nik Sekhran is the chief conservation officer at World Wildlife Fund in the United States, overseeing work on wildlife protection, forest conservation, oceans and water resources management, food production and markets, and climate change. Prior to his appointment, he served as director for sustainable development at the United Nations Development Programme, where he provided program and policy support to countries to advance ecologically, economically, and socially sustainable development. Over 26 years, he has worked on the ground on conservation and development in over 45 countries. His specific focus has been the conservation and sustainable use of biodiversity, ecosystem management, and conservation-compatible development. He has worked extensively to build the capacity in affected countries to address poaching by strengthening law enforcement and management of systems of protected areas, as well as through operationalizing effective community-based conservation.
Rebecca Shaw
World Wildlife Fund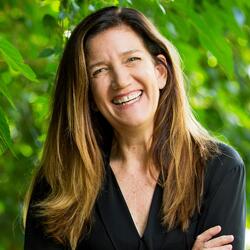 Dr. Rebecca Shaw is chief scientist of WWF. Shaw works with experts and partners around the world to identify emerging challenges to our mission and advance the scientific inquiry to deliver solutions to those challenges. Shaw came to WWF from the Environmental Defense Fund, where she was responsible for developing and implementing the vision and strategy of the Ecosystems program. She has been published widely in leading peer-reviewed scientific journals such as Science and Nature, and is the recipient of numerous awards for her work. She is a lead author on the Intergovernmental Panel on Climate Change's Fifth Assessment Report, which focuses on impacts, adaptation, and vulnerability. Shaw holds an MA in environmental policy and a PhD in energy and resources from the University of California, Berkeley.
Steve Rothert
California Department of Water Resources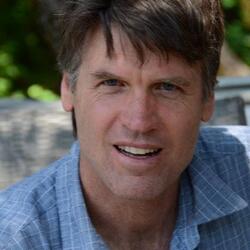 Steve Rothert is chief of the division of multiple benefit initiatives at the California Department of Water Resources. Previously, he coordinated the Hydropower Reform Coalition through a Switzer Leadership Grant to American Rivers. He lived in Botswana for four years, working for International Rivers Network on river and dam issues, during which he helped stop a dam on the Okavango River. He also served with the Peace Corps in Sierra Leone as a fisheries volunteer. Rothert received a BA in geography/ecology from the University of California, Los Angeles and an MS from the University of California, Berkeley with a focus on river ecology and management.
Bregje van Wesenbeeck
Deltares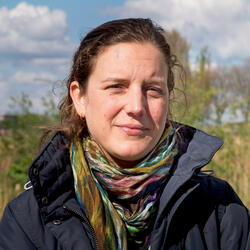 Dr. Bregje van Wesenbeeck is an expert advisor on nature-based flood risk mitigation and on integrated ecosystem analyses. With a multidisciplinary background encompassing knowledge of ecosystems and physical processes, she can unravel complex systems behavior leading to coastal erosion or ecosystem deterioration. She coordinates Deltares's marketing and research activities for eco-engineering, and implements such innovative approaches for the Dutch government. She has been working on projects in which ecosystem services are used to meet water management goals and is focusing on restoring mangrove mud coastlines. Van Wesenbeeck is well acquainted with possible solutions in muddy environments, from engineered measures, such as breakwaters and seawalls, to ecosystem-based solutions, such as mangrove planting or other restoration techniques. She shares her knowledge by teaching courses and giving lectures, both in the Netherlands and abroad, and has a growing peer-reviewed publications list.