Doubling Wild Tigers: Tiger Recovery in Nepal and India with Nilanga Jayasinghe
Please contact Karl Egloff at 202-495-4119 or [email protected] for more information about our invitation-only journeys.
About Our Expert
Nilanga Jayasinghe, WWF Senior Program Officer for Wildlife Conservation
Originally from Sri Lanka, Nilanga Jayasinghe has always had a deep love for wildlife. She channels that passion in her role as WWF's senior program officer for Wildlife Conservation, with a focus on Asian species—particularly elephants, rhinos, snow leopards, and tigers.
Nilanga has worked on wildlife conservation issues on three continents for over 15 years and frequently serves as a spokesperson on Asian species issues. Her many experiences on the Indian subcontinent include participation in the recent translocation of five rhinos from Chitwan to Bardia National Park in Nepal.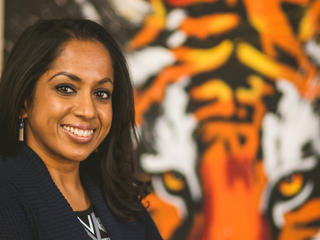 Nepal and India | March 8–20, 2019
The epitome of power, grace and beauty, tigers are a marvel of resilience and adaptation, yet they face enormous pressures, from habitat loss and fragmentation to rampant poaching. Over the last century, we lost 95 percent of the world's wild tigers. In 2010, the world made a bold commitment to double the world's wild tiger population by 2022, the next Year of the Tiger. In 2016—the vital halfway point of this ambitious goal—WWF and its many partners were able to celebrate that tigers are beginning to make a comeback.
Join WWF's Nilanga Jayasinghe on a journey into the heart of our efforts as we visit two vital countries for tiger recovery. In Nepal—a global leader in anti-poaching and community-based conservation—you will see why the country is poised to be the first to double its wild tiger population. And in India—which holds nearly 60% of the world's remaining tigers—you will gain insight into the country's decades-long commitment to tiger conservation. Throughout, you will learn how WWF is working with communities, NGOs, governments, and the private sector to ensure this recovery is sustained.
Reservation Information & Trip Details
Dates March 8-20, 2019 Limited to 8 travelers
Land cost $12,995 per person, double occupancy
Internal air cost $985 per person
Single supplmenet $2,895
Download the brochure
Download the itinerary