Exploring Africa's KAZA Conservation Frontier: A Safari to Zambia, Namibia, and Botswana with WWF's Lisa Steel
Please contact Karl Egloff at 202-495-4119 or [email protected] for more information about our invitation-only journeys.
About Our Expert
Lisa Steel, WWF Senior Program Officer for Wildlife Conservation
A nature loving adventurer, Lisa Steel spent 17 years living and working in Africa, starting as a Peace Corps Volunteer in Zaire and later working in Gabon, Zambia, and Central African Republic. Eventually, her journey took her full circle, back to her roots in the Democratic Republic of the Congo (the former Zaire). Her work ranged from supporting community-based conservation in Zambia, to managing complex forest landscapes in some of the more remote parts of Central Africa. Today, Lisa applies her experience and expertise to sustaining and magnifying community-based conservation efforts in places like KAZA.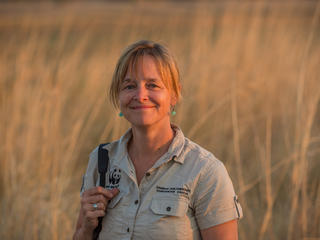 Zambia, Namibia, and Botswana| September 13–20, 2019
In 2011, five African countries—Angola, Botswana, Namibia, Zambia and Zimbabwe—signed a treaty to create the Kavango Zambezi Transfrontier Conservation Area (KAZA). About the size of California, it is the world's largest transboundary conservation area. WWF was instrumental to the creation of KAZA, which aims to promote a culture of peace, shared resources, and encourages wildlife tourism.
Join WWF's Lisa Steel and local leaders on a safari into the heart of our efforts as we visit three countries vital to the success of KAZA. This is a once-in-a-lifetime opportunity to explore firsthand how WWF is working on-the-ground with communities, NGOs, governments, and the private sector to protect KAZA's iconic wildlife, their habitat, and the people who call this extraordinary region home.
In Zambia—home to Victoria Falls, one of the largest waterfalls on Earth—you will see why the country has the potential to contribute to conservation and boost local economies. In Namibia—a global leader in community-based conservation—explore the wildlife-rich wetlands of the Caprivi Strip. We will finish in Botswana's Okavango Delta, the largest inland delta on Earth and home to excellent wildlife viewing and spectacular scenery.
Reservation Information & Trip Details
Dates September 13–20, 2019 Limited to 10 travelers
Land cost $13,490 per person, double occupancy
Internal air cost $1,765 per person
Single supplmenet $2,185
Download the brochure
Download the itinerary