For the Love of Animals: Young Partners Get Creative to Raise Funds for WWF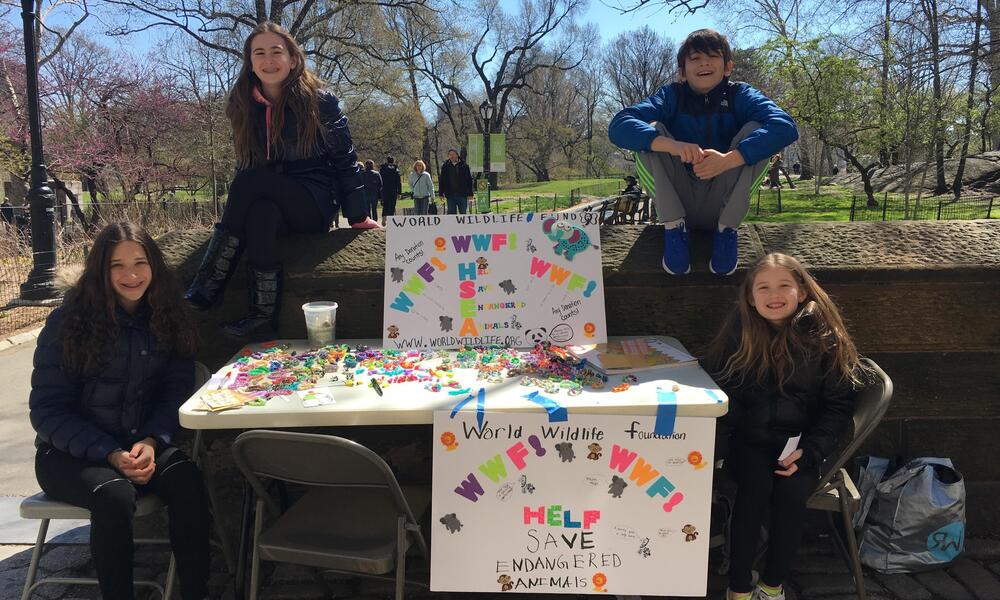 Sisters Sammy and Melissa Simons are passionate about helping the planet's vulnerable and endangered species. Realizing they could do something to help, Melissa and Sammy got creative and put their entrepreneurial spirit to work making bracelets and stickers that they use to help raise funds to support WWF.
What do you do to raise funds to support WWF?
We thought it would be a good idea to make bracelets and stickers and ask for donations in exchange, and it's been very successful. We set up a table outside different businesses along Main Street in Sag Harbor, NY (we have to get a permit first) and sometimes set up near New York City's Central Park. Most of the time we get help from our cousins Dylan and Jagger, and sometimes family friends. When we were younger, we also sold lemonade in our neighborhood for donations. We don't set a price because we want people to give whatever they can; every penny counts. We also make cards with WWF's web address on it, to help increase awareness of conservation issues and maybe even encourage them to give more!
Why is this a cause you're passionate about?
We both love animals and realize they can't speak for—or defend—themselves. It's our job to help protect them and their homes.
What made you want to help WWF?
When we were 7 and 9 years old, we kept hearing stories about endangered animals and wanted to do something to help. After an internet search, we realized that WWF helps protect elephants and other species and the places they live, which is exactly what we wanted to do. And, since we knew so many people who liked rainbow loom bracelets (and we liked making them), we decided to sell them and donate the proceeds to WWF.
What's your favorite animal and why?
We both love elephants. They're big but seem gentle and are just amazing creatures. It's sad that they are hunted by poachers for their ivory, but we know WWF is doing something to help.
If you are inspired by Melissa and Sammy's spirit and dedication and are looking for other ways to make an even greater impact, advance the work of WWF, and be an ambassador for global conservation, check out the Partners Toolkit. Whether it's making a presentation at a club, school, or work, setting up a booth at a local event, or hosting a private gathering at your home, you can help expand WWF's reach and generate support for global conservation efforts.