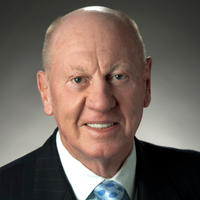 Chairman Neville Isdell on Nonprofit Governance
WWF is committed to fostering a future where people live in harmony with nature. We take seriously the responsibility we have to our members and the public, and to all living things that depend on the continued health of our planet. All levels of the organization are guided by best practices in governance, accountability and transparency, and there is a strong commitment from the WWF Board of Directors and leadership to ensure the highest level of ethical conduct in all that we do.
WWF recognizes the deep trust placed in us by the many individuals and entities that support our work, as well as by the communities in which we carry out our work. Donors trust us to make wise use of their funds in order to advance WWF's mission. Governments and the public trust us to use strong science and best practices in the field to meet our conservations objectives. WWF is committed to respecting and honoring this trust, and we have set high standards for ourselves to measure success and promote good governance.
WWF is committed to three core values in all we do: Results, Integrity and Respect.
Results. Above all, we are committed to achieving conservation results. We work to the highest standards with enthusiasm, flexibility and a keen sense of the urgency of our cause.
Integrity. We are honest, responsible, and accountable within WWF and with others. This commitment to integrity is reflected in our scientific analyses and policy positions, our financial management practices and our relationships with partners and supporters who make our work possible.
Respect. As a global, multicultural organization, we recognize and value the unique skills and perspectives of our employees, supporters and partners, and the communities in which we work.
WWF believes that good governance is not an abstract concept to be satisfied with an annual systems review or by complying with minimum standards. Rather, we believe it is a commitment demonstrated in every decision and action, by every individual in the organization. We strive each day to make it so.