Hands Off My Parts
Every day, wild elephants, rhinos and tigers are killed for their skins, bones, tusks, horns and other body parts. Wildlife crime is now the most urgent threat to these species—and decades of conservation gains and whole wildlife populations will be lost if we don't take action today.
Tens of thousands of elephants are killed every year for their ivory tusks.
At least one rhino is killed every day due to the mistaken belief that rhino horn can cure cancer and hangovers.
Around 3,890 wild tigers remain. Poaching is the greatest immediate threat to their survival.
Join "Hands Off My Parts" to stop wildlife crime along with supporters like Leonardo DiCaprio, Emily VanCamp, Josh Bowman, Stacy Keibler, Alyssa Milano, Ian Somerhalder and Ethan Suplee. Together we can fight for strong laws so that poaching stops and rhinos, elephants and tigers can keep their parts.
Take Action
As skyrocketing demand for illegal ivory, rhino horn and tiger parts escalates, ruthless criminal networks plunder the wild. Wildlife crime is estimated to be worth $10 billion annually to criminals and it costs the planet some of the world's best-loved species.
WWF works to turn this high-profit, low-risk crime into a low-profit, high-risk liability. We're dead serious about stopping wildlife crime. Stand with WWF. Together, we will make a difference.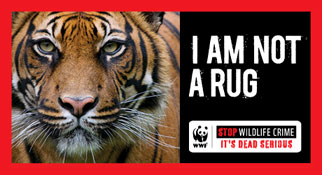 Show Your Support
You can look good and do good. Become a WWF member and score your own "Hands off my parts" T-shirt.
Explore more ways to help Stop Wildlife Crime in our Supporter Center.