Heritage Colombia: A Conservation Journey with Luis Germán Naranjo
Please contact Karl Egloff at 202-495-4119 or Karl.Egloff@wwfus.org for more information about our invitation-only journeys.
About Our Expert
Luis Germán Naranjo is the Conservation Director for WWF Colombia and a passionate birder and naturalist with more than 30 years of field experience in a wide range of ecological settings, including mangroves, tropical rainforests, inter-Andean valleys, cloud forests, and páramos. He currently leads the conceptual development of WWF's conservation portfolios for the Chocó-Darien, Northern Andes, Ori-noco and the Northern Amazon, and oversees the implementation of conservation projects dealing with forest, freshwater, and marine ecosystems, species, and climate adaptation.
Originally trained as a Marine Biologist, Luis holds a Ph.D. in Evolutionary Ecology from New Mexico State University. He was a University Professor and researcher in Cali, Colombia for nearly 20 years, was Director of International Programs for the American Bird Conservancy, and coordinator of WWF's Northern An-des Ecoregional Program. Luis has authored almost 150 books and scientific papers and is an enthusiast spokesperson for conservation in Colombia. .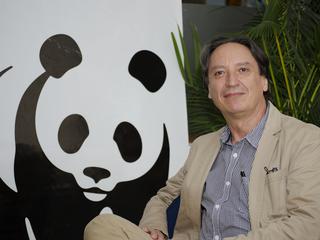 Colombia | October 25 – November 3, 2018
Rapidly emerging as a premier destination for nature travel, Colombia boasts rainforests, dizzying snow-capped peaks, smoldering volcanoes of the Andes, lush cloud forests, and beautiful coastlines. Although perhaps known best for its vibrant culture and famed coffee, Colombia is one of the world's most biodiverse countries. Covering just 0.8% of the Earth, Colombia accounts for 10% of the world's known endemic species, including nearly 2,000 bird species—the most recorded anywhere in the world.
WWF has been supporting work in Colombia for more than 50 years, identifying and implementing solutions to preserve the country's remarkable biodiversity. In the fall of 2018, WWF, its partners and the government hope to celebrate the closing of a Project Finance for Permanence (PFP) work, an initiative called Heritage Colombia. This innovative funding approach, inspired by similar work in Bhutan and the Amazon, will ensure more than 50 million acres of Colombian forests will be protected in perpetuity. However, the Heritage Colombia initiative is different from other PFPs WWF has been involved with because it includes land outside of the protected areas, such as private reserves and land managed by local communities.
Join WWF's Luis Germán Naranjo for a once-in-a-lifetime opportunity to explore firsthand how WWF and our partners on the ground in Colombia are working together to protect the country's rich biodiversity including more than 340 threatened species.
Dates Colombia - October 25 – November 3, 2018 Limited to 10 travelers
Land cost $5,700 per person, double occupancy
Single supplmenet $810