In Photos: Saving Polar Bears in a Warming Climate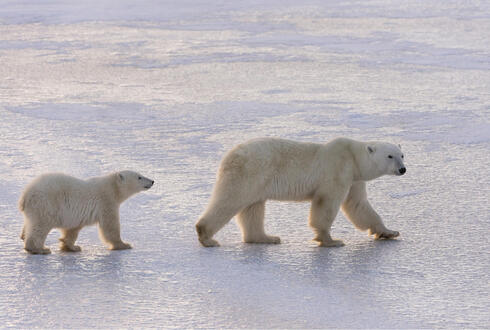 Because of ongoing and potential loss of sea ice habitat resulting from climate change, polar bears were listed as a threatened species in the U.S. under the Endangered Species Act in May 2008. With your support, WWF advocates directly for governments to recognize and mitigate the effects of climate change on polar bears, studies how shrinking sea ice may be affecting wildlife and works to prevent unintended and potentially fatal encounters between polar bears and people.
View the slideshow below to learn more about polar bears and a recently-announced plan by Canada, Denmark, Norway, Russia, and the United States to prevent this remarkable species from going extinct.
Polar bears spend over 50% of their time hunting for food, but less than 2% of their hunts are successful. Between late April and mid-July, polar bears hunt ringed and bearded seals on the sea ice. With adult males weighing up to 1,430 pounds and growing as much as nine feet in length, they are the world's largest terrestrial carnivores.

As a result of climate change, sea ice is melting earlier and forming later each year, leaving polar bears less time to hunt. In fact, the National Snow and Ice Data Center recently released data showing that 2015 Arctic sea ice extent reached its 4th lowest level on record.

As climate change forces polar bears to spend longer time onshore, they come in contact more often with Arctic coastal communities and others working in the Arctic. With your help, WWF supports community projects in Alaska and Russia to prevent unintended and potentially fatal encounters between polar bears and people. Local polar bear patrol teams help keep towns and bears safe. Better lighting near public places, electric fencing, bear-proof food storage containers and warning plans for when bears enter communities all help reduce conflict.

The plight of the polar bear has recently received heightened attention. Last month, scientists representing the five nations with polar bear populations — Canada, Greenland, Norway, Russia, and the U.S. — announced a ten-year action plan to protect and manage polar bears and their habitat.

The announcement of the plan came shortly after President Obama became the first sitting president to visit the U.S. Arctic and 2 months after the U.S. announced its draft plan to conserve polar bears. Margaret Williams, WWF's managing director for U.S. Arctic programs explained the significance of the action plan as "another reminder of the need for urgent climate action" that "goes well beyond just protecting polar bears – by addressing the larger threats facing the Arctic."