Join WWF for Lobby Day 2019 March 11-12, 2019
Our nation's elected leaders play an important role in conservation outcomes both here at home and abroad. That's why it's imperative for the individuals they represent to regularly share their concerns, hopes, and aspirations for the future of people, wildlife and wild places. And one of the most effective ways to do so is by meeting with representatives in person on Capitol Hill.
WWF's Lobby Day event is a two-day experience that educates supporters about the important legislative issues affecting the environment and leverages members from around the country to help influence lawmakers on WWF priorities.
Activists will meet with their congressional representatives and staff to let them know that the environment needs to be a priority in the coming years. Our voice is stronger when we come together to ask for action on climate change and protection of wildlife and wild places.
How WWF Will Prepare You for Lobby Day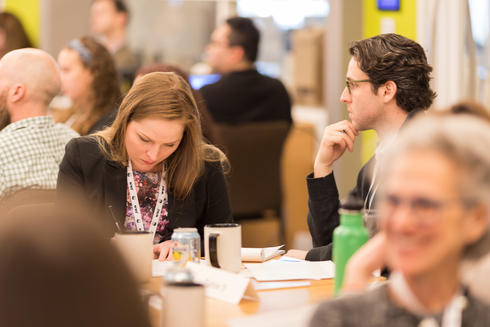 After you register for Lobby Day and are confirmed to attend, you will work closely with WWF staff to develop talking points and prepare for meetings with Congressional offices. WWF will host a webinar at the beginning of March that covers conservation priorities, why they are important, and what we'd like Congress and the new administration to take into consideration.
As part of the Lobby Day experience, on March 11, activists will attend a training at WWF's headquarters in Washington, DC during which they'll do a review of how Congress functions, practice crucial conversations, and get a policy brief specific to the meetings they will embark on the following day. Participants will be grouped with three to five other activists with whom they'll attend meetings on Lobby Day. A panel of WWF staff will present overall strategy and answer any questions. By the end of the day, activists will feel comfortable and confident about speaking with representatives and sharing WWF's environmental priorities.
On Lobby Day (March 12), groups will congregate on Capitol Hill for a day of essential meetings with legislators at the US Capitol Building.
POST-MIDTERM ELECTIONS WEBINAR
TUESDAY, NOVEMBER 27, 5:00 P.M. ET

Join WWF's Deputy Director of Legislative Affairs, Will Gartshore, for a webinar following the midterm elections that will help frame some of the conversations during Lobby Day. You will receive an email with details and instructions on how to access the webinar.

WHAT TO EXPECT IN A MEETING WITH A MEMBER OF CONGRESS WEBINAR Thursday, February 28, 12:00 P.M. ET

WWF will host a webinar that will help you prepare for Lobby Day, even before you arrive in DC. You will receive an email with details and instructions on how to access the webinar.

LOBBY DAY TRAINING Monday, March 11, 8:00 A.M.–5:00 P.M.

WWF staff will work closely with attendees to prepare them for their congressional meetings on Lobby Day. We will review talking points, walk through personalized Lobby Day agendas. World Wildlife Fund Headquarters 1250 24th St NW Washington, DC 20037

LOBBY DAY Tuesday, March 12, 8:00 A.M.–5:00 P.M.

Advocates will arrive on Capitol Hill for a day of meetings with congressional representatives and staff. United States Capitol E. Capitol St. NE and First St. SE Washington, DC 20004
Activist meets Member of Congress to advocate for international conservation.

Lobby Day begins the day before with an in-depth, day-long training.

Constituents from Maryland get ready to start their day of meetings in the Hart Senate Office Building.

Lobby Day participants from California meet with congressional staff.
Book your stay
A limited number of discounted rooms have been reserved at the Melrose Georgetown Hotel beginning on March 10, which is approximately 0.3 miles from the WWF office.The rate is $179 per night plus applicable taxes.
Melrose Georgetown Hotel
2430 Pennsylvania Ave. NW
Washington DC, 20037
Instructions for the room block:
To make your reservation, please use this link. You may also call 1-(202) 955-6400 or 1-(800) MELROSE. You should identify yourself as a member of the World Wildlife Fund group. The discounted rate is available until February 10, or until the block is filled.
Become a WWF Lobby Day Team Lead
We are looking for volunteers to serve as Team Leaders. As a Team Leader, you will gain valuable leadership experience by helping prepare participants for their legislative appointments, and you'll act as the main contact between WWF and your group on Lobby Day.
Team Leads are responsible for:
Knowing background and relevant positions of assigned legislators (WWF will provide information on this)
Leading a team from one assigned legislative office to the next
Providing each legislator or their aide with a copy of the WWF "send ahead," one week prior to the meeting
Politely introducing your group as a WWF delegation
Asking the legislator (either directly or through their aide) to support WWF work as the follow up
Steering the general discussion of the meeting and bringing a "leave behind" folder
WWF will provide you with an after action report to fill out how your meetings went
Team Leads are NOT responsible for recruiting teams
Team Leads are also NOT required to do all the talking—in fact, the discussion should be constituent driven, with different people speaking to various talking points
Interested in being a Team Lead? Email: panda.ambassador@wwfus.org today and let us know.