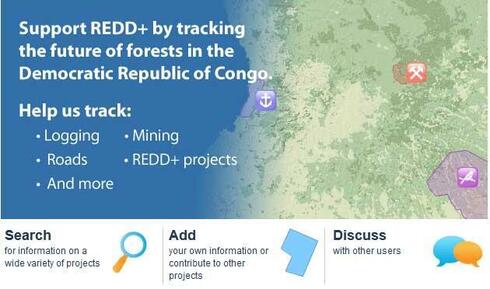 Moabi is a powerful online tool for tracking information spatially. It works as a collaborative mapping system that builds a community of users to share, edit, and discuss issues that could affect the sustainability of critical ecosystems. By linking grassroots groups working in the field to international organizations based around the world, Moabi seeks to build a global community promoting transparency and sustainable resource use in critical ecosystems.
Moabi uses crowdsourcing to find and update information related to existing and planned development activity. Organizations and individuals working on issues such as forestry, mining, and agriculture, can map and edit spatial information that may cause impacts on the environment.
Moabi RDC is the first Moabi-based website. It provides an efficient and cost effective method to support civil society participation in the planned forest carbon market (REDD+) in the Democratic Republic of Congo. Moabi hosts data on economic, environment, and socio-cultural aspects of REDD+ such as existing and planned land uses, land tenure arrangements, and information on key stakeholders. It also provides Moabi RDC users with a forum for discussing REDD+ related issues and the ability to network with other users and institutions. The site is currently undergoing Beta testing at rdc.moabi.org.