Powering Businesses on Renewable Energy
For the largest corporations in the United States, renewable energy is becoming business as usual. This is as good news for the bottom line as it is for our planet. In fact, nearly half of the largest companies in the U.S. are already capturing significant business value by cutting emissions and using clean forms of energy to power their operations.
WWF is working with businesses to set strong goals that result in billions of kilowatt hours of renewable energy demand, track progress meeting those goals, and create solutions that can help renewable energy buyers and their energy providers meet that demand as fast as possible.
Looking to the future, all companies – whether they are setting next generation climate or energy goals or just setting them for the first time – will need to align their business strategy to the realities of climate science, all while seizing the financial opportunity these goals can unleash.
Corporate Renewable Energy Buyers' Principles: Increasing Access to Renewable Energy
Learn more on the Buyers' Principles website h
Businesses are actively and successfully adding renewable energy to their own facilities and increasingly entering into contracts to buy or invest in offsite renewable energy. Even though cost-effective project opportunities currently exist, with billions of kilowatt hours still needed to meet their renewable energy goals, businesses face a variety of challenges accessing cost-effective projects on favorable terms.
The Buyers' Principles frame the challenges and the needs of large renewable energy buyers. The principles are intended to overcome these challenges and to add the corporate buyer perspective to discussions underway across the country on the future of our energy and electricity system.
The Buyers' Principles were launched by WWF and the World Resources Institute (WRI) in July, 2014 with 12 major companies. Word continues to spread and there are now more than 65 signatories.
In total, these companies need more than 48 million megawatt hours of renewable energy to meet their near-term goals and far more in the long-term.
Many of these companies are aggressively purchasing and investing in renewable energy both on- and off-site and are reaping the economic benefits. But to meet the scale of their renewable energy goals, these companies need access to more renewable energy. This means companies are looking for easier and more cost-effective ways to sign direct deals with renewable energy projects and to work with their utilities to procure cost-effective renewable energy to meet their needs.
The graphic below illustrates why companies need more than just onsite renewable energy. For most companies, onsite projects only meet a small percentage of their total energy needs. To get to scale, they need renewable energy through the grid. However, companies can't always directly buy the renewable energy from the grid they are looking for so WWF, together with WRI, is working with corporate energy buyers and their utilities and utility regulators to develop new utility offerings to meet customer needs. The Buyers Principles outline what's needed to help get them more access to the renewable energy they need.
Story: A shared vision for a clean energy future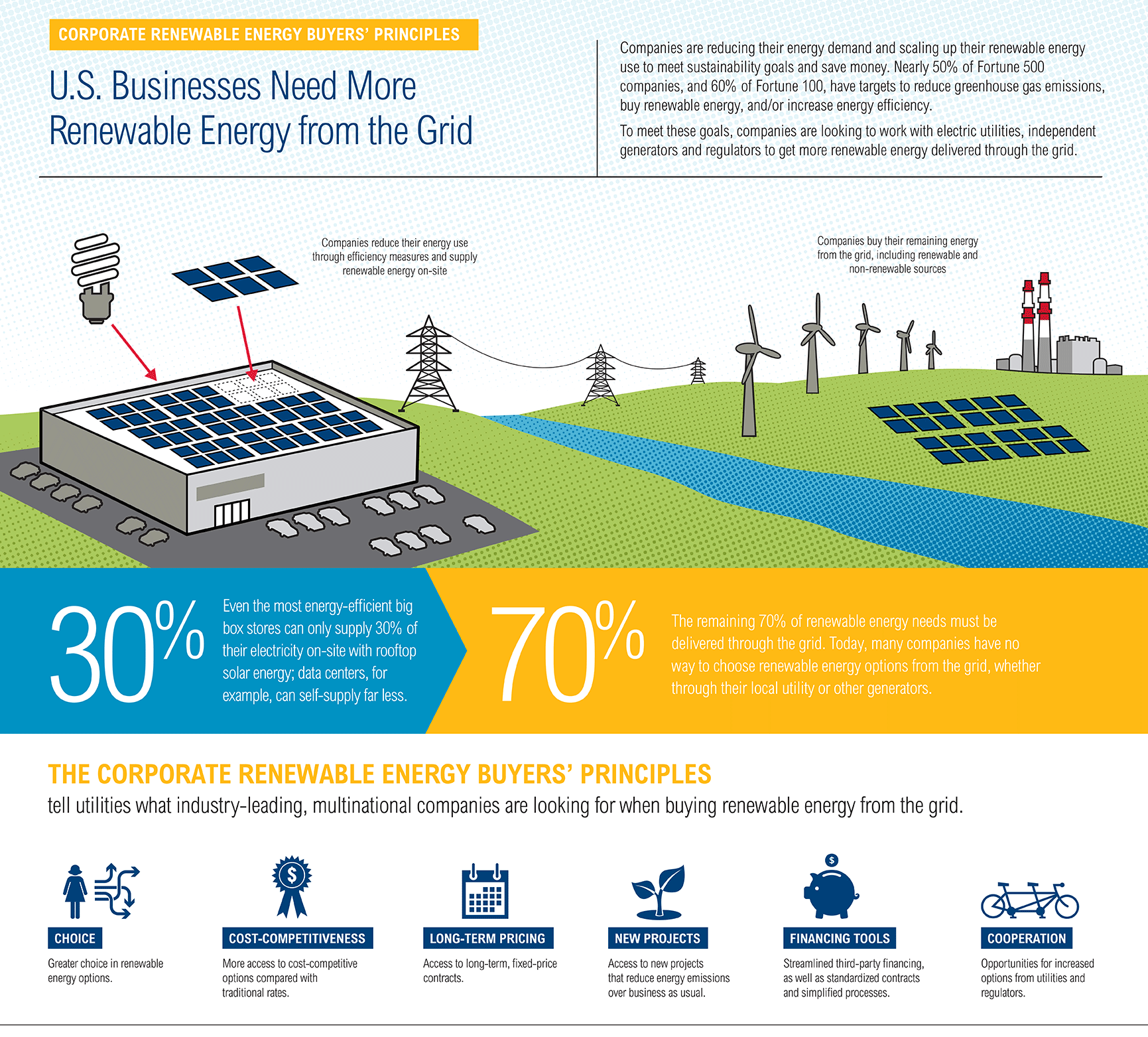 In addition to partnering with WRI, WWF has also teamed up with the Rocky Mountain Institute (RMI) and Business for Social Responsibility (BSR) to create the Corporate Renewables Partnership that is collectively working to make corporate renewable energy procurement easier in all US states and across various sectors. RMI has recently launched the Business Renewables Center to help make direct deals between corporate buyers and renewable energy projects easier and BSR's Future of Internet Power initiative is focused on the unique renewable energy needs of data centers. These organizations and companies are working together to accelerate companies' transition to a renewably powered future.
Companies interested in more information can contact Bryn Baker at: bryn.baker@wwfus.org
Power Forward 2.0: How the largest US companies are capturing business value while addressing climate change
A new report from WWF, Ceres, Calvert Investments and David Gardiner and Associates finds that, 43 percent, or 215 of the companies in the Fortune 500 have set climate and/or clean energy targets.
The report documents how sectors compare in setting targets, how the Fortune 100 are doing in meeting their targets since the last report, and lays our recommendations for companies, investors, the electric sector and policymakers to enable more companies to grow their climate and clean energy efforts.