Speaker list: Education for Nature: Continuing the Legacy
Dr. Nelly Kadagi
Director of Conservation Leadership and the Education for Nature Program, WWF Global Science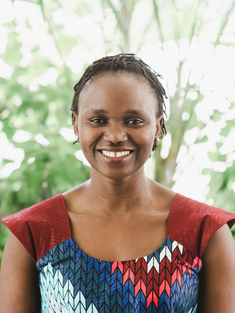 Nelly Isigi Kadagi is the Director of Conservation Leadership and the Education for Nature Program. In this role, Nelly oversees and manages WWF's strategy for conservation capacity development and leadership. She also leads the operation of the Russell E. Train Education for Nature Program (EFN).
Originally from Kenya, Nelly brings a wealth of expertise to WWF, ranging from developing scientific programs to supporting marine conservation to fundraising and designing capacity development initiatives in Africa and North America. Nelly is interested in building strong partnerships between communities and the public and private sectors to ensure conservation leaders have access to the education, support, and resources needed to address global environmental challenges.
Prior to joining WWF, Nelly worked as a postdoctoral research fellow at the University of Denver and One Earth Future–Secure Fisheries where she focused on fisheries conflicts and transnational governance of fisheries resources. Along with her postdoctoral work, Nelly also served as the Director of Research for the African Billfish Foundation where she championed billfish research across the Western Indian Ocean.
In addition to now leading the EFN program, Nelly is also an EFN alumna. She received a Russell E. Train Fellowship in 2015 that supported her Ph.D. studies while at the University of Florida. She is also a Schlumberger Faculty for the Future Fellow, a New England Aquarium Marine Conservation and Action Fund Fellow, and a recipient of the Conservation Leadership Program award.
Jamal Galves
Program Coordinator and Research Biologist, Clearwater Marine Aquarium Research Institute Belize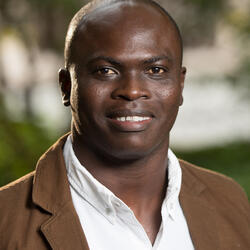 Jamal Galves is a conservationist and research biologist, working to conserve the endangered Antillean manatees of Belize. He is currently a Program Coordinator and Research Biologist with the Clearwater Marine Aquarium Research Institute Belize. He is an alumnus of the Russell E.Train Education for Nature Program, a 2018 Nat Geo Photo Ark EDGE Fellow, and a current National Geographic Explorer.
For his efforts to save the manatees, Jamal was named an Oceana Ocean Hero, a Belize National Hero, a World Wildlife Fund Planet Hero, and a Paul Harris Fellow. He is an alumnus of the Conservation Leadership Program and the Caribbean Emerging Wildlife Leaders. His work has been featured in World Wildlife magazine and on the Dodo website.
Jamal grew up in the small village of Gales Point Manatee, in Southern Belize. From the age of 11, he knew he wanted to work with animals – specifically manatees. In 1998, Jamal met Clearwater Marine Aquarium Research Institute Executive Director Dr. James "Buddy" Powell, USGS scientist Dr. Robert Bonde, and Nicole Auil-Gomez (WCS) while participating in his first manatee health assessment. Working with these renowned scientists influenced Jamal enormously; he was immediately hooked and soon found himself taking every opportunity to work with manatees.
Thandiwe Mweetwa
Wildlife Biologist, Zambian Carnivore Programme (ZCP)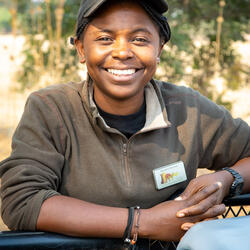 Thandiwe Mweetwa is a wildlife biologist working with the Zambian Carnivore Programme (ZCP) in Eastern Zambia. As Project Manager for ZCP's Luangwa site, she coordinates the organization's research, conservation, and outreach activities in South Luangwa National Park (SLNP) and the adjoining Game Management Areas (GMAs). Her research areas of interest include studying population dynamics of large carnivores and threats to their persistence as well as understanding the nature and extent of human-carnivore conflict in the Luangwa Valley. Thandiwe is a National Geographic Explorer and an alumna of the Obama Foundation Leaders: Africa Program. She holds a BSc in Applied Animal Biology from the University of British Columbia and an MSc in Natural Resources Conservation from the University of Arizona.
Caroline Ng'weno
Wildlife Ecologist, Born Free Foundation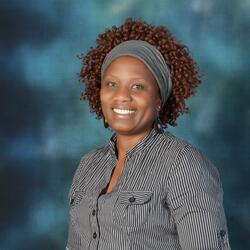 Caroline C. Ng'weno is currently a Wildlife Ecologist at Born Free Foundation, in Meru Conservation area, Kenya. Through her current research, she tries to understand how species interactions can inform wildlife conservation and management. Caroline's work as an ecologist satisfies her thirst to constantly pursue new questions and be outdoors.
Her professional and research interests span a broad range of topics focusing on the ecology of African Savanna, with emphasis on predator-prey interactions, human-wildlife co-existence, and the advancement of human livelihoods and quality of life through education. Her research coalesces around applied research, basic questions in ecology, and bridging the natural-social science gap.
Caroline is also involved with Earthwatch Institute - as the PI for the Exploring Lions and Their Prey Project. Additionally, she is the Co- founder of Pambazuka Warrior Women Initiative (PWW), a Kenyan non-profit organization that inspires and mentors' young women into science and strives to foster appreciation for wildlife by local communities through education, outreach, and development of science-based solutions. She is an alumna of the Russell E. Train Education for Nature Program. She received a BSc. in Education Science from Maseno University, Kenya, and an MPhil in Environmental science from Moi University, Kenya, and a PhD in Zoology, from University of Wyoming, USA.