Species Spotlight: Green Turtle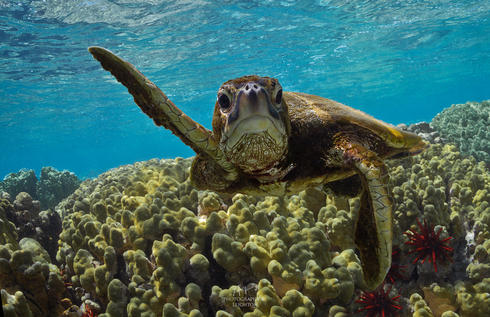 The green turtle is one of the largest sea turtles and the only herbivore among the seven different species.
Where did green sea turtles get their name?
Green turtles are named for the greenish color of their cartilage and fat, not their shells.
What determines the gender of each turtle that hatches?
The gender of marine turtle hatchlings is dependent on temperature.
What are the threats to sea turtles?
Sea turtles are at risk from poaching for their eggs, meat, skin and shells; habitat destruction; accidental capture in fishing gear; climate change.
Habitat

Open water and coastal habitats

Diet

Jellyfish and other aquatic plants and animals

Threats

Critically endangered, the sea turtle is at risk from many factors, including habitat destruction, entanglement in fishing gear, hunting and egg collection, climate change, and pollution.

Interesting Fact

Female sea turtles crawl ashore to dig nests and lay eggs on sandy beaches. The heat of the sand incubates the eggs, and they develop without any help from parent turtles.
Species from other months