In just 10 seconds, you can buy more time for tigers. By texting TIGERS to 20222, you can donate $10 that will go directly to help WWF save wild tigers around the world. More than 90 percent of tiger habitat has already been destroyed. Tigers urgently need your help before it's too late.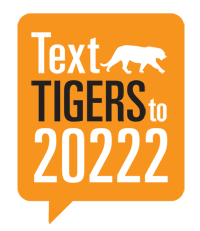 Wild tigers are in peril, and they are running out of time
After a century of decline, tiger numbers are on the rise. At least 3,890 tigers remain in the wild, but much more work is needed to protect this species that's still vulnerable to extinction. Demand for tiger parts in some Asian countries is resulting in poaching and trade that will empty forests of the last wild tigers.
Three tiger subspecies—Bali, Javan, and Caspian—have already been wiped out. The South China tiger is on its way to extinction. All of the five other remaining subspecies are in danger of the same fate if we don't act now. Together, we can save the tiger for future generations.
Your donation will help WWF to protect and connect tiger habitats on a massive scale, support and increase antipoaching efforts, and clamp down on tiger trade.
We can turn this situation around — if we act fast
The good news is that tigers breed quickly. Given enough space, protection and prey, their populations can grow. At a landmark tiger summit in 2010, leaders of all 13 countries that still have wild tigers agreed to double the tiger population by 2022. However, many of these countries need support to strengthen tiger protection efforts.
Tiger populations can rebound—but only if we have tigers left. We can't wait another minute to get protections in place. The time to help tigers is now.

Prefer to donate by credit card? Live outside the U.S.? Make a donation through WWF's Save Tigers Now

World Wildlife Fund is a 501(c)(3) charitable organization.
* A one-time donation of $10.00 will be added to your mobile phone bill or deducted from your prepaid balance. Donor must be age 18+ and all donations must be authorized by the account holder (e.g. parents). By texting YES, the user agrees to the terms and conditions. All charges are billed by and payable to your mobile service provider. Service is available on most carriers. Donations are collected for the benefit of WWF by the Mobile Giving Foundation and subject to the terms found at www.hmgf.org/t. Message & Data Rates May Apply. You can unsubscribe at any time by texting STOP to short code 20222; text HELP to 20222 for help. Privacy Policy