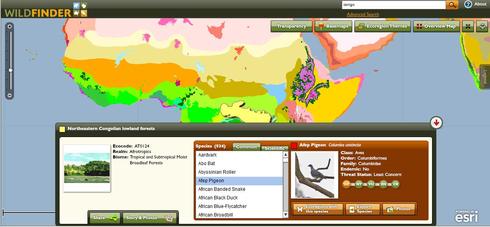 Find out where more than 26,000 species live on Earth.
WWF's Wildfinder is an interactive tool that visualizes the global distribution of thousands of species that roam the Earth. Ever wonder exactly where tigers roam or vultures fly? Widlfinder shows you.
Using Wildfinder is easy. Search by species to find out where they live; or search by place to see the species that live in that area.
What will you find out about the species?
In addition to detailed information about their home ecoregion, Wildfinder also displays photos of the species in the wild and whether or not current populations are in danger.
Which species can be found in WildFinder?
Wildfinder's long-term goal is to include all of the species on Earth. Currently, featured species are from four main taxa:
Mammals
Amphibians
Reptiles
Birds