World Wildlife Fund Greater Sage-Grouse Position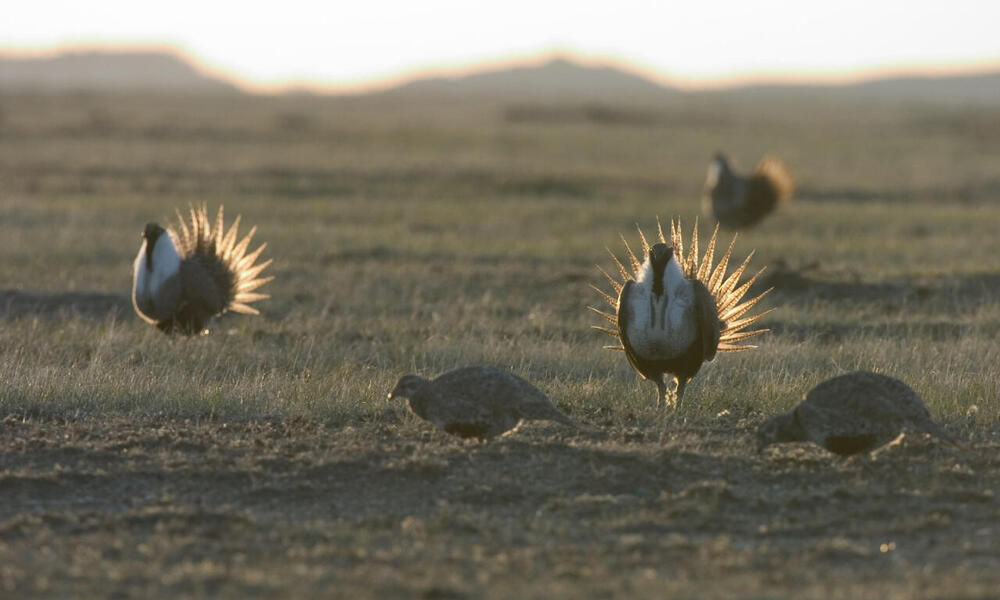 In a move that has reignited widespread controversy regarding Greater Sage-Grouse protection in the American West, the Department of the Interior (DOI) has announced that it intends to disregard the historic 2015 Greater Sage-Grouse conservation agreement, which was developed through more than 5 years of cooperation between private landowners, outdoor enthusiasts, conservation NGOs, the Federal Government, and 11 western states. The revised DOI plans will open up to 9 million acres of Bureau of Land Management (BLM) lands—representing about 4% of all BLM lands—for new leases for oil and gas exploration.
The 2015 decision to not list the Greater Sage-Grouse under the protection of the Endangered Species Act (ESA) was predicated on plans being in place to adequately protect this rare and iconic bird whose populations have declined by as much as 90%. In all, 98 land use plans developed through unprecedented cooperation found ways for landowners and the iconic bird to thrive, without mandated protection under the ESA. This was a move that made some wildlife advocates uneasy, but was generally seen as a historic opportunity to enact a new era of collaborative species conservation in the West.
With the release of Interior Department Secretary Ryan Zinke's new guidelines, negotiations that were made in good faith between private landowners and the Federal Government have been cast aside in favor of those that will further degrade a landscape that has already been hit hard by development in recent years.
Greater Sage-Grouse and people can coexist, especially where ranching is the primary activity. This species has largely been able to persist on working lands, which keep the millions of acres of sagebrush and grasslands that the birds require intact. Recent studies concluded that for every 10% increase in landscape disturbance for activities such as plow-up for agriculture, there is a 54% decrease in grouse breeding density. The birds' habitat area requirements are based on their needs for space to nest and rear young, as well as to allow movements in response to wide-ranging drought, fires, and heavy snows. Greater Sage-Grouse are an indicator species for over 350 other sagebrush species, including mule deer and pronghorn.
This announcement from DOI comes alongside another DOI proposal (from the U.S. Fish & Wildlife Service) to revise the ESA implementing regulations which, if finalized, would weaken protections for listed species as well as the role of science in ESA decision-making. World Wildlife Fund is increasingly alarmed with the administration's multi-fronted attacks seeking to undermine our nation's last safety net for threatened and endangered species, and its rapid departure from a precautionary approach on conservation issues.
We are committed to working with private landowners, government partners, and NGOs to ensure not only a future for the Greater Sage-Grouse, but also for the communities that rely on healthy grasslands ecosystems for their livelihood and well-being. These steps proposed by the administration would reverse significant progress towards that goal and is an unfortunate step backwards.