WWF & Natural Habitat Safaris: Discovering our Planet Together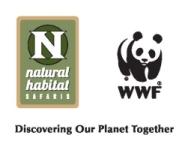 WWF, the world's leading environmental conservation organization, partners with Natural Habitat to offer exceptional wildlife experiences, including safaris in East Africa. Chosen because of its commitment to environmentally friendly travel, Natural Habitat Safaris offers WWF members an additional range of wildlife expeditions beyond those provided by WWF Travel.
Traveling with Natural Habitat Safaris offers:
Broad opportunities to travel on wildlife expeditions in East Africa.
Assurance of a commitment to conservation and education.
Access to expert naturalists and specialists.
Complimentary WWF membership for one year.
A commitment to never cancel a trip because of low enrollment, thus making travelers feel secure that their travel plans are guaranteed.
To learn more:
Visit Natural Habitat Safaris' website.
Call NHS in Kenya at +254 722315159.
Natural Habitat Adventures is a proud supporter of World Wildlife Fund and will donate $328,000 by June 30, 2014, in support of WWF's mission to conserve nature and reduce the most pressing threats to the diversity of life on Earth.