Years of Living Dangerously
The forests of Indonesia are the only place in the world where tigers, rhinos, orangutans and elephants live together. Since 1995, more than 400 new species have been identified on the islands of Sumatra and Borneo. But a growing global demand for palm oil, pulp and paper is decimating ancient forests. Forests being unsustainably logged or going up in smoke from fires set illegally to clear land affect more than just endangered species that are running out of room to live—it's changing the planet as we know it.
Why is this happening?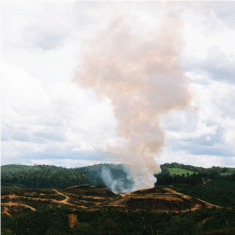 Indonesia the third-highest greenhouse gas emitter in the world, mostly because of deforestation driven by oil palm and other agriculture.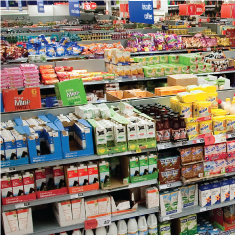 Palm oil is used in hundreds of American consumer products—about 50% of items on US grocers' shelves —from lipstick and ice cream to body lotion and detergent.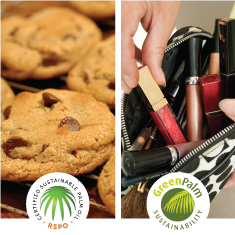 We can help reduce deforestation by purchasing only sustainable palm oil. By purchasing products with the RSPO label or Green Palm label, you can feel confident that the palm oil was produced in a socially and environmentally responsible way.
Encourage better palm oil production.
With better management practices, the palm oil industry could provide benefits without threatening some of our most breathtaking natural treasures with deforestation and climate change. Look for the RSPO and Green Palm labels to encourage sustainable production. Peel back the label on more products that contain palm oil and see what you can do to help.
While climate pollution in Indonesia mainly comes from deforestation, here in the US our biggest source of pollution is electricity. Want to do your part? Learn more about renewable energy and how our choices matter.
Actor Harrison Ford travels to Indonesia with Showtime's Years of Living Dangerously to investigate how the world's appetite for palm oil has led to massive deforestation and turned that country into one of the largest emitters of greenhouse gases. WWF's Michael Stuewe and Nazir Foead accompany Ford on a portion of the trip to view the destruction first hand.
Bornean Pygmy Elephant

Endangered Bornean pygmy elephants are a high conservation priority, yet they remain the least-understood elephants in the world.

Sumatran Rhino

Critically endangered Sumatran rhinos are the smallest of the living rhinoceroses and the only Asian rhino with two horns.

Sumatran Orangutan

Critically endangered, Sumatran orangutans number around 7,400; a century ago, that number was 230,000 in the wild.

Sumatran Tiger

Today, the last of Indonesia's tigers—now fewer than 400—are holding on for survival in the remaining patches of forests on the island of Sumatra. Accelerating deforestation and rampant poaching mean this noble creature could end up like its extinct Javan and Balinese relatives.

Local Communities

More than 60 million people live on these two islands. They are a mix of indigenous peoples and immigrants from other islands in Indonesia.

Indonesian Forests

Indonesia is home to approximately 3% of the world's forests. Yet deforestation in this region represents over a third of the total global carbon emissions from deforestation and land degradation.