Tropical forests are being destroyed at an alarming rate: since 1985, more than half of Sumatra's natural forests have been lost.
Essential to life on Earth, forests are more than just a collection of trees. They provide homes for people—three hundred million people worldwide live in forests, and 1.6 billion depend on them for their livelihoods. Forests also provide habitat for a vast array of plants and animals, many of which are still undiscovered.
But forests are being destroyed and degraded at alarming rates. Deforestation comes in many forms, including fires, clear-cutting for agriculture, ranching and development, unsustainable logging for timber, and degradation due to climate change.
Combining Avon's global presence with WWF's experience, we work together to protect the world's forests, and as a result, our planet, biodiversity and peoples' well-being.
Why We Are Partnering
Healthy forests are important to both WWF and Avon. WWF's mission is to conserve nature and reduce the most pressing threats to the diversity of life on Earth. Forest conservation is a top priority in WWF's work.
Avon Products, Inc is the world's largest direct seller of beauty, fashion and home products, with more than $11 billion in annual revenue. As a large brochure producer and consumer of paper products—distributing product brochures in more than 120 countries—Avon can drive sustainable solutions throughout the pulp and paper supply chain.
Where We Are Focusing Our Efforts
Recognizing its potential to generate positive outcomes in many of the world's most valuable and threatened forests, Avon is working with WWF in two key areas. As a member of WWF's Global Forest & Trade Network (GFTN), Avon is helping to drive sustainable solutions in the pulp and paper supply chain. Similarly, Avon's is engaging its own customers in halting deforestation through a unique education campaign called Hello Green Tomorrow.
Responsible Paper Sourcing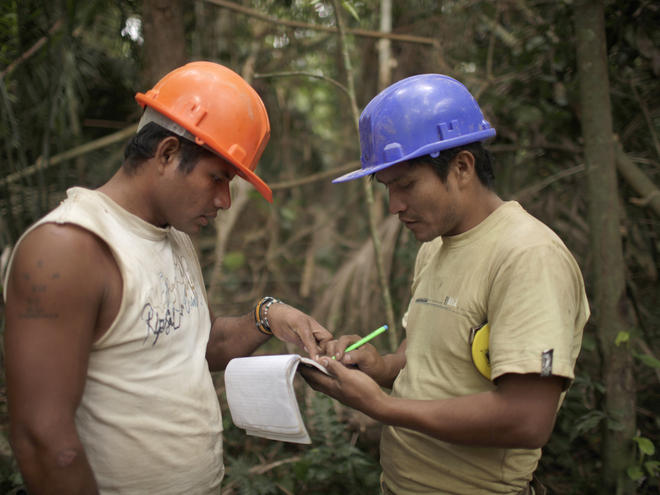 © WWF-Canon / Dado Galdieri
Deforestation, especially in tropical climates, is accelerating, leading to climate change and a rapid decline in critical habitat for several species, notably primates, tigers and elephants. WWF's Living Planet Report finds that biodiversity has declined 61% in tropical areas. The report estimates that more than one billion people living in poverty rely directly on forests for their livelihoods, while about 32 million acres have been lost globally each year between 2000 and 2010, a size equal to the state of Mississippi.
Responding to the alarming rate of deforestation driven by demand for timber, paper and agricultural products, Avon joined WWF's Global Forest & Trade Network (GFTN) in 2010, committing to purchase responsibly sourced paper. By participating in GFTN, Avon receives technical support from WWF to help meet its commitment that all papers used for the company's product brochures and other marketing papers are sourced responsibly.
Specifically, Avon has committed to purchase 100 percent of its paper from independently certified or post-consumer, recycled-content sources by 2020, with a preference for Forest Stewardship Council (FSC) certified paper through the Avon Paper Promise. As of 2011, 74 percent of Avon's brochure paper met the Avon Paper Promise commitments, and approximately 25 percent of paper used in Avon's product brochures is sourced from FSC certified forests.
Helping Halt Deforestation
Many of the world's most threatened and endangered animals live in forests. Millions of people around the globe rely on forests for food, clothing, traditional medicine, shelter and subsistence agriculture. Yet the world's forests are disappearing at a rate of 36 football fields per minute. This rapid forest loss is having devastating consequences for the environment as well as the wildlife and communities that depend on forests for their survival.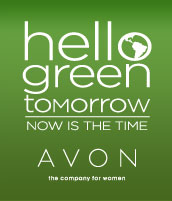 Avon's Hello Green Tomorrow campaign is actively supporting WWF's reforestation efforts in Indonesia. Home to orangutans, tigers and countless other species—as well as millions of people. In more than 50 countries the campaign is raising funds and building awareness to help end deforestation and restore critically endangered rainforests.
As a company committed to empowering women, Avon knows that forests also provide a direct source of income for hundreds of millions of entrepreneurial women. In addition to traditional forest-related employment opportunities, Hello Green Tomorrow has funded WWF projects that provide well-paying jobs for women.
To fund these important projects, Avon has turned to its customer base for support. In the U.S., 100 percent of the net proceeds from an exclusive Hello Green Tomorrow reusable water bottle, and other products go to WWF and other conservation organizations for the restoration of critically endangered forests. Through this partnership, Avon has donated almost two million dollars, providing critical funding for forest conservation.