Facts
The Northern Great Plains spans more than 180 million acres and crosses five U.S. states and two Canadian provinces. As large as California and Nevada combined, this short- and mixed-grass prairie is one of only four remaining intact temperate grasslands in the world.
Continent

North America

Species

Plains bison, Black-footed ferret, Pronghorn,
Two hundred years ago bison, pronghorn, black-footed ferrets, and a diverse array of grassland birds thrived across the Northern Great Plains. While mapping and exploring the region, Lewis and Clark were awestruck, noting the "immence [sic] herds of Buffaloe [sic] deer Elk and Antelopes which we saw in every direction feeding on the hills and plains."

The diverse wildlife that roamed these vast grasslands are not lost. They still call this place home, but their calls are muted and tracks and nests less abundant. WWF is working to restore this living prairie in the heart of North America. At the crux of our vision is a mosaic of private, public and tribal lands managed in a manner that benefits wildlife and local communities. We work with the ranching community, public agencies, tribal nations and other conservation partners to ensure that the richness of the prairie ecosystem is sustained and enhanced for future generations to enjoy.
The Northern Great Plains is one of the world's last great, remaining grasslands. Across its 183 million acres, nearly 132 million remain intact. Among those acres that are still intact, approximately 70% is privately owned, and often by ranching families.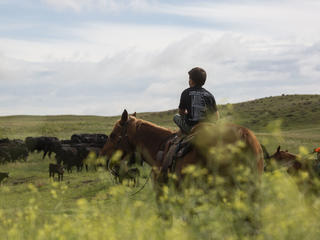 People & Communities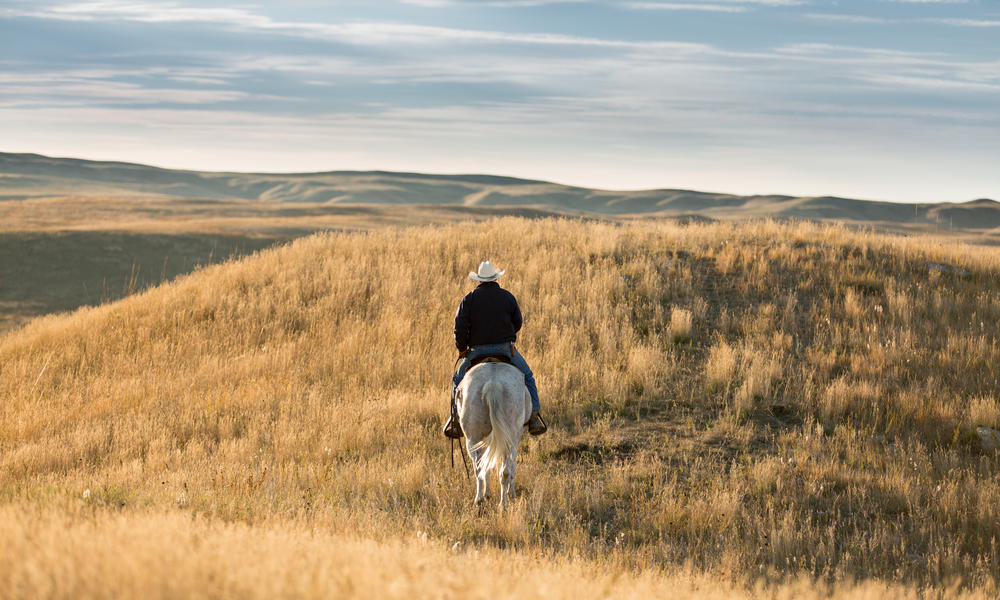 WWF is committed to identifying conservation solutions that bolster economic opportunities for the people and communities who call this region home. We recognize that conserving the Northern Great Plains goes hand-in-hand with sustaining the rural communities who live here. WWF supports grasslands and those who live here, identifying conservation solutions that help both thrive.
CONSERVATION COMMUNITY
Growing concerns about the ongoing destruction of the Northern Great Plains has resulted in an expanding number of organizations and agencies joining in partnerships to coordinate their conservation work. WWF works closely with these interests through formal joint ventures, cooperatives, networks and smaller partnerships to scale up and magnify our conservation investments.
RANCHING COMMUNITY
Most of the Northern Great Plains ecoregion is comprised of private land—94 million acres of which remain as intact grassland. Some families in the region have been ranching their land for more than 150 years. Keeping ranchers in business leaves grasslands intact, creates habitat for a broad diversity of birds and other grassland species, moderates run-off, and secures carbon in the soil.
NATIVE AMERICAN TRIBES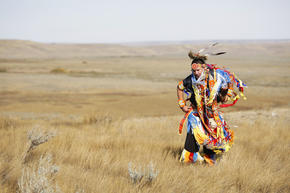 Native Americans are this region's original land stewards. Today, tribes manage roughly 9 million acres of the Northern Great Plains ecoregion, much of which is rich in biodiversity and astoundingly beautiful. Most tribal communities in the Northern Great Plains see a unique cultural and spiritual significance to sustaining grasslands and restoring wildlife. WWF helps tribes achieve conservation success while improving the lives of their communities.
Threats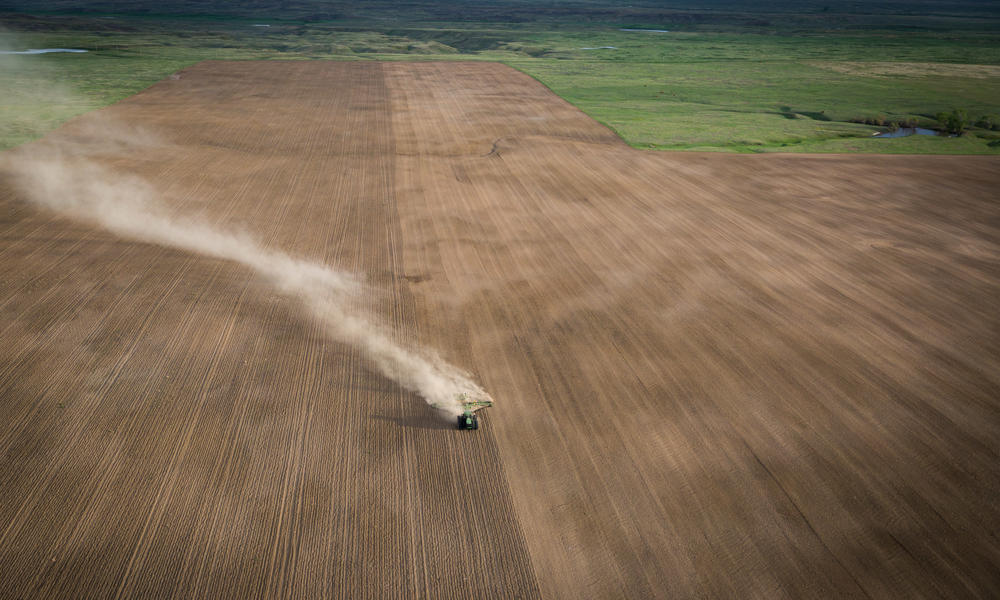 The Northern Great Plains was shaped by change. Seasonal migrations of millions of bison kicking up dust and grass. Frigid winters, high winds and blistering summers. Spring rainstorms, intense dry lightening outbreaks and rampaging rivers or racing wildfires. But now modern changes threaten the wildlife and land in the Northern Great Plains.
Grassland Conversion
Originally the region was a sea of rich grasses, watersheds and wildflowers. Today, demand for agricultural commodities and new, drought resistant bioengineered crops encourage the degradation of native grasslands and drain waterways and watersheds. This plow-up of native grasslands will continue to reshape the landscape and push out wildlife if conservation is not considered.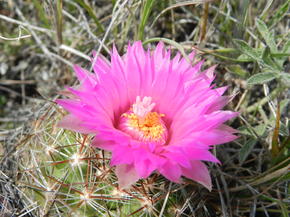 Habitat Fragmentation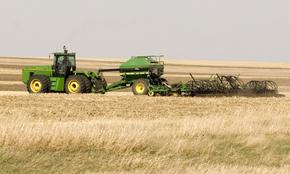 From seasonal migrations across state or country boundaries to moving between nesting and feeding grounds, wildlife need the freedom to roam for survival. Development, roads and fences, habitat clearing and invasive plant species restrict wildlife's ability to adapt, move, find mates and food and thrive.
Oil and Gas Development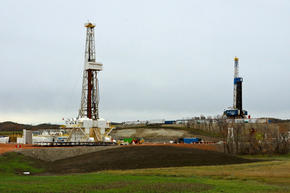 Energy development pressure in the Northern Great Plains comes from both traditional (oil, gas, and coal) and renewable sources. Some of the nation's largest coal reserves exist in the region, and wind energy development is growing across every state in the NGP. Advances in oil and gas extraction allow industry to tap into parts of the region where resources were once too difficult and expensive to access. The oil and gas industry is taking advantage of these new technologies and breaking ground from the Dakotas to areas as far west as the Rockies. In North Dakota, the Bakken Shale Formation has produced over a million barrels per day in recent years. The incredible amount of oil underlying the Bakken has led North Dakota to become the second highest oil producing state in the country after Texas. As technology continues to improve, oil and gas development will continue to boom in the region, fragmenting the grasslands and threatening its wildlife.
Wind Energy Development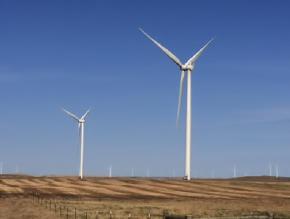 Renewable energy is growing across the Northern Great Plains. The high wind speeds in parts of the NGP have led to nicknames like the "Saudi Arabia of wind," and several states in the ecoregion have exceptional wind potential. Wind energy's increasingly competitive prices and federal and state policies meant to drive its development have led to a wind boom across the NGP. In 2013, South Dakota generated 26% of its energy from wind while North Dakota and Wyoming generated 15.6% and 8.4% respectively. Wyoming is also in the process of developing the largest wind farm in the country (and possibly the world) with 1,000 planned turbines on public and private lands. More wind energy means less of a dependence on coal, less carbon dioxide emitted, and less water consumed. However, while increasing wind energy and other renewables means reducing our reliance on fossil fuels, wind farms can still have a significant impact on a landscape through bird and bat mortalities, habitat fragmentation, and wildlife disturbance.
In the Northern Great Plains, WWF predicts erratic weather will result in more extreme levels of heat, snow and rain, severe floods and droughts. Land managers will need to change how they plan, implement, evaluate and carry forward their land use plans to make ends meet in the face of climate change.
"Right here in America is one of the world's most threatened natural systems. The Northern Great Plains is as important as the Amazon or Arctic, and deserves our attention."

Martha Kauffman Managing Director, Northern Great Plains