ADVANCE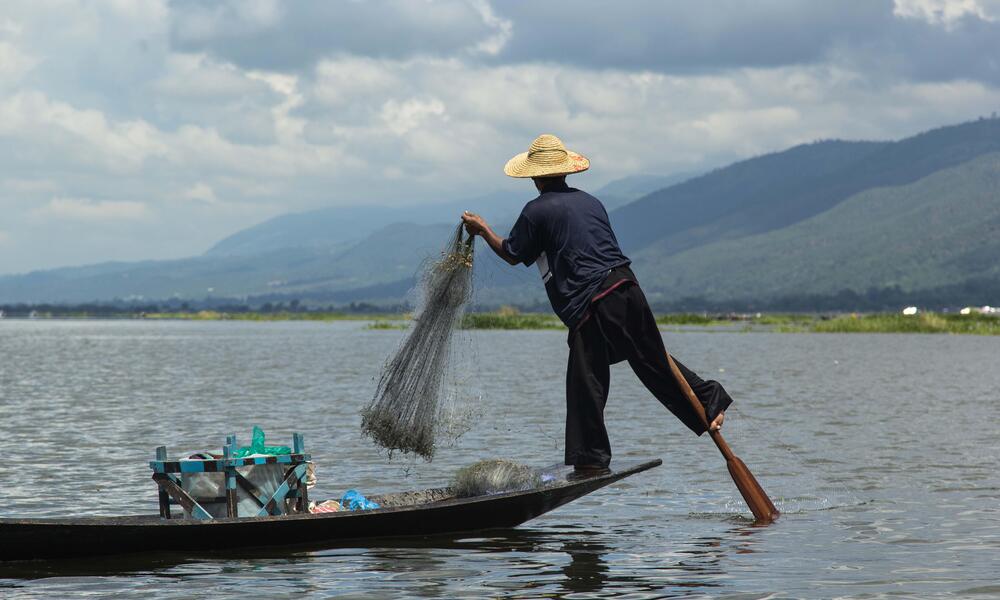 Climate change presents enormous new challenges for conservation and development. While decision-makers increasingly have access to climate science, determining what information to use and how to apply it can be overwhelming. As a result, climate change adaptation is not moving forward at the pace required. To address this challenge WWF created ADVANCE, a partnership with Columbia University's Center for Climate Systems Research (CCSR).
ADVANCE engages stakeholders to first understand the problems they need to solve and then identify the most relevant climate information needed to address those problems. But we don't stop there. Importantly, ADVANCE continues to work with our partners to ensure proper understanding of the science and how to best use it in decision-making and planning.
By anticipating and planning for the future now, we are working to ensure that the people and places we value are equipped to handle the changes to come.
Valuing Nature in Myanmar's Changing Climate

Myanmar is highly vulnerable to extreme hazards like floods and storms that are increasing in severity and intensity as global temperatures rise. Through ADVANCE and the Natural Capital Project, WWF is working with the national government to create nationwide maps that show how Myanmar's ecosystem services, provided by mangroves, forests, and watersheds, buffer both immediate and longer-term climate change impacts.

Conservation and Adaptation in Asia's High Mountains

In the high mountain landscapes of Asia, WWF is working with the Snow Leopard Trust and USAID to forecast how the region – which includes snow leopard habitat and the headwaters for Asia's greatest rivers – will be affected by climate change. ADVANCE is helping to update traditional conservation approaches in order to address the challenges of climate change for the ultimate benefit of both people and nature.

Climate-Smart Conservation in Bhutan

More than half the land in Bhutan is protected for nature, the highest in Asia. But the country's natural resources are still threatened by rapid modernization and a growing population. WWF and the Government of Bhutan have committed to create an innovative funding approach called 'Bhutan for Life' to maintain and manage the country's parks and wildlife corridors in perpetuity. ADVANCE supports this effort by developing climate risk information to enable climate-informed management of Bhutan's national park system.

Redesigning Mangrove Conservation in Colombia

Mangroves are one of nature's best defenses against a changing climate. These semi-aquatic plants constitute some of the most dynamic and biologically complex ecosystems on Earth. Not only do mangroves help to mitigate climate change by absorbing greenhouse gasses, but they also serve as nursey grounds for fish and help buffer coastal communities from the impacts of severe storms. With support from ADVANCE, WWF Colombia and its local partners are updating conservation strategies for mangrove forests along Colombia's Pacific coast.

Harnessing Nature to Help People Adapt in Central Asia

WWF is working with the German international development agency, GIZ, to help remote communities in Kyrgyzstan and Tajikistan build resilience in the face of climate change through ecosystem-based adaptation. Lessons learned from this work will be used to inform future efforts that help remote communities prepare for change.

Resilient Beef and Soy Production to Reduce Deforestation in Paraguay

With help from ADVANCE, WWF is helping to assess the impacts of climate change on beef producers in the Chaco region and soy producers in the Atlantic Forest. We are working to ensure the sustainability of local livelihoods, in order to reduce deforestation and protect Paraguay's biodiversity.

Preparing for Change in the Bolivian Amazon

Communities living near Bolivia's Manuripi Amazonian National Wildlife Reserve rely on the park's Brazil nuts for much needed income. WWF is helping these communities understand how climate change is affecting Manuripi and Brazil nut production and how they might adapt to changing conditions.
Want to learn more about the issue?