Fighting Back Against the Floods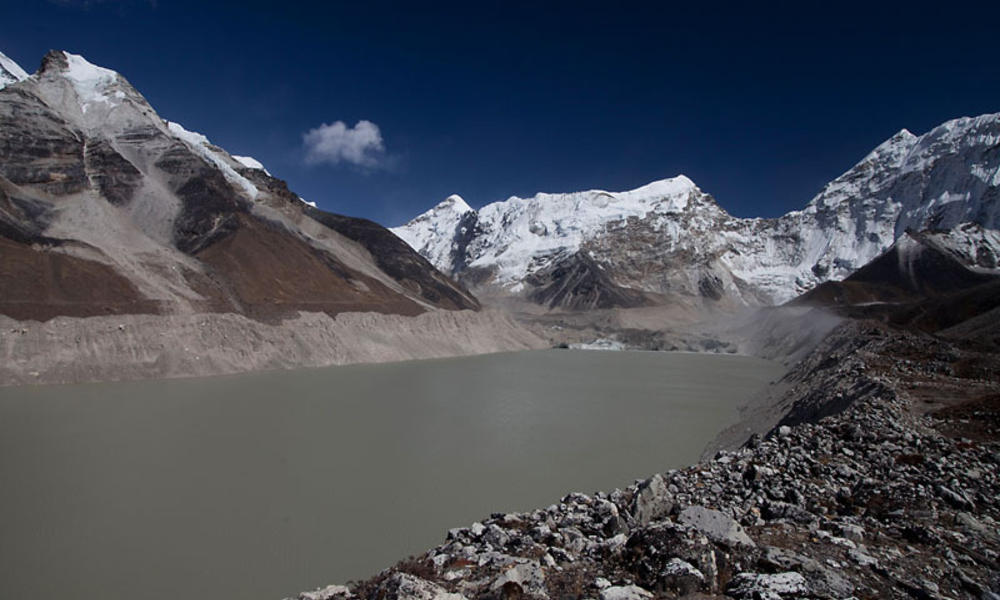 Climate change is causing many Eastern Himalayan glaciers to melt faster than ever observed and in the process they leave behind pools of water that form glacial lakes. Weak walls of earth and rock contain the water but can burst suddenly, resulting in massive flooding downstream that is catastrophic for local communities. The flooding can:
drown people
crush bridges and houses
wash away livestock
cover pastureland with silt and sand
These floods are known as glacial lake outburst flood events, or GLOFs. There are a growing number of potentially dangerous glacial lakes in the Eastern Himalayas and WWF monitors the most worrisome of those, such as Lake Imja in Nepal. If Lake Imja bursts it could wipe out 70% of the trekking trail to the Mt. Everest Base Camp, which would be a crushing blow to Nepal's tourism-dependent economy.

Norbu Sherpa from Nepal vividly remembers when a glacier lake collapsed above his village in 1985:
"We scrambled about collecting a few belongings which we could carry and ran out of the house. We got out just in time. In a few minutes the flood had swept away five houses including mine, as well as cattle and crops. I saw my cow drowning in the flood near a suspended bridge. The flood kept raging on for hours and washed away all our possessions. Those were the most distressing hours of my life."
On October 7, 1994, Bhutan suffered its most catastrophic glacial lake outburst flood event ever recorded in terms of magnitude and damage caused. Many more similarly dangerous glacial lakes remain in Bhutan, including Lake Thorthormi.
Swollen Lake Thorthormi threatens to release 14 million gallons of water onto the surrounding communities. WWF and others joined Bhutan in what is arguably the most ambitious climate project in the world: averting a future flood disaster by expanding channels to relieve the water pressure.
Thorthormi is too remote for heavy machinery to access. Instead, over 300 workers, carrying shovels and with animals carrying packs, hike for ten days to reach the remote site. Facing extreme conditions of elevation and freezing water, workers manually dig the channels to try and artificially lower the water level.