Hariyo Ban: Mitigating and adapting to climate change in Nepal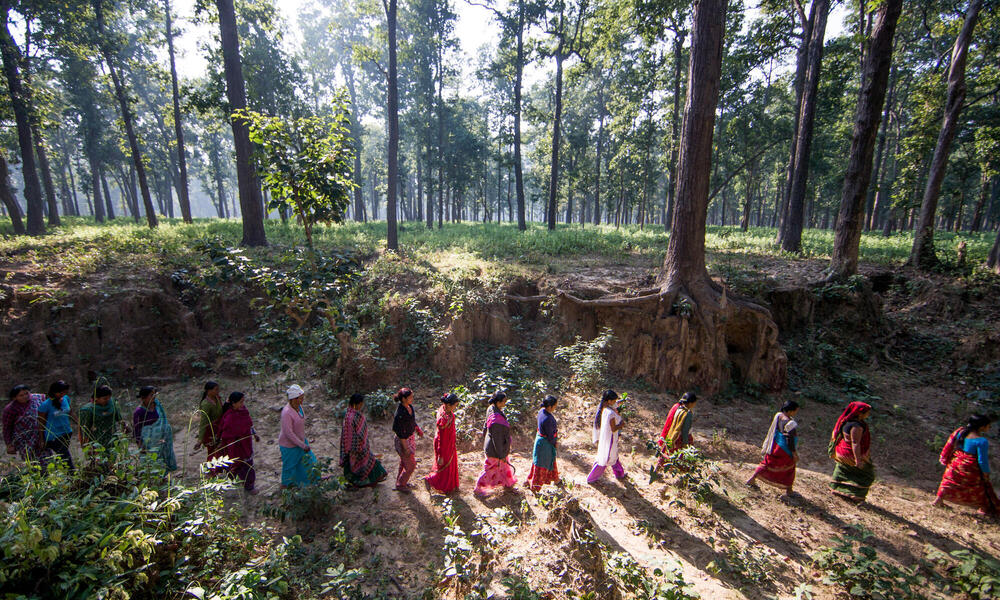 In much of Nepal, there is either too much water—in the form of rain from the sky or snow melt from the country's glaciers and mountains—or too little of it. And when the water will come and go has become very unpredictable. Will there be so little rain that the forest floors and vegetation will be unusually dry, causing wildfires to spread? Will there be so much rain, that there will be abnormal floods and landslides?
Climate change is one of the leading causes of these problems. And it is the main reason why Nepal is ranked one of the most climate-vulnerable countries in the world—a ranking that undermines the lives and safety of the country's people, plants and animals.
Fortunately, Nepal is taking action to mitigate and adapt to climate change. A 10-year program called Hariyo Ban that started in 2011 is part of the action. Hariyo Ban is short for a Nepali saying that means, "Healthy green forests are the wealth of Nepal." Forests are central to the name, given the important role they play in sequestering carbon, as well as regulating water flows, purifying water, and more.
What is Hariyo Ban?
Hariyo Ban started as a five-year USAID funded program with the goal of reducing vulnerability to climate change and threats to biodiversity in Nepal. A second phase, also funded by USAID, started recently, with the goal of increased ecosystem and community resilience in the Chitwan-Annapurna Landscape and the Terai Arc Landscape; it will run until 2021. The program is led by the Government of Nepal and implemented by WWF, CARE Nepal, National Trust for Nature Conservation, and the Federation of Community Forest Users Nepal. It is one of the country's largest conservation, development and climate change programs. Hariyo Ban partners with local community groups, government agencies, NGOs and the private sector to build capacity and promote strategic approaches for biodiversity conservation, climate mitigation and adaptation.
The hope is that it will not only address the climate change-related challenges Nepal is facing, but serve as a model for the world.
Lasting solutions
During just the first five years of the program, which ended in December 2016, nearly 4.1 million tons (3.7 million metric tons) of carbon dioxide emissions were avoided, largely through better management of forest land and reduction in firewood consumption. Also, hundreds of thousands of people benefited from the program. For example, more than 60,000 people received skills training to enhance employment opportunities, or assistance in green enterprises, farming and off-farm activities.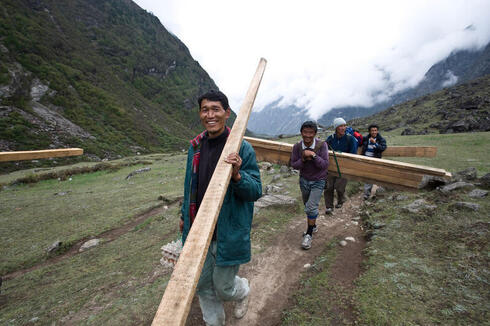 Hariyo Ban is community-driven (the voices of women and the poor are particularly important to the process), and it simultaneously addresses three major issues: conserving biodiversity, helping people and ecosystems build resilience and adapt to climate change, and mitigating greenhouse gas emissions.
Its scale also makes it stand out. The two landscapes where Hariyo Ban works cover 40% of the country from Himalayan peaks down through the mid-hills to nearly sea-level plains. The program works at multiple scales, from community to river basin and landscape level, to ensure that social and ecological processes such as women's rights, wildlife population ranges and watershed processes can be covered effectively.
A variety of approaches are being used through the program to address climate change. People are at the core of most of them. Hariyo Ban helps people adapt livelihoods to climate change. It also helps people prepare for and recover from floods, landslides and other disasters.
Biodiversity also is central to Hariyo Ban. For example, tiger and rhino populations are already healthier, due to support to activities such as the establishment and strengthening of community-based anti-poaching units, better management of their habitat, human-wildlife conflict mitigation, and rhino translocation.
Water emerged as a common theme when WWF assessed the climate resilience of Nepal's ecosystems and river basins to help shape the Hariyo Ban program. One activity being done through the program to help address this is the installation and repair of drinking water and irrigation water supply systems for communities and schools whose water supplies are vulnerable to climate.

Wildlife benefit from Hariyo Ban. Phase 1 of the program contributed to a major achievement for the country: three years of zero poaching for rhinos. Not only is this good news for rhinos, but it is good news for people, who have created livelihood opportunities related to bringing tourists out to forests to see rhinos.

Sustainable agriculture is a priority for this program. The emphasis is on growing crops such as cardamom and broomgrass that anchor soils, increase water infiltration, and provide people much-needed additional sources of income. Training is offered—mainly to women and marginalized people—in how to engage in sustainable agriculture and forest management, not just to feed their families but to provide them with income.

One focus of the program to create more sustainable energy sources so the forests are not overharvested for firewood for cooking and heating homes. Improved cook stoves, such as the one pictured here, are part of the solution. During the first phase of the program, more than 23,000 biogas units and improved cook stoves were supported for families.

Responsible forest management is a key aspect of mitigating climate change. That's why Community Forest User Groups are supported through the program. The groups put the management of forests and their resources in the hands of the people who depend on them. Activities include such things as harvesting sustainable forest products and monitoring for illegal activity.

Hariyo Ban is adaptable. After the 2015 earthquake, it diverted its focus to support affected communities in program areas to restore their lives, and worked with other sectors to promote environmentally sound recovery and reconstruction practices and build resilience to reduce future disaster risk.