Human-Wildlife Conflict Mitigation Measures in Nepal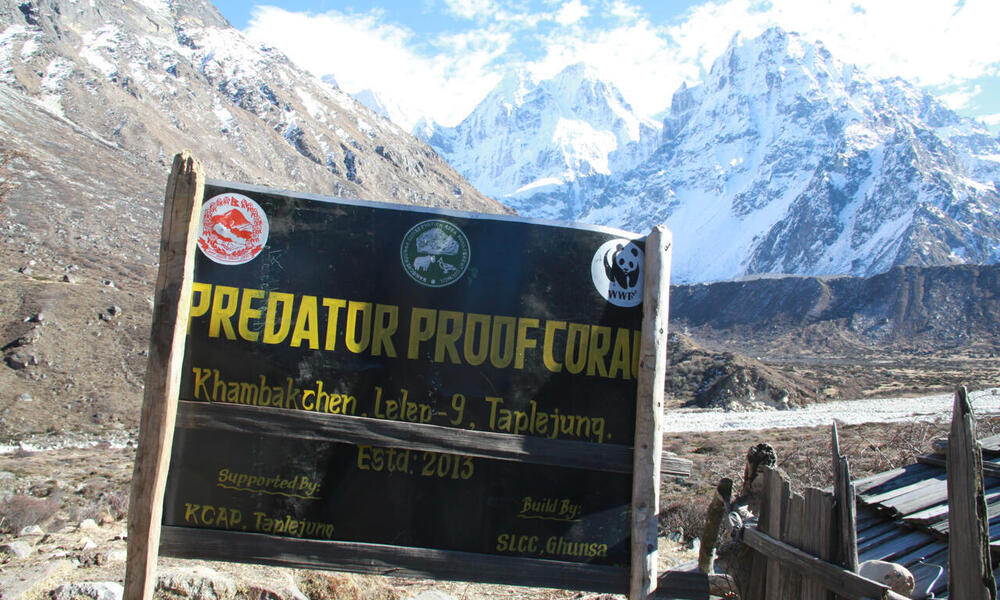 The most basic needs—for both humans and animals—are food, water and shelter. When basic needs are threatened, conflicts arise. In the high mountains of Asia, WWF seeks to reduce human-wildlife conflict through projects like the USAID-funded Conservation and Adaptation in Asia's High Mountain Landscapes and Communities.
Fighting for shared resources
Snow leopards are rapidly losing their prey species and habitat, especially as the populations of high altitude communities grow and encroach ever deeper into the snow leopard's remote mountain habitat. As human populations increase, these communities need more pastures for their livestock, and they hunt more of the snow leopards' prey—like wild sheep and goats—for food. Faced with increasing pressure, snow leopards also prey on livestock, fueling animosity—and often retaliatory killing—of snow leopards. Loss of livestock and a decline in snow leopard populations are both chronic problems with serious impacts.
Furthermore, as climate change continues to impact the region, both people and nature will have to struggle with declining pasture productivity, water insecurity and extreme weather. Such conditions are could fuel further conflict.
Solutions based in science
WWF conducted a study in July and August 2013 to better understand the current status of predation on livestock and how human-wildlife conflict mitigation efforts could be more successful. Key recommendations emerged to protect livestock from snow leopards, including building predator-proof corrals, organizing awareness campaigns in communities, and upgrading a guarding system as preventative measures.
In the Khambachen region in northeastern Nepal's Kangchenjunga conservation area, home of the world's third highest mountain, WWF is helping local communities build predator-proof corrals. The corrals are carefully designed to comfortably house 20-25 baby yaks under a sturdy roof and behind a corral gate, all of which helps prevent entry by snow leopards, wolves, and other predators. In the past, baby yaks were habitually preyed upon by snow leopards, but since construction of the first predator-proof corral in October 2012, not a single loss due to predation has been reported.
Why do corrals work?
The corrals improve the survival rate of livestock, which in turn improves the livelihood security of local residents. Livestock benefits people as both their food supply and source of cash income. Preventing snow leopards from killing livestock helps reduce the retaliatory killing of these majestic cats by herders who are highly dependent on their livestock.