Road map to zero-poaching in Selous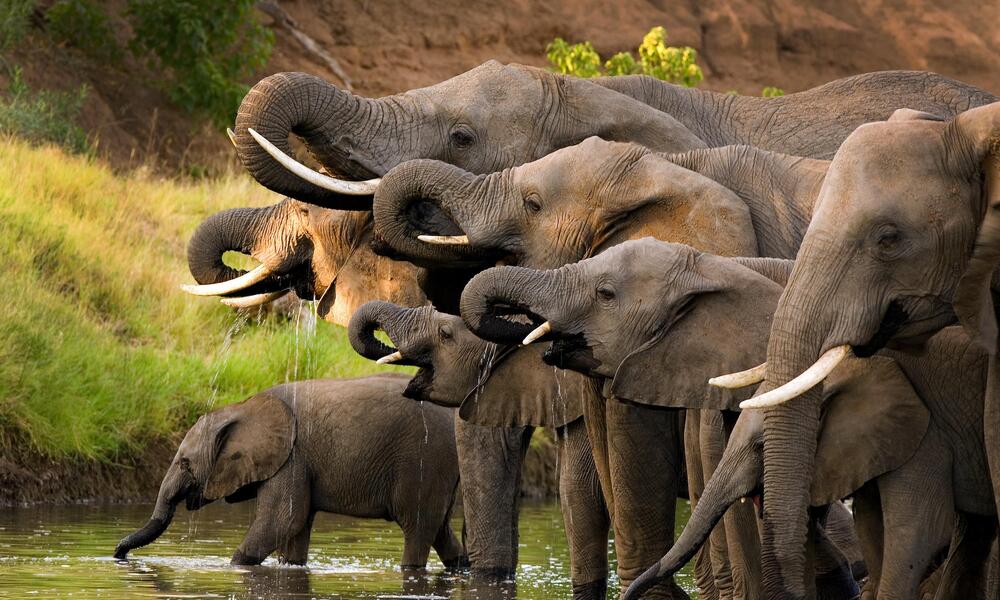 Tanzania's Selous Game Reserve has lost 80% of its elephants between 2007 and 2014, dropping from 70,000 to 15,000. WWF envisions a zero-poaching future for the Selous—a bold and challenging goal that will require innovative thinking, cooperation between many stakeholders, and a long-term view of conservation. Our zero-poaching goal is especially important for this World Heritage site since elephants and other wildlife are experiencing compounding pressure from industrial activities in addition to intense poaching.
There are six pillars of Zero-Poaching that must be addressed simultaneously for the Selous to restore its elephant populations and become an asset for sustainable development:
1. Assessment
Conducting regular assessments of conservation programs in the Selous and monitoring law enforcement activities help us understand the effectiveness of our actions. It also gives us insight into how the overall system for anti-poaching is changing over time.
2. Capacity
Capacity-building increases field staff's ability to protect wildlife and is foundational for combating poaching on the frontline. We will work with partners to ensure the Selous has the resources, equipment, and financial backing to ensure it is viable for wildlife and safer for rangers. For example, WWF and the PAMS Foundation are starting a training program for the Village Game Scouts that are based in the Wildlife Management Areas surrounding the Selous game reserve and in the wildlife corridors. WWF will also equip 100 rangers with the gear necessary for their jobs.
3. Technology
To be safe and effective rangers must have the best available tools and technologies. New innovations, like drones, give rangers an advantage against poachers through early detection systems and remote monitoring. WWF is collaring elephants with radio tracking devices, which is primarily aimed at providing real-time location data to rangers and management to better protect the elephants as they move throughout the Selous Game reserve and surrounding wildlife management areas. This data also contributes to the overall conservation of the species as it improves our understanding of habitat use and seasonal movements of the herds.
4. Community
Communities are the eyes and ears of the Selous and play a crucial role in stopping poaching both within and outside the reserve. Communities need to view the Selous and its wildlife as a resource which provides value to them in the form of ecosystem services and tourism. WWF creates positive relationships with areas around the Selous game reserve by investing in local communities and training villagers as game scouts. We also advise the Selous management on outreach and community conservation through sustainable resource management.
5. Prosecution
There is nothing that deflates Selous rangers' and village game scouts' morale more than seeing poachers back in the reserve again a few days after they have been arrested. We need to work closely with the Tanzanian judiciary to make sure that poachers are successfully charged and prosecuted to increase the risk and perceived risk of this activity.
6. Cooperation
Protected areas need partnerships to be successful and sustainable. There are many organizations that impact the Selous. Strong partnerships and communication between stakeholders increases their impact. This includes collaboration at different levels, from local to regional and national, and from the private sector to the government and nonprofits. WWF is partnering with the Tanzanian Wildlife Authority, the Selous Management, and other NGOs like the Frankfurt Zoological Society.
WWF wants to see a world free from poaching. We believe it is not only necessary for key wildlife areas like the Selous Game Reserve, but possible through our six-pillar approach. Despite the loss of wildlife through poaching, habitat remains in Selous for the population of elephants to return in large numbers. If managed correctly Selous could also have globally significant populations of rhinos, lions, African wild dogs, hippos, and Nile crocodiles. This means Selous has the potential to become a leading global wildlife attraction bringing tourism, revenue, and jobs for local communities and Tanzania.