On June 18 2013, the CEOs of WWF and CDP, joined by Steven Swartz, partner at McKinsey & Company, unveiled this groundbreaking analysis during a free GreenBiz webcast hosted by Joel Makower. Watch the recording and download the slides.
Many of the world's leading companies have made major strides in addressing climate change over the last decade. By establishing climate targets, they pushed themselves to look harder at energy waste and found money lying on their factory floors. These success stories have been celebrated, but far more needs to be done to avoid the dangerous and irreversible risks to society and businesses from climate change as global temperatures continue to rise.
A new report from WWF and CDP—The 3% Solution: Driving Profits Through Carbon Reductions—helps U.S. businesses chart a new path forward. This path is tremendously profitable, practical and helps curb climate change.
Calculate Your Carbon Target & Profits h
Explore the Report: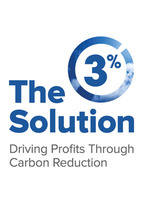 Download (1.27 MB)
News
Helping companies rethink how they save money and fight climate change
The report identifies novel approaches for the private sector to realize cost-savings up to $190 billion in 2020. These savings are achieved by boosting energy-efficiency measures and transitioning to low-carbon energy sources. In the process, the US corporate sector will cut carbon emissions by 3% annually and achieve the 2020 carbon reductions scientists say are needed. Written and researched with CFOs in mind, The 3% Solution is the answer that businesses and sustainability stakeholders have been searching for.
Built upon rigorous analysis by leading consulting firms and chock-full of practical cost-saving examples from a variety of sectors, this study offers the most compelling business case made to date for setting ambitious carbon reduction targets. The 3% Solution will help businesses—those already saving millions through carbon reductions or just beginning the journey—discover cost-savings waiting to be harvested.
U.S. Corporate Sector GHG Emissions Scenarios 2010 to 2050
GT CO2e
Key Findings
The Gigaton Challenge
To be on track to keep the rise of global temperatures below 2°C, the US corporate sector must reduce total annual greenhouse gas emissions in 2020 by 1.2 gigatons of CO2e from 2010 levels. This amount is equivalent to annual reductions of approximately 3 percent per year across the US corporate sector.
The 3% Solution shows these reductions can be achieved through cost-effective measures alone, generating savings of up to US$190 billion (PV) in 2020 for the US corporate sector, excluding utilities. Between 2010 and 2020, that amount grows to up to $780 billion in potential savings.
Companies can capture these unrealized savings from three primary types of activities:
Improved energy efficiency through behavioral or management changes
Energy efficiency through technology improvements, and
Deployment of low-carbon energy, particularly rooftop solar power
$190 Billion in Unrealized Savings in 2020
WWF's analysis produced three key findings about these profitable opportunities which can be achieved with current technologies and policies:
Low-Carbon Investments Produce Higher Returns. Seventy-nine percent of US companies in the S&P 500 that report to CDP earn a higher return on their carbon-reduction investments than on their overall corporate capital investments. Similarly, those companies with carbon reduction targets secured 9 percentage points higher overall ROI than their peers without targets.
The 3% Solution Allocates Financial Benefits, Not Environmental Burdens. Some sectors will have an opportunity to reap greater savings based on their share of the potential US$190 billion of profitable investment opportunities. Sectors with higher reduction targets have greater potential profits than sectors with lower targets.
Modest Increase In Capital Expenditures Is Needed. While the opportunities are significant, most companies are not investing enough to capture them. These savings could be fully realized if the corporate sectordevoted 3 to 4 percent of its capital expenditures to emission reduction investments (excluding utilities)
Net Present Value Opportunities
up to

US$190 Bn
GHG Reduction Opportunities
up to

1.2 Gt
The 3% Solution is a Limited Time Offer
The 3% Solution is a limited time offer. If US business acts now to reduce emissions 3 percent annually through 2020, they can collectively capture cost-savings of up to US$190 billion in 2020 and put us on the pathway to curbing climate change. Waiting until 2020 to start the journey would be costly for companies and the climate, requiring a 9.7 percent reduction annually on average to meet the IPCC's minimum 2050 target. Waiting until 2030 is not an option; the 2°C target would be out of reach.
Going Beyond the 3 Percent
In addition to up to US$190 billion of savings opportunities in 2020, another gigaton in emission reduction opportunities from utilities, consumers and supply chains can be cut through low-cost investments. Together, 2.2 GtCO2e of annual emissions reductions are achievable in 2020, almost double what is required to meet the Intergovernmental Panel on Climate Change (IPCC)'s 2020 minimum target of reducing emissions by 25% from 1990 levels.
The Carbon Productivity Portfolio
The Carbon Productivity Portfolio is a set of five practical actions that help capture the full 2.2 GtCO2e opportunity. Built upon the experiences of leading companies, the five steps maximize carbon reduction and simultaneously create business value.
Grow
Harvest
Engage with stakeholders and government
Improve energy management and investment
Develop low-carbon products and supply chains
Increase low-carbon energy supplies
Set ambitious targets. The research suggests that those companies that set "stretch" targets often reach and exceed them because the targets spur innovation and more profitable reductions than anticipated. This report describes some of the best practices in setting carbon reduction targets, and introduces a Carbon Target and Profit Calculator that enables companies to identify their own 2020 target and estimated financial savings based on their particular industrial sector(s).
Improve energy management, increase investment and overcome barriers. Although each company has its own particular challenges, most face a common set of barriers: capital constraints, low management priority, and lack of expertise. Companies interviewed for this report show these barriers can be overcome.
Increase low-carbon energy supplies. Companies can switch to low-carbon energy supplies and earn positive returns but to accomplish even more the utility sector must increase low-carbon energy supplies as well. This report discusses the role energy utilities can play and the most cost-effective approaches to "cleaning" the energy mix.
Develop low-carbon products and supply chains. Companies interviewed for this report are not only reducing emissions from their own operations but also influencing their entire supply chain. These actions include: developing products and services to reduce customer costs and emissions; encouraging supply chain partners to implement NPV-positive measures in their operations; and working with suppliers to develop low-carbon products.
Engage with stakeholders and government. To capture the full reduction potential and lay the foundation for meeting the IPCC's 2050 target, wider collaboration is necessary. Working together, a range of stakeholders can spur innovation and policy changes to speed the transition toward a low-carbon future. Key partners include local and national governments, NGOs, industry associations, cross-industry groups, and research entities.