Wildlife Crime Technology Project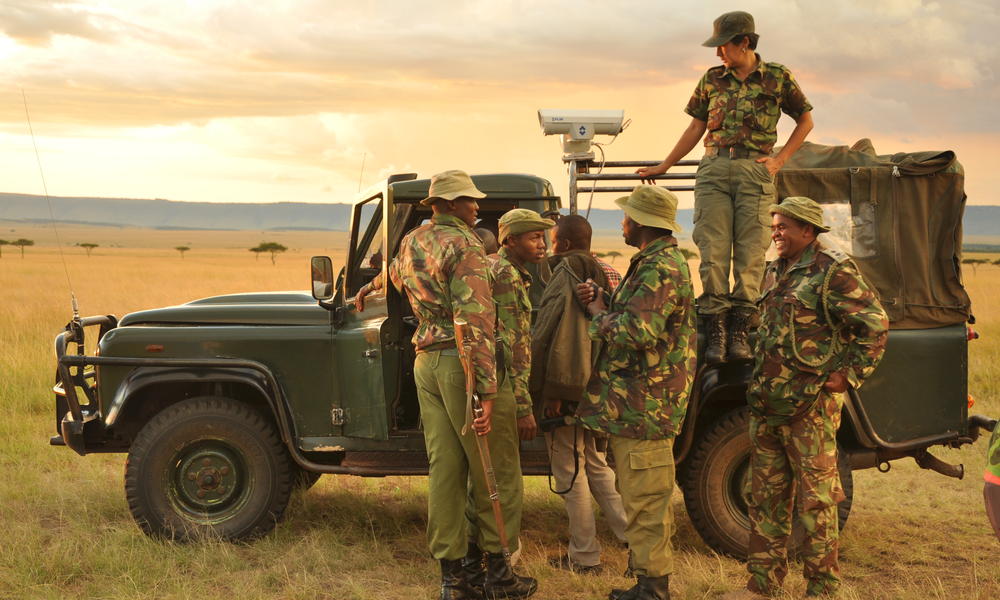 The world is seeing an unprecedented spike in wildlife crime.
Africa's elephant population has declined by around 110,000 in the last decade primarily due to poaching. The slaughter of African rhinos has skyrocketed—1,175 were killed in South Africa in 2015 alone, compared with 13 in 2007. Poaching is sweeping through Asia, pushing rhino populations to historic lows and wild tigers to just 3,900.
Estimated at $7-10 billion annually, the illegal wildlife trade is not only devastating wildlife. It is also taking a dangerous toll on rangers and communities at the frontlines of conservation, damaging local economies, and disrupting regional security.
WWF is leading a global campaign to stop wildlife crime, and recognizes the importance of innovative monitoring and enforcement systems in combatting these threats. In collaboration with partners, WWF seeks new and daring solutions to stop the poaching, trafficking, and demand for illegal wildlife parts and products.

Innovation For Conservation
"WWF is using technology in the right ways. What I have come to value the most about working with them has been their desire to collaborate and knowledge share to build solutions at scale. It is this kind of attitude that silicon engineers like to engage with."

Katherine Chou Project Lead, Google[X]
In December 2012, Google,org awarded WWF a $5 million grant to tackle the poaching crisis through technology. The funds enabled WWF to launch the Wildlife Crime Technology Project and create an umbrella of technologies that not only protect wildlife, but provide vital resources to rangers. With an innovative, model approach that can be easily adapted around the world, WWF is enhancing ongoing efforts to monitor and safeguard vulnerable species.
As a science-based organization, WWF spearheads research, development, and the integration of technologies in collaboration with governments, private and public sector partners. Our partners include the Cornell Lab of Ornithology's Bioacoustics Research Program, Falcon Unmanned, FLIR® Systems Inc., Fluidmesh Inc., Kenya Wildlife Service, Mara Conservancy, Namibia's Ministry of Environment and Tourism, Unilux, and Wildlife Protection Solutions.
The Wildlife Crime Technology Project has successfully field tested a suite of technology, including:
Unmanned Aerial Vehicles (UAVs) for rapid response
Digital monitoring systems that monitor high-risk areas and boundaries of protected areas
Affordable wildlife/patrol tracking devices connected through mesh networks
Acoustic detection software
Micro-radar for monitoring and detection
Thermal cameras and human detection software
Data integration and analysis through Spatial Monitoring and Reporting Tool (SMART)
Currently active in Kenya, India, Namibia, Nepal, South Africa, Malawi, and Zimbabwe, the Wildlife Crime Technology Project provides real-time, on-the-ground technology support against wildlife poachers.
Phase One
November 2012

The Namibian Ministry of Environment and Tourism agrees to partner with WWF to collaboratively select, integrate, test and deploy systems that support anti-poaching efforts in key sites.

March 2013

October 2013

December 2013

The Falcon UAV aerial platform is selected by the Namibian Ministry of Environment and Tourism for strategic use in all the rhino and elephant areas in Namibia.

March 2014

WWF delivers first installment of technologies and training to Namibian Park Wardens.
Phase Two
September 2014

An automated waterhole surveillance system with 24/7 live video streaming, manufactured by COBHAM, was installed at 3 waterholes and reported as fully operational in Namibia's Waterberg Plateau Park.

June 2015

WWF field tests prototype thermal cameras and machine learning to identify humans and trigger automated alerts for rangers when suspected poachers cross into parks.

November 2015

November 2015

WWF brings together thought leaders to explore current uses of innovative technology and the promises and perils they present for addressing some of the planet's greatest challenges at the 2015 Fuller Science For Nature Symposium and Tech Fair, Wired in the Wild: Can technology save the planet?

December 2015

WWF tests acoustic human-elephant conflict prevention technology in India. The device sets off an alarm when elephants approach, giving response teams time to safely drive the elephants away.

December 2015

WWF tests virtual radar-fences technology in South Africa.

March 2016

Working with KWS and the Mara Conservancy, WWF installs thermal cameras in two critical Kenyan sites. Since their installation, these cameras have aided rangers in capturing dozens of poachers.

October 2016

WWF evaluated the use of UAVs with cutting edge video detection system to detect poaching, and reduce human-wildlife conflict in Malawi and Zimbabwe