Facts
Status

Critically Endangered

Population

believed to be extinct in the wild

Scientific Name

Panthera tigris amoyensis

Habitats

Southeast China-Hainan Moist Forests
The South China tiger population was estimated to number 4,000 individuals in the early 1950s. In the next few decades, thousands were killed as the subspecies was hunted as a pest. The Chinese government banned hunting in 1979. By 1996 the population was estimated to be just 30-80 individuals.
Today the South China tiger is considered by scientists to be "functionally extinct," as it has not been sighted in the wild for more than 25 years.
From the world's largest mangrove forests in the Sundarbans to temperate forests in the snowy mountains of Bhutan, protecting tigers and their natural homes helps provide benefits for thousands of other animals and millions of people.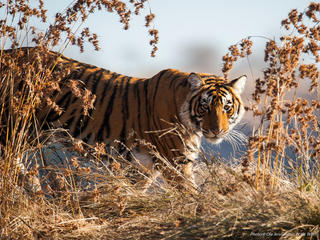 Why They Matter
South China tigers are a reminder that the threat against the world's tiger is an urgent one. Today, South China tigers are found in zoos and in South Africa where there are plans to reintroduce captive-bred tigers back into the wild.
Threats
Population believed to be extinct in the wild

Extinction Risk Critically Endangered

EX

Extinct

No reasonable doubt that the last individual has died

EW

Extinct in the Wild

Known only to survive in cultivation, in captivity or as a naturalised population

CR

Critically Endangered

Facing an extremely high risk of extinction in the Wild

EN

Endangered

Facing a high risk of extinction in the Wild

VU

Vulnerable

Facing a high risk of extinction in the Wild

NT

Near Threatened

Likely to qualify for a threatened category in the near future

LC

Least Concern

Does not qualify for Critically Endangered, Endangered, Vulnerable, or Near Threatened
Hunted as Pests
Although China outlawed tiger hunting in 1979 and declared the South China tiger's survival a conservation priority in 1995, it is thought that even if a few individuals remain, no existing protected areas or habitat are sufficiently large, healthy or undisturbed enough to sustain viable tiger populations.
Habitat in Pieces
If any South China tigers remain in the wild, these few individuals would be found in montane sub-tropical evergreen forest of southeast China, close to provincial borders. The habitat is highly fragmented, with most blocks smaller than 200 square miles and not large enough to sustain a tiger population.
Related Species