Stories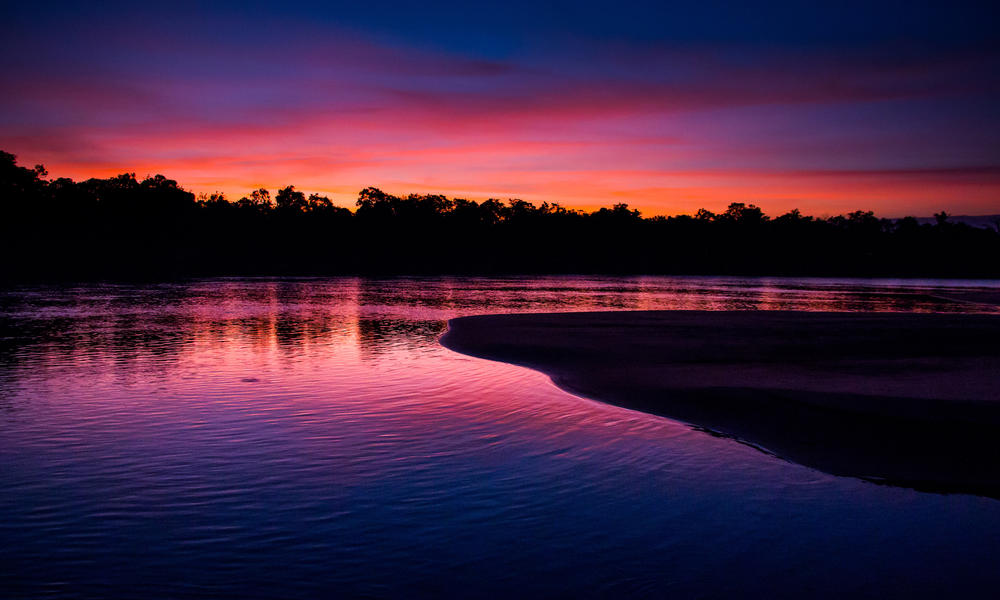 Colombia's free-flowing Bita River has been added to the Ramsar Convention's List of Wetlands of International Importance, making it one of the first Ramsar sites to protect a whole river basin. This historic decree will not only safeguard the river's incredible biodiversity, but will also support local communities who rely on the river to live.
July 11, 2018

Camera traps are used in Kui Buri National Park to determine which animals and how many are in the region. Kui Buri is a national park and wildlife sanctuary located in Thailand's Tenasserim Hills.

July 02, 2018

Colombia's Serranía de Chiribiquete was officially expanded to 4.3 million hectares today, making it the world's largest protected tropical rainforest national park. It was also declared as a UNESCO World Heritage site.

June 28, 2018

Throughout the Arctic, melting sea ice is causing Pacific walruses to "haul out" on land in massive groups. To minimize deadly disturbances and minimize human-polar bear conflict, WWF is establishing artificial feeding spots on polar bear routes along the coast of Russia's Chukchi Sea.

June 26, 2018

Thanks to a series of conservation measures enacted by Belize's government, the Belize Barrier Reef Reserve System has been removed from the UNESCO List of World Heritage in Danger sites.

June 21, 2018

The Luangwa River is one of the longest remaining free-flowing rivers in Southern Africa. It flows through an area which boasts some of the most pristine habitats left in Zambia for elephants, lions, leopards and a myriad of other wildlife. A dam has been proposed on the Luangwa that would flood almost the entire Luembe chiefdom, destroying habitats and displacing thousands of people.

June 19, 2018

WWF is on a mission to save the world's forest land. Saving forests means using every tool at our disposal and working with partners around the globe. And that's where drones come in to play.

June 18, 2018

A new collaboration between WWF and International Paper (IP)—a participant in WWF's Global Forest & Trade Network program and one of the world's largest packaging, pulp and paper companies—research and assessments will help determine how much forest land—and what quality—is needed to ensure forests can continue to provide people, plants and animals worldwide with the clean air and water, food and other "services" they need to thrive.

Keeping trees, grasses, and soil intact and restoring them can help get us a long way toward meeting America's urgent climate goals.

June 06, 2018

About 35% of harvested fish and seafood is either lost or wasted along the supply chain. So where does this loss happen and what can you do to help?

June 06, 2018

Covering more than 70% of our planet's surface, the ocean contains the largest diversity of life on Earth and affects everything from global weather patterns to food systems. Learn what steps you can take help protect the ocean.

June 05, 2018

Mexico announces water reserves that will guarantee water supplies for the next 50 years for 45 million people, as well as some of the country's most biodiverse ecosystems and globally important wetland protected areas.

June 05, 2018

Travel and tourism is one of the largest industries in the world. Here are tips to making traveling abroad more sustainable.

June 01, 2018

This month marks one year since the United States confirmed it was pulling out of the Paris Agreement. But across the country, national leaders and citizens continue to drive climate action and ensure the nation fulfills its emissions targets set by the accord.

June 01, 2018

June 1 marks the start of the Atlantic hurricane season, with early forecasts indicating a slightly above average year for storms. But as this hurricane season begins, many coastal communities are still dealing with the enormous devastation of the last one—a barrage of unusually intense storms that scientists at WWF and beyond warn could become routine as the planet continues to warm.

Results from a new survey show mountain gorilla numbers are growing in the Virunga Massif. The critically endangered animals were once expected to be extinct by the end of the twentieth century, but there is hope the population will continue to grow due to conservation efforts.

The tiny Bolivian town of Versalles, nestled along the Iténez River, is home to one of the largest river turtle hatcheries in the Amazon. Community efforts have helped to increase turtle numbers, but the species remains vulnerable to threats far beyond the community's control.

Results from the largest ever research study of gorillas and chimpanzees in Western Equatorial Africa show population numbers higher than first believed, but their future still remains in peril.

April 25, 2018

Right now, members of Congress are working out the final details of the 2018 Farm Bill, and the stakes for conservation are huge.

April 23, 2018

Following decades of seemingly irreversible decline, the Irrawaddy river dolphin population in the Mekong region is rebounding.

April 22, 2018

It's one of the easiest things you can do to help save the world's forests. Look for the label that says FSC® when you buy paper towels, tissues, furniture or any other products that come from forests.