A Flame Called Hope
How a simple, effective innovation is empowering people and saving nature
Date: October 16, 2013
Author: Akash Shrestha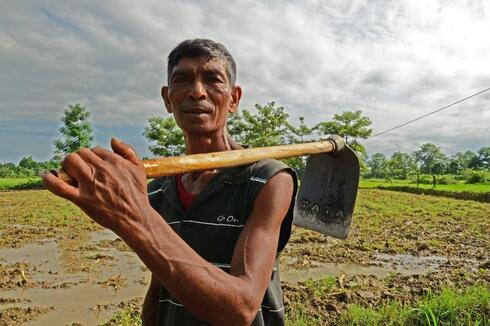 Buddhi Ram Mahato and his family of four share a similar story with countless other families in Nepal's Terai Arc landscape.
Like 7 million others, they eke out a living by farming on the fringes of the several protected areas, often sharing their backyards with wild tigers, rhinos, and elephants. The forest represents life for both people and wildlife. And for humans scrambling to make ends meet, forests literally fuel their lives.
But now they rely on a new source of heat for cooking: environmentally friendly biogas.
Up in smoke

With a dependence born from necessity, Mahato and the villagers practically burned down their forests with every meal that they cooked by gathering wood from the forest to fuel their fires.
"It wasn't a matter of choice because we did not have any other option if we wanted to cook our food and stay warm," said Mahato. "For four hours every day, Chanar and I had to forage for wood in the forest, which we knew put us directly in danger of an encounter with wild animals."
There was a direct impact on their health too. The design of the traditional village huts made for smoky living, affecting the lungs and eyesight of the entire family.
It seemed like everyone was losing.
A clean, green solution

WWF has a long history in Nepal, working closely with local communities to secure conservation successes. This relationship led to an innovative solution that put people and their needs at the center of our programs.
Biogas is a new technology that is gaining popularity across the Terai. A biogas unit uses a combination of animal dung and water, missed in a digester, to produce methane—a clean fuel for cooking and heating the home.
This year, Mahato took a loan from a micro-credit enterprise and WWF subsidized the cost of the biogas unit. The subsidy came with one condition: part of the funds would have to go toward a proper toilet for the household, which would also be connected to the biogas unit.
"When I learned about biogas and the benefits it would bring, I felt that this risk would be worth it in the long run for my family," he adds.
Environmentally friendly biogas is a new source of heat for cooking in Nepal.

Buddhi Ram Mahato and his wife, Chanar, grow rice on their small farm in Nepal. They also raise buffalo and goats.

Buddhi Ram Mahato and his wife, Chanar, with two of their four children. The Mahatos are one of 1,750 families living in teh southern Nepal village of Kumrose.
A promising future

Biogas has brought about swift, positive changes to the Mahato family. They no longer forage for firewood, reducing the possibility of a dangerous encounter with wild animals like tigers. Their house is smoke free for the first time and their health is improving. Their small plot of land is more fertile because the slurry from the biogas unit is an excellent bio-fertilizer. The surplus produce from the farm is allowing the family to save money, also for the first time. The forest is returning too.

As more and more families like the Mahato's adopt biogas, their dependence on the forests has reduced significantly. As the trees come back, so have wildlife like rhinos and tigers, which hadn't been for decades.
And the planet is breathing easier.

Research indicates that on average, one biogas unit saves nearly five tons of firewood and reduces the emission of four metric tons of CO2 equivalent annually.
Almost in reach

There are countless families in Mahato's village that could rise above poverty while benefiting nature if they had access to biogas. Now you have a chance to be part of the change.
Music For Relief, a grassroots effort led by Linkin Park to engage musicians, the industry and fans who believe that together we can create positive change, is partnering with WWF Nepal to raise funds to bring biogas to an entire village in the Terai—roughly 150 households—with truly transformative results.