A Hotline for Salmon Sustainability
With help from WWF, a local community launches a tool to stop illegal fishing activity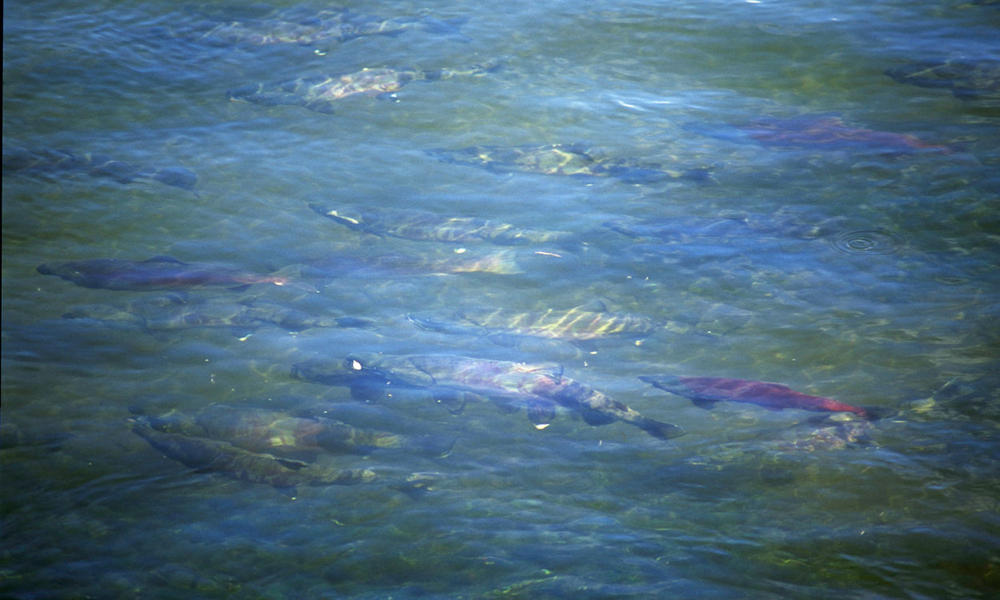 Date: February 26, 2013
In This Story:
Russia's Kamchatka Peninsula—a remote spit of land off of Siberia—is a paradise for salmon. This Arctic landscape is tailor-made for these fish: abundant rain; good drainage; cold, clear rivers; few predators.
At least 20 percent of all wild Pacific salmon come to Kamchatka to spawn—an annual influx that supports the local economy and fills out the diets of most area residents. At the same time, this abundance encourages poachers whose illegal activities threaten the sustainability of the local salmon population.
Taking action to stop poachers
WWF worked with citizens in the town of Ust-Bolsheretsk to create the Public Salmon Council, a body that makes recommendations to the mayor regarding managing salmon fisheries and preventing poaching. The group's first suggestion—to suspend fishing on the Bolshaya River on certain days of the week during spawning and ban commercial gear until the fish had gone upriver—was put into practice with great success.
Buoyed by this win, the council suggested the establishment of a salmon poaching hotline. It would allow local people to alert authorities about instances of poaching and ask questions about legal requirements for fishing Kamchatka waters. WWF offered support for the venture, which is now in its third year of operation.
Sergey Vakirin, a native of Kamchatka with extensive experience in local fisheries, manages the hotline via his website, Fish Kamchatka. He posts all calls anonymously on the site. This allows anyone to listen to the reports in an effort to demonstrate their authenticity without betraying callers' identities. Considering that some of the poachers are associated with organized crime, callers' safety is a priority.
Tracking success
The calls are transmitted to authorities right away so that tips about poachers can lead to immediate enforcement activity. The system is not able to track whether such enforcement actually occurs or the outcome of any arrest and prosecution. The administrative set-up of Russian police and courts makes such follow-through difficult, if not impossible, though WWF is determined to find a way.
"I would like to see if we can track the calls through the judicial system," says Heather Brandon, WWF's Senior Fisheries Officer for the Bering Sea and Arctic. "We'd like to see which of the calls results in a fee or a fine, and then relate that back to reduced poaching in an area. That way we could prove that the poachers know about the hotline and know that they're being watched."
In the meantime, there are clues that the hotline is a useful tool. "There were more calls in the second year than the first year," says Brandon. "If people didn't think it had any value then they wouldn't call."
For the salmon, these calls could make all the difference.
An indigenous fisherman from the Even tribe with salmons in front of his smoking cabin.

A shallow river with gravel bottom where salmons from the Pacific Ocean come for spawning.

Smoked salmons hanging from the roof of a tent in Kamchatka.