A Plan to Save the Great Apes of Central Africa
Report details ways to help recover declining populations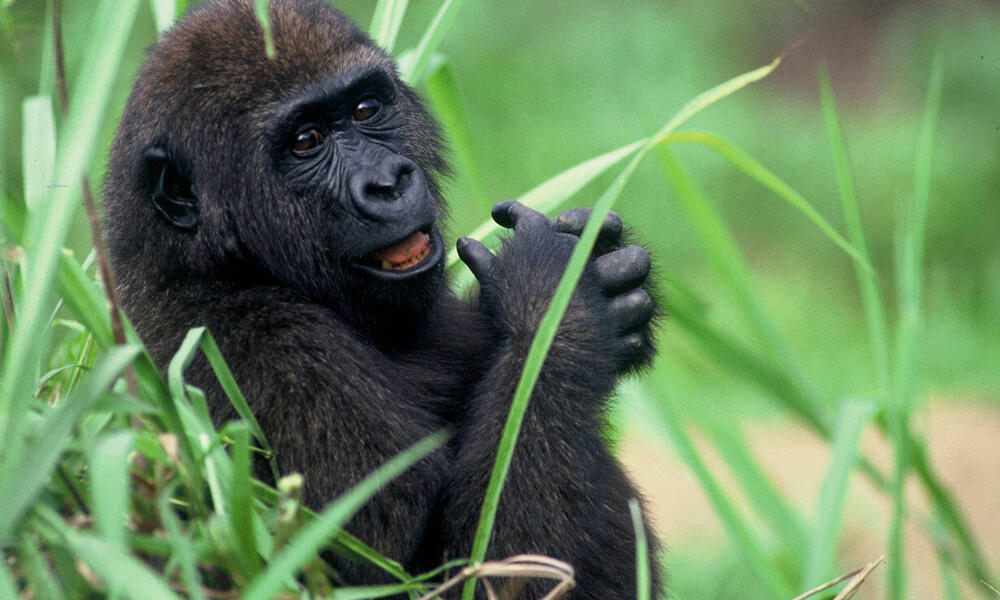 Date: March 31, 2015
Author: Trishna Gurung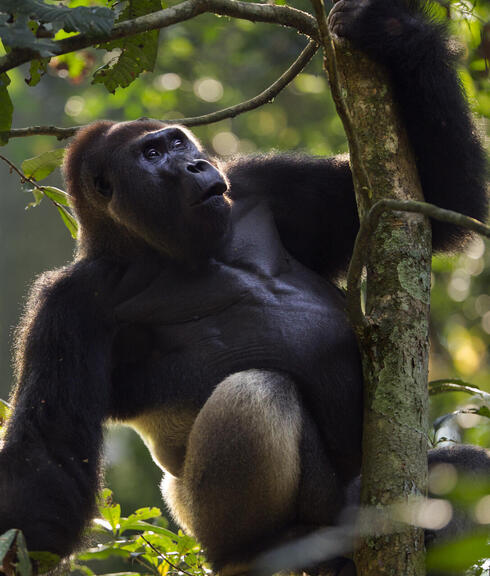 Gorilla and chimpanzee populations in Central Africa continue to decline due to poaching, habitat loss and disease. National parks and reserves in six range countries protect only 21 percent of western lowland gorillas and central chimpanzees, according to a new report.
Though fragile conservation gains made in recent decades have slowed the rate of decline, these animals are under threat from growing human populations, rapid expansion of extractive industries and industrial agriculture, widespread lack of law enforcement and corruption in the judicial process.
Diseases like Ebola remain a major threat to both great apes and millions of people. And western lowland gorilla and central chimpanzees continue to be threatened by wildlife criminals seeking to supply the illegal commercial market and demand for bushmeat, particularly in urban areas.
Bold steps to save great apes
Based on these findings, a new conservation plan for these great apes is being championed by WWF, International Union for Conservation of Nature, Wildlife Conservation Society and partners. The Regional Action Plan for the Conservation of Western Lowland Gorillas and Central Chimpanzees 2015-2025 focuses on 18 priority landscapes for western lowland gorillas and central chimpanzees. These landscapes cover half the geographic range of these two subspecies, harboring over three-quarters of the great apes remaining in the region.
Conservationists are also calling for additional measures with a focus on improved law enforcement, more effective management of great ape habitat outside of protected areas, better national land-use planning and conservation advocacy.
"Central African governments have demonstrated increased willingness to protect the dwindling populations of gorillas and chimpanzees," said David Greer, WWF's Great Apes Programme Manager. "Now bold steps are needed to ensure that existing wildlife laws are upheld and that weak governance, which results in widespread impunity for wildlife traffickers, is eliminated, to give great apes the opportunity to survive and thrive."
Building on a previous action plan launched in 2005, the new strategy is the product of a regional workshop attended by 70 conservationists, scientists, wildlife health experts, donors, and wildlife authorities and protected area managers from the six range countries of these great apes—Angola, Cameroon, Central African Republic, Equatorial Guinea, Gabon, and the Republic of Congo.
Survey data collected between 2003 and 2013 were used to produce great ape population density maps across the entire range of both western lowland gorillas and central chimpanzees to re-assess conservation priorities. The process of developing this conservation strategy was funded by the Arcus Foundation, the United States Fish and Wildlife Service, and the Great Apes Survival Partnership.