A Tipping Point for Change
Innovating Solutions to Combat Illegal Fishing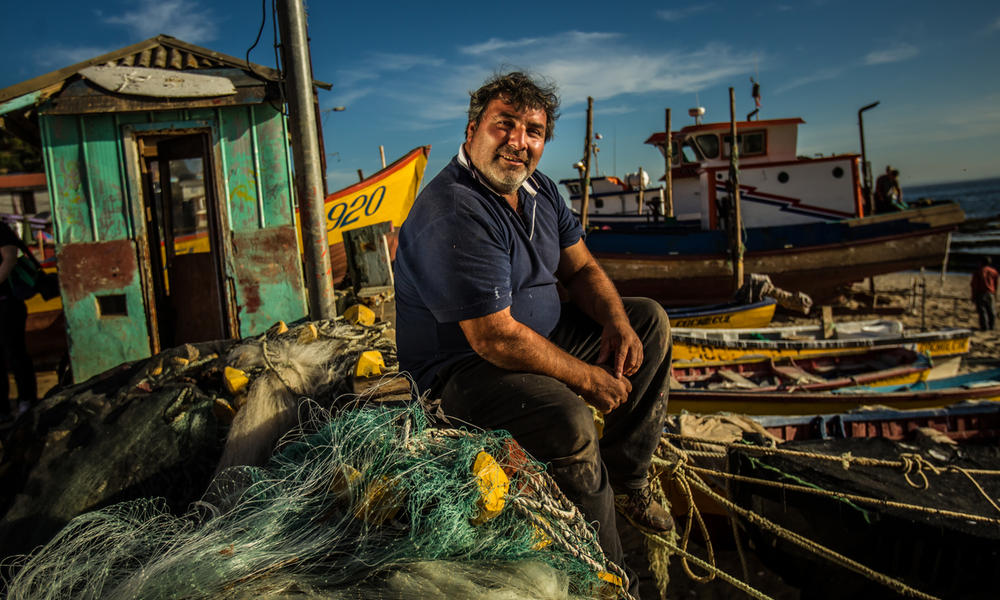 The new Living Planet Report finds that marine species populations have declined 39% since 1970, with the sharpest declines in the Southern Ocean and the tropics. This is likely due to illegal fishing and overfishing.
Illegal fishing is a global problem with serious conservation and social impacts. We need coordinated global solutions to break the link between major import markets—like the US—and international illegal fishing.
One such fisher who is innovating solutions is Antonio Busta, President of the Association for Artisinal Fishers in Cocholgüe, Chile. He is from a family of four generations of fishers whose health and livelihood depends on working the seas to catch fish for food and income. But as the global demand for marine resources increases beyond the ocean's ability to supply, Busta and his fellow fishers are taking on the role of innovators as they adapt to the changing marine environment
The fishers that navigate Chile's sprawling coastline are responding to a declining hake fishery; some are looking into how they can diversify their catch, while others continue to illegally fish more than they are permitted.
"Black market fishing is a big issue in Cocholgüe," Busta said. "Here some fishers go way over quotas. They are catching more than they are permitted, shipping illegal catch to big fish markets in caravans of seven or eight cars."
But this is not how he wants to work. "I am cheated by the illegal fishers as they are pushing the price of fish down," Busta said. "With more fish in the market, they are underselling me and making more money. So what do you do?" Busta asks rhetorically. "We fish when prices are high. We fish less, but make more".
Busta explained the need for more monitoring, control and surveillance of fishing boats out at sea, and ways fishers can diversify their catch if boats could be fitted with different equipment to catch other species. Fishing is central to Busta's culture and identity, so finding alternative means and methods to earn an income as a fisher is vital. He and fellow fishers have been talking about ideas and solutions for some time.
"International markets can help too," he said. "If we can be more prominent and connect only legal fish catch—our catch—with markets overseas, we can make money and increase our fish stocks at the same time. This is good for us and for the hake."
We are at a tipping point of change in the US. On June 17, 2014, President Obama announced the creation of a new task force to address illegal fish entering the country, charging a team of government agency representatives to propose a system of traceability, from bait to plate.
As one of the largest importers of seafood globally, there is significant potential for this shift in US policy to transform illegal fishing globally, something that Busta and his fellow fishers will likely very much support.