A Visionary Ranch Helps Conserve Nebraska's Grasslands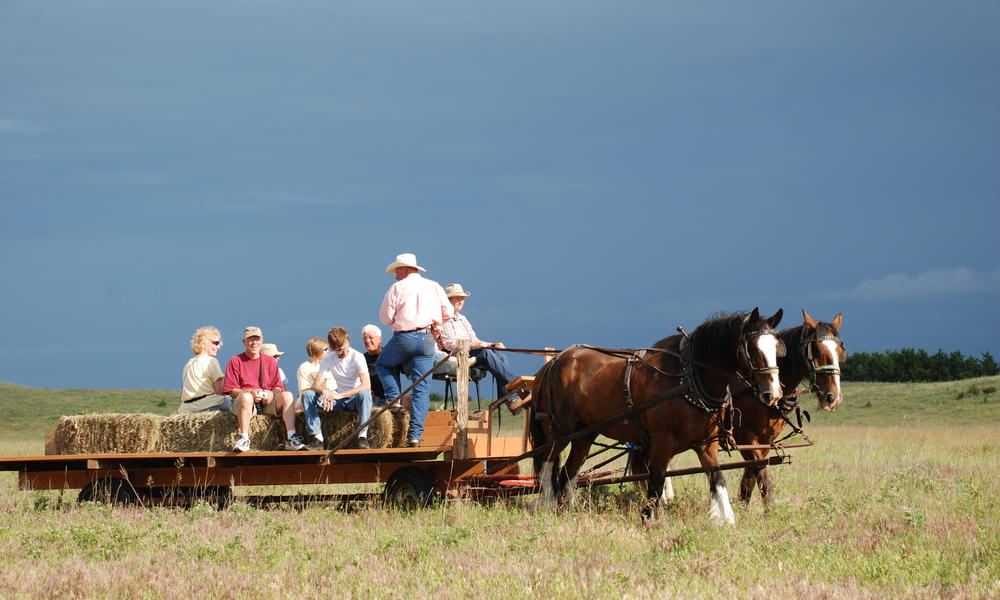 Date: May 30, 2013
Author: Katie Gustafson
On a trip to Namibia organized by WWF, Sarah Sortum learned how to help enable her family's ranch in Nebraska to support the next generation. From her safari Jeep, Sarah was amazed to see a landscape similar to the Sandhills region that she calls home. The Namibian grasslands teemed with small creatures she found familiar: springbok—reminiscent of the deer on the prairie—and lots of small mammals and birds.
An idea hit her: She could offer a safari tour on her own property.
"If I'm having the time of my life doing this over here, people can come to our place and have the same experience," she said. "That can be great economically and boost our business, but that can also be a great avenue to help educate people and give them the opportunity to be out on the land and out on a working ranch."
Sortum wasted no time adding this new business—dubbed Sandhills Safari Tours—to the other tourism ventures her family had started on Switzer Ranch, which they have owned and operated since 1904.
The ranch's traditional cow-calf operation could not support multiple generations on the land, so the family had to get creative. Her brother, Adam Switzer, started Calamus Outfitters, offering canoeing, horseback riding and birdwatching expeditions in the stark and beautiful landscape.
Birdwatchers flocked to see native birds such as the greater prairie chicken and the sharp-tailed grouse in one of the country's last intact grasslands. Accelerating conversion from prairie to farmland in surrounding areas is putting increasing pressure on these species.
As their new business grew, the Switzers realized the immense importance of acting to conserve the Sandhills and their native wildlife.
Their efforts include reaching out to neighbors and the public about the need for conservation. In 2012, the family started the world's only annual Prairie Chicken Festival, focused around the elaborate mating rituals of the grassland birds.
"We try to do outreach about why grasslands are important and get people out to experience it first-hand," said Sortum. "We've come to feel passionate about that aspect of our tourism."
The Switzers have teamed up with WWF, which has offered technical and fundraising support to help them toward their goals. Sortum acknowledges that this is a dramatic step in a culture often skeptical of outsiders.
"I'm proud of my parents for being open-minded enough and brave enough to start up a conversation with WWF," she said. "In this area that's a big deal."
The family has plenty of motivation, namely their desire to preserve their ranching lifestyle and remain together on their land.
"Our sons get to be with their grandparents and their parents every day," said Sortum. "The little boys, they want to grow up and be their grandpa. How great is that?"