Addressing drought and other challenges in Mozambique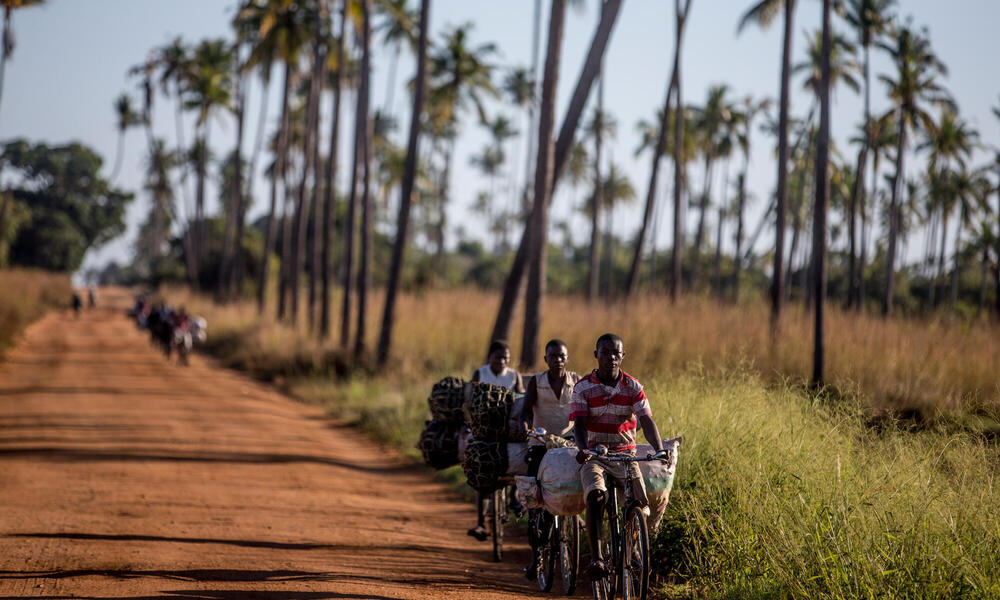 Date: August 02, 2016
Author: Jill Schwartz
Just as I am dozing off in the back seat, my body starts flopping to the beat of the bumpy road beneath me. I look up and see that our driver has turned off of the asphalt two-lane road and onto a dirt path that's barely as wide as our car. A sparse amount of dry, low-lying vegetation breaks up the landscape to the left, right and ahead. But, otherwise, the area is barren and lifeless.
I'm not sure why we are here, until I hear Herminio Mulungo, the front seat passenger, say, "Wow." It is the first thing that day I have not needed him to translate from his native Portuguese to English.
Then "wow" again. And "wow" again. And again.
I follow Mulungo, the WWF-Mozambique water specialist, as he gets out of the car and walks to a rusty metal row boat perched atop the dry land.
"Three months ago, we would've been standing in the water here," he tells me before pointing to a faint image of water in the distance. "That's the reservoir out there. Three months ago, the reservoir came all the way up to where we are standing. We would've been more than knee deep in water here."
This is the first dramatic sign I see of one of the worst droughts ever in southern Mozambique.
It is followed later, 20 minutes up the road, by a woman using a plastic jug to water her small farm plot, one plant at a time. Then a man standing in a nearly dried up river, trying his best to fill up pales of water, presumably for his family to use for cooking and drinking. Then a dam operator showing me the water line at the dam, nearly 30 feet below what it should be, and telling me this was the second lowest he had seen the dam—and the river that feeds it—since he started working there about 25 years ago.
"Mozambique is poised to be a leader in making informed decisions about how it grows."

Nasser Olwero Director of Information Science at WWF's Science and Innovation Program
Coincidentally, just one hour away, nearly 50 government officials from Mozambique were packed into a small conference room and deep into their fourth day of discussions about how to identify and understand the benefits of rivers—and other natural resources—to people and wildlife. And there are many benefits. Forests soak up rain and store it underground, then release it during the dry season so reservoirs do not dry up. Forests also soak up carbon—one of the best ways to fight climate change. Along the coast, mangroves act as a physical barrier between land and shore, helping to protect people from storms, and provide habitat to important freshwater species.
These leaders will play an important role in bringing to life the country's Natural Capital Program, which is one of only several national level programs of its kind in the world. The program was created in 2015, after the country adopted a new five-year plan that includes five priorities—one which is the sustainable management of natural resources and the environment.
Participants of the weeklong workshop, which was hosted by WWF and the Natural Capital Project, learned how to map out Mozambique's natural resources, why the resources are important, how to build them into decisions about infrastructure and development, and more.
The previous week, WWF and Natural Capital Project staff led a workshop on how to use a tool called InVEST to, among other things, model coastal vulnerability and seasonal water yield, all as part of an effort to prevent droughts, ensure drinking water is clean, minimize storm damage, and more. The workshop was for the team of students from Eduardo Mondlane University who will be responsible for gathering and assessing data that will be used to create natural capital plans in Mozambique.
"During those two weeks, a solid foundation for starting the country's natural capital assessment was created," said Nasser Olwero, director of Information Science at WWF's Science and Innovation Program and one of the workshop leaders. "Mozambique is poised to be a leader in making informed decisions about how it grows."
For Mulungo, this will hopefully mean seeing a full reservoir again and enjoying all the benefits nature provides in Mozambique.
Learn more about how countries can take stock of their natural resources.